Celtic-Hearts reaction: Postecoglou future; one ginormous gulf; Naismith v Jota
Celtic have seemed on mission as they have thundered towards the title defence which they sealed with their slender 2-0 success against Hearts at Tynecastle. It prompted a few thoughts as they surely close in on a treble.
Ange Postecoglou may have only just begun
There is the sense that the ceaselessly striving Ange Postecoglou feels his head isn't yet anywhere near the glass ceiling at Celtic. He gives every impression of being around for the long haul. One element of that comes in the fact the freshness of the adventures he is presiding over show no signs of going stale. Reflected in a remarkable, thousands-strong crowd turning out to greet his team on their return home following their confirmation at champions in Gorgie – even as this was their club's 11th title in 12 years. Another element is that, though the 57-year-old seems forever talked about for major jobs in England, when it comes to such as Chelsea and Tottenham Hotspur homing in on targets, invariably they turn to managers with other heavyweight clubs on their CVs. Note that the London clubs are now expected to hire men who have formerly helmed Paris Saint-Germain and Bayern Munich, respectively.
Postecoglou waited for decades to be given a crack at managing a high-profile club in Europe. He is now in charge of the 15th best supported side on the continent that, come September, he will lead into the Champions League for a second straight year. With a third crack at that competition the prize that would await if he could make it three-in-a-row next season.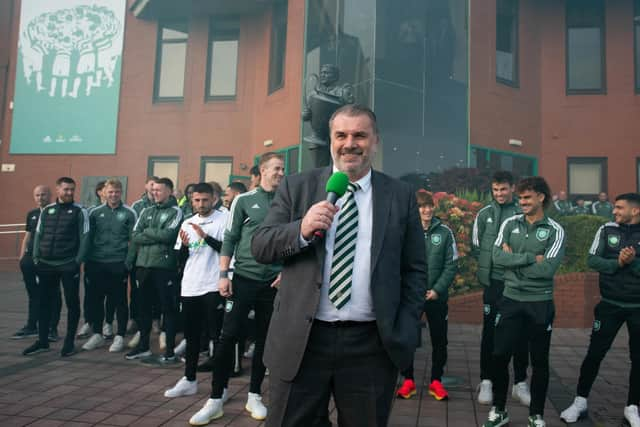 He has a squad of players mainly in their early 20s whose potential for growth remains significant, and who have already exhibited the capacity to up their levels under a tutelage where that demand is made of them daily. If Kyogo Furuhashi – one of the few Celtic players in their prime at the age 28 – were enticed away during the summer it would certainly punch a huge hole in his team's armoury. But the unfailing assured Australian wouldn't just back himself to fill it, privately he would perhaps even relish rising to that challenge.
It is instructive to compare where Celtic during the Brendan Rodgers era only a matter of months on from the point Postecoglou currently is in his tenure. Cracks, on and off the pitch, had already started to appear. While Celtic have been on a real upward trajectory this season set against the previous one, in the Irishman's second season – while a second successive treble was bagged – they harvested 24 fewer league points than in the invincibles campaign on 2016-17. Rodgers then began to make his frustrations known over the limitations of Celtic's reach in the market before his team failed to qualify for the Champions League group stages – a hazard that presently is spared Scotland's top flight winners. Postecoglou appears on a very different arc. And the volatility buffeting managers within the set-ups of the mid–to-lower-ranked English Premier League sides most likely to cast admiring glances his way – and to which Rodgers recently fell victim – isn't likely to be lost on him when he considers his bomb-proof status. At a club that has exploded into a riot of colour as trophies are being swept up with an intoxicating brand of football that is making lifetime memories and turning into him into a quasi-religious footballing guru for such masses.
It may be that Celtic do not win all four of their remaining games to post a new top flight points record total of 107 points. It may even be that they do not net the 12 goals in those encounters that would allow them to return a highest ever tally on that front in their history. What can be presumed is that they will win the majority of their games, and rattle in a good few goals on this victory lap – which includes two home encounters where they have been so often ruthless. That likelihood raises an intriguing possibility. Should they post a four consecutive derby success when they are hosted by Rangers at Ibrox on Sunday it would potentially edge them towards a goal difference double their ancient adversaries. As it stands, they have an 80 goal difference – which leaves them on course to set a millennium best for this measure – as Michael Beale's men are on 48. When Scotland's two powerhouse have resided in the top two spots of the upper tier, there has never been such a chasm. The title may have been settled but plotlines remain for the pair, currently separated by 13 points.
Steven Naismith's other VAR moment
There have been wildly contrasting differences of opinion over the red card referee Nick Walsh showed to Alex Cochrane for denying a goalscoring opportunity in felling Daizen Maeda at Tynecastle. The official rescinding the yellow he initially waved at the Englishman for the offence after being instructed to consult his monitor by VAR operative Willie Collum. In truth, this writer cannot make up his mind over the call, with Sportscene pundits Neil McCann and Scott Allan considering the correct decision ultimately was arrived at, while others in the commentariat such as Andy Walker and Chris Sutton castigated the process and its conclusion.
All would no doubt agree, though, that there was welcome levity when Celtic winger Jota shortly afterwards bowled into Hearts interim Steven Naismith – left fuming at Cochrane's dismissal – on the touchline to flatten him like a tenpin. Especially when his Celtic counterpart Ange Postecoglou, dissolving in laughter, made the square-in-the-air gesture with his fingers to suggest that it was an incident that should go to VAR.
Comments
 0 comments
Want to join the conversation? Please or to comment on this article.