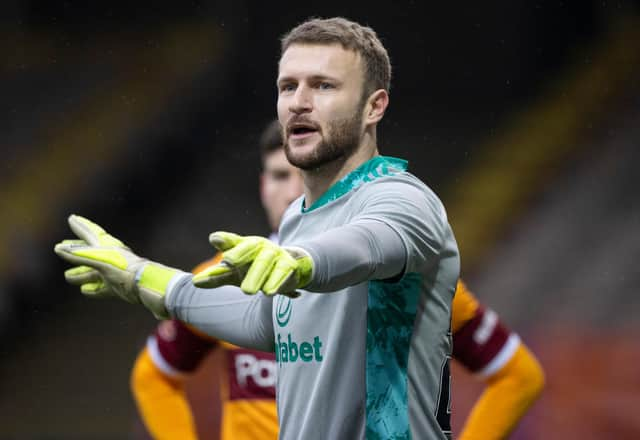 Celtic goalkeeper Scott Bain marshalls his defence during the 4-1 win at Motherwell (Photo by Craig Williamson / SNS Group)
The latest example came at the weekend with Declan Gallagher's header from a free-kick from deep in the 4-1 win at Motherwell.
The goal marked the sixth that Celtic have conceded from a set-piece this season. Four of these have come from corners, with two diagonal free-kicks from distance. Add in the four penalties Celtic have been punished for giving away, and almost half of the 22 goals coughed up by the Scottish champions have not been from open play.
Celtic's defenders and their goalkeepers have been criticised mercilessly for an inability to defend their goal. Especially in the past month, when they have leaked 15 goals in a mere seven games - their only clean sheet in that time coming in effectively a last-season competition, courtesy of the 2-0 Scottish Cup semi-final victory over Aberdeen.
Lisbon Lions understudy keeper John Fallon believes Vasilis Barkas early good displays have been too readily forgotten (Photo by Craig Williamson / SNS Group)
Personnel solutions have been sought for the malaise. Indeed, injuries and form issues – the latter most keenly felt by convenient whipping boy Shane Duffy – have caused Neil Lennon essentially to deploy six different centre-backs. However, Lisbon Lion John Fallon considers that the answer to some of the shortcomings could be found in a willingness to buck modern footballing conventions over how goalkeepers must approach their duties.
The sprightly 80-year-old, Celtic's official substitute keeper when Jock Stein's men became the first non-Latin side to claim the European Cup in 1967, wants to see his present-day successors "throw away the coaching manual that seems to have become some sort of gospel".
Both Vasilis Barkas and Scott Bain, the man who now appears to have deposed the £4,5m Greek summer signing, have been accused of failing to dominate their boxes, and prove commanding figures when balls are shelled into box. Fallon, who played for Celtic between 1959 and 1971, believes they are not allowed to operate in a fashion that would allow them to do so.
Fallon wasn't shy in coming out to attack crosses. Some adjudged him too cavalier doing so. Yet, not to have this flexibly, as he believes is being denied to Bain and Barkas, places greater pressure on Celtic's central defenders than is either necessary or beneficial.
'The nine-yard box'
"Both Ronnie Simpson and I were told by Jock that any ball, not just in the six-yard box, but in the vicinity of seven, eight, nine yards out, we had to defend," Fallon said. "It wasn't the case that we were expected to snap up every one, that wouldn't be possible. But we had to follow one of three courses of action: we had to grab it, punch it, or get ourselves into the mix by using our bodies and arms to stop opponents being allowed clean headers.
"In terms of what is allowed of keepers, though fouls come a lot easier these days, the game hasn't changed that much that keepers can still make their presence felt. How often do you see a penalty given for a challenge by them on an attacker?"
Licence to roam
As with all goalkeeping coaches across the board, Celtic's Stevie Woods wouldn't seem to be giving those in this specialised position licence to roam. .. a must in Fallon's day. The Blantyre-based former player considers there is a happy medium being entirely under-explored. He cites the goal lost at Motherwell as an example.
"The free-kick [from Liam Polworth] travels a good 40 yards before Gallagher makes contact about nine yards out. That would give plenty of time for Bain to judge, and be sure of, the trajectory. As it is, he was wrongly blamed by some Celtic fans because the header beats him right in at his far corner. Yet, in staying on his line, which I'm sure is the expectation, his positioning was perfect as he made sure he guarded his near post.
"Confusing me is what I see from Celtic keepers in warm-ups. They have a variety of shots hit straight into them and then they come and catch shots that are crossed in from wide areas. Why do they do that, practise that, when they never come for exactly those sort of balls during games? This isn't a particular issue to Celtic, by the way, it is the way of it throughout world football, but I feel my club could be a bit cuter by not just falling into line."
They can do it
Another frustration for Fallon is that he believes both Barkas and Bain appear capable of coming off their lines to deal with aerial threats. "I know Bain isn't the biggest when it seems every keeper has to be at least 6ft 5ins - as Barkas is - but I remember him in his Dundee days and he would meet crosses at the edge of his six-yard area. And I may be wrong, but I am sure Barkas was doing so in his early Celtic appearances."
Fallon's other bugbear about the lot of keepers in the game presently is the level of fault apportioned to them when the ball does find its way into their net. "If in doubt, blame the keeper seems to be the first thought," he said. "Barkas isn't seen as making a good start to his Celtic career, but how much can he be directly blamed for any goals lost? It seems to have now been forgotten that he made some important earlier saves in his debut against Hamilton in the opening game of the season, and he was the star man in a 5-0 win at Ross County a month later. It is the same for Bain. Every keeper will make a few really costly errors, but I haven't seen those from either man this season. Not that you would know the way the support are judging them."
A message from the Editor:
Thank you for reading this article. We're more reliant on your support than ever as the shift in consumer habits brought about by Coronavirus impacts our advertisers. If you haven't already, please consider supporting our trusted, fact-checked journalism by taking out a digital subscription.