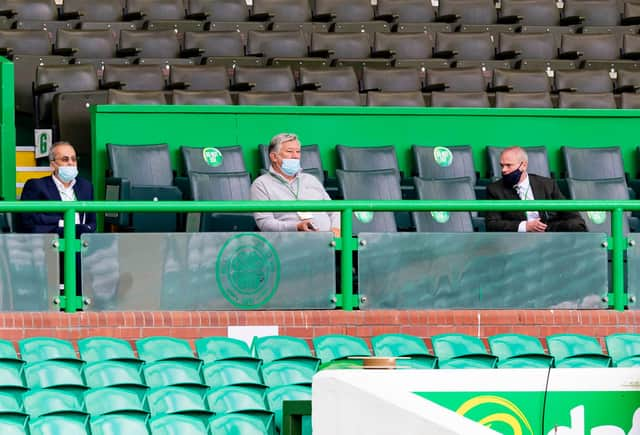 First Minister Nicola Sturgeon also confirmed that test events, including Scotland's Nations League match against Israel at Hampden on 4 September, may go ahead before the general reopening of sports venues.
While the amount of spectators will be limited initially by social distancing, it is a significant step forward for Scottish Premiership clubs whose finances are heavily reliant on gate receipts.
Celtic have been proactive in pressing for football 'not to be left behind' as lockdown measures are gradually relaxed amid the coronavirus pandemic.
The Scottish champions, who open their defence of the Premiership title against Hamilton Accies behind closed doors at Celtic Park on Sunday, could now welcome fans back into the ground for the first time against Livingston on 19 September.
"Celtic are delighted with this positive development and are very appreciative that the government has taken this important step," said Lawwell. "We would like to thank the Scottish government, the SFA/SPFL Joint Response Group and everyone at the club who have collaborated and worked so hard over these past few difficult months.
"It is our intention to get as many supporters as we can back into Celtic Park as soon as we can, within the guidance. However, the safety and security of our supporters is always our top priority, and we will communicate more on this as soon as possible."
Earlier on Thursday, the first minister stressed that the date was indicative and subject to change but sounded an optimistic note.
"We hope that sports stadia will be able to reopen from that day [14 September] for limited numbers of spectators, with physical distancing in place," she told MSPs.
"Some professional sports events may be arranged for spectators before then with Scottish government agreement to test the safety of any new arrangements."
Scottish Premiership clubs, meanwhile, have approved the use of five substitutes in the top flight for the new campaign.
Teams will be able to name up to nine substitutes in their matchday squad, using five of them but only doing so within halting play no more than three times during a game. It is a temporary rule change for 2020-21, designed to help players cope with a more demanding fixture schedule.
"As excitement builds ahead of the return to competitive action this weekend, I am pleased that the Premiership clubs have approved this resolution which was recommended by the board," said SPFL chief executive Neil Doncaster.
"Player welfare was at the forefront of our decision to recommend this change and it is vital that we recognise the additional strain being placed on players as we embark on the 2020-21 season.
"We are preparing similar resolutions for the Scottish Championship, League 1 and League 2 and these will be distributed to the clubs in those divisions in due course."