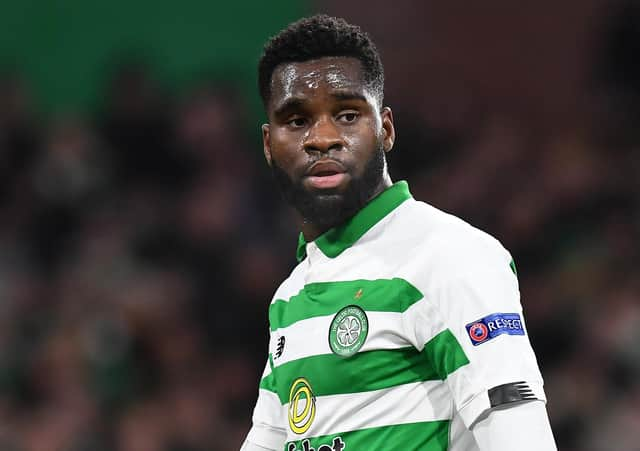 Celtic striker Odsonne Edouard has scored 38 goals this season. Picture: Mark Runnacles/Getty Images)
Whe he does leave Parkhead, the 22-year-old Frenchman will almost certainly smash the Scottish record transfer fee of £25 million which Arsenal paid Celtic for full-back Kieran Tierney in August.
However, while claiming he knew nothing of talks between club and player over a new deal, Lennon argued that it would be in the striker's best interests to stay put for another season or, preferably, two.
Edouard has scored 38 goals this season, including 11 in six games for France Under-21s. That form has caught the attention of Premiership clubs and others from abroad but Lennon would like to see him remain at Parkhead.
"You're asking the wrong man," replied the Cletic manager, when questions were put to him about Edouard's contract situation. "I'd love to keep him: I'd give him a five-year deal tomorrow if I could but I don't know anything about that and I would know [if there were talks].
"But, if it's true, then brilliant.
"He's improving all the time. He's a talismanic player for us and he's been absolutely magnificent this season but I think there's more to come from him and I hope he's doing that here with us. I definitely think there's improvement in him – he can get better but he's already a highly talented player."
Some eyebrows were raised in 2018 when Brendan Rodgers persuaded the Celtic board to sign Edouard on a four-year contract from Paris St Germain for £9m. He had spent the previous season on laon at Celtic, scoring 11 goals in 29 appearances – 16 of which were made from the bench.
He is now highly sought after but Lennon would prefer to see Edouard be a part of his team next season when Celtic may have the chance to claim a record 10th successive title.
"I think he'd be better off here," added Lennon. "I'm sure there's plenty of suitors so it won't be down to my decision but I'll do all I can to keep him. He's not the type to be banging down your door. He seems quite happy.
"Odsonne's laid back. He's got 27 goals already this season and I think he can get to 30 comfortably and that would be a wonderful season for him but it's not just his goals: his all-round game has been absolutely superb."