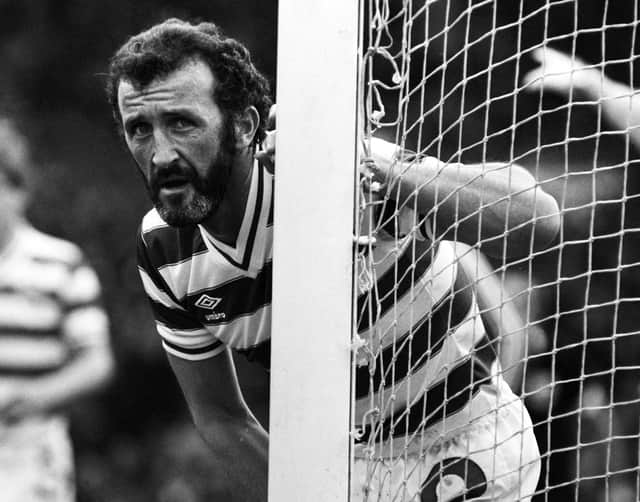 Danny McGrain collected 14 winner's medals, 663 Celtic appearances, 62 Scotland caps, and a host of individual awards over the course of his stellar career.
There are countless hallmarks that can be cited to frank the footballing greatness of Danny McGrain, who celebrates his 70th birthday today. Often now described as the Cafu of his age, for unerring excellence, longevity and fortitude the Celtic and Scotland overlapping full-back has, frankly, no equals among any performer in his right-back role born within these borders.
Indeed, across the early 1970s, the game's cognoscenti regarded McGrain as the best exponent of his defence-cum-attack style in world football.
When it comes to those players who spent their entire careers in Scotland, he is unquestionably a man alone. No other who resisted moving south has ever featured in best-ever British XIs, as it is right and proper McGrain does to this day. For all their accomplishments, celebrated English full-backs such as Phil Neal and Ashley Cole simply cannot hold a candle to the Glaswegian.
An eccentric character and faux curmudgeon in his dotage – which sees him still within the backroom set-up of the club to which he gave two decades of playing service after signing on in the annus mirabilis of 1967 – the advancing years are not welcomed by him.
"I see people of my age who look old and I ask myself, 'do I look old'. The answer is 'yes' I am old," said the grey-bearded, grizzled McGrain not so long ago. "But you don't see yourself getting old. You never think of yourself as an old person. I'm still reasonably fit for someone of my age."
One of the late 1960s so-called Quality Street gang at Celtic alongside Kenny Dalglish, Lou Macari, David Hay and George Connelly that Jock Stein considered would eclipse his Lisbon Lions, McGrain draws admiration for his indestructibility.
No wonder. He is the Scottish footballing equivalent of the Black Knight from Monty Python And the Holy Grail in possessing an ability to see traumas that ought to floor him as little more than flesh wounds. As evidenced in his recollection of his experience of being treated for a heart attack suffered six years ago.
"To this day I still don't believe I had one," he said. "My vision of a heart attack victim is someone falling down clutching their chest. I never had that. I never had any pain at all. I was in hospital for four days with no pain. No pain at all.
"They gave me a stent to open up my blood vessels. They did that on the night then another one two or three days later and that was it. To this day I still don't know how or when the surgeon inserted the second one. I was in theatre all screened off, and I went in all wired up.
"When I asked when he planned to put the stent in he said, 'it's already in'. And I said to him, 'you never told me you were doing it'. They never told me and I still want to find out how it happened. It's as if it happened by magic."
McGrain's magical powers of recuperation framed his stellar career. One that can still leave those who watched him regularly drooling because this ferocious tackler, who wedded pace and stamina to poise and control, exuded class and inspirational ability.
Three times across a career that garnered 14 winner's medals, 663 Celtic appearances, 62 Scotland caps, and a host of individual awards – chief among them the SFWA player of the year award in 1977 – he suffered potentially career-crushing setbacks.
In 1972, he fractured his skull against Falkirk, just as he was edging his way into the senior Celtic set-up. It merely delayed his permanent graduation by six months. Yet, within two years, a late stage diagnosis of diabetes – which could have cost his life if missed until much later – seemed to cast doubts on his ability to continue with his athletic pursuit. The two were considered then incompatible, but McGrain demonstrated otherwise. Come 1977, following Dalgish's departure to Liverpool, he was named the club captain, only to sustain an apparently innocuous ankle injury in the October of that year. It kept him out for more than a year and McGrain admitted he wondered during that time sidelined whether he would ever come back.
His importance to the national cause by then can be illustrated by the fact that the calamitous 1978 World Cup campaign in Argentina was, in part, attributed to his absence. His resilience, meanwhile, is illustrated by the fact that it wasn't until Scotland's final game of the next finals in Spain, the ill-fated 2-2 draw with the Soviet Union, that he earned his last cap.
By then, McGrain might have required to pick his moments and use his game nous when it came to deploying his more limited mobility in order to zig-zag his way into opponents' halves. But, even at the age of 36, he had one more virtuoso display in him – his contribution instrumental to Celtic pulling off an inconceivable last day title success that was delivered with a 5-0 crushing of St Mirren at Love Street in May 1986.
McGrain may, naturally, appear old now. But the feats that he produced on a football pitch, and his capacity for overcoming adversity to serve them up, will never age.