Calls for controversial next Celtic manager appointment – but former title winner would 'take him in a heartbeat'
Former Celtic title winner Mark Wilson says there is one name being linked with the club's vacant managerial post he would "take in a heartbeat".
For the former full-back turned pundit, who enjoyed three championship and two cup success in a six-and-a-half year spell from 2006, the credentials of Brendan Rodgers to fill the void left by Ange Postecoglou outstrip those of any other on the ever-lengthening list of possibles that have been quoted since the Greek-Australian departed for Tottenham Hotspur this week. On the back of clinching a treble to supply him with a five trophy haul across two years. Even as he regards the reported interest in Manchester City Enzo Maresca as "interesting".
Wilson is well aware of the perceived obstacle inherent in Celtic daring to rehire Rodgers. The club's support enraged at perceived betrayal deemed forever unforgiveable because the Irishman left mid-season of his third campaign - in Ferbuary 2019 - as the club chased a treble treble. On the back of becoming the first Celtic manager to capture seven straight trophies. Yet, the 39-year-old believes this is surmountable because Rodgers elite standing could allow him to hit the ground running - as he did in leading the club to Scottish football's only treble achieved without loss in his debut term of 2016-17.
"If it was me and I had the choice of anybody, and if Brendan Rodgers was available, I would take him back in a heartbeat," said Wilson. "There's obviously levels to management and all these names get bandied about, people look at into their past and what they've done and that's attractive. But when you have a manager like Rodgers, who came here with 15,000 people outside Celtic Park to welcome him, he backed it up with real success and a style of play that Celtic fans loved at the start. OK, it faded a bit at the end. That possession-based football was great at the beginning and Celtic fans loved it.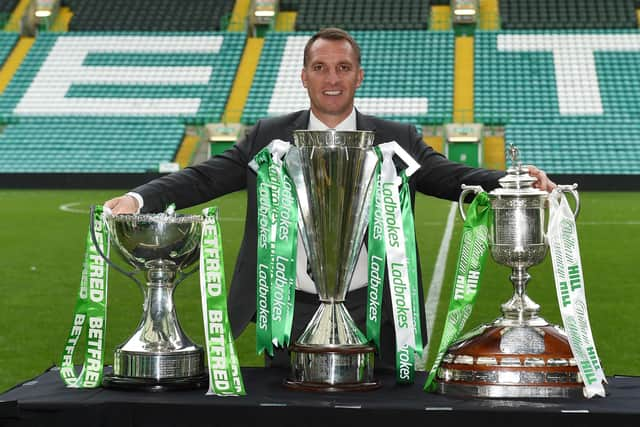 "But he's still a top, top manager. People can say 'look what happened when he went to Leicester' – he finished 5th and won the FA Cup with a team that was never going to reach the heights of what they'd achieved before.
"Everybody gets sacked at one stage, he's a real top manager. I suppose Celtic are fortunate that he's out there and not in a job. If he wants it, I think he'd be a great fit. The other is Enzo Maresca, I think he's an interesting one; part of the City Group under Pep Guardiola and it's a link Celtic have utilised well over the years. The style of play would maybe be closest to what Postecoglou brought. When you've got full-backs who have been reinvented like Greg Taylor and adapted like Alistair Johnston and Anthony Ralston – a different player now – you'd want to use that again if it's been so successful. To bring in a manager who scraps it and goes to a rigid four at the back, it may yield different outcomes. They need to be careful with who they pick.
"Without a doubt [I think the revulsion for Brendan Rodgers could pass]. Football fans hold things dear, especially at Celtic, where if the manager says the right thing, the fans believe it 100 percent. They struggle to let it go. He had to come in and gets results right away and the brand of football was good again. If a couple good signings came in the door, all would be forgiven. It's the only thing that stands in the way for me - that a few supporters don't forgive the way he left. But it's going to be the same whoever's appointed next. They're going to either leave at the end of the season or they're going to get the opportunity to go down south to a Premier League club, and that's something we have to get used to in Scotland.
"[There is a thawing] because some couldn't mention his name. Now they're mentioning his name and saying he did great things, even if they still don't forgive him. If he was appointed that would go further, it would thaw gradually over time. It's all about the product on the pitch and Rodgers, in his time here, was extraordinary, he was a great spokesman for the club but backed it up with performance. The only thing that really failed him was European football, like Postecoglou. He was wide open attacking and took a couple of thumpings. But apart from that you couldn't argue with his record."
Comments
 0 comments
Want to join the conversation? Please or to comment on this article.