Brendan Rodgers states his Celtic Champions League plan - 'educated pressing', 6 per cent revealing stat and Dublin quip
A hideously lop-sided ledger would be created from listing reasons for Celtic to be cheerful and fearful as they prepare to embark on a 12th Champions League campaign.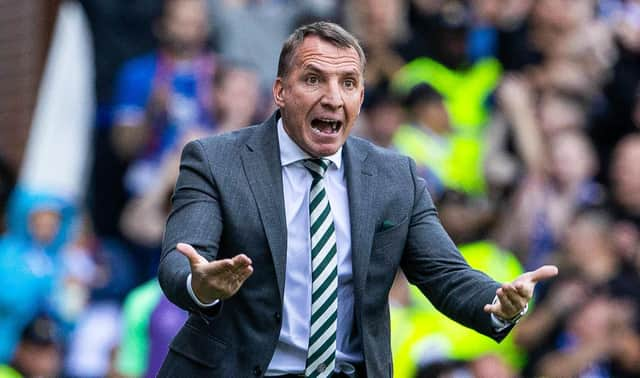 A 37th game on the road at the elite level awaits them wiith Tuesday's Rotterdam opener against Feyenoord. They boast only two triumphs from the previous 36 – a win ratio of 6 per cent – with no fewer than 29 of these lost. But, hey, at least the man now in charge, Brendan Rodgers, was at the helm when the most recent of those rare-as-hen-teeth victories was registered. Also in the Benelux region, no less. And, ehm, no less than six years ago ... close to the mid-point, time-wise, of his first two-and-three-quarter-years stint. But undoubtedly the high point of his two Champions League sorties. Never mind that the 3-0 success over Anderlecht in September 2017 was also no less than the last occasion Celtic actually won any game in the most unforgiving of arenas for Scottish clubs, where they have bagged only six victories over their entire past 37 games within it.
"It is a long time ago," Rodgers said of their Brussels bonanza. "But it was a great night and it was great for the supporters. You need a lot of things to go your way in the Champions League to get the results. As long as we look to give everything in the games and stay strong and stay together, we have shown [with the recent win at Ibrox over] Rangers that we have that togetherness and that personality. It is about letting that show."
It almost sounds like the Northern Irishman is looking for Celtic to be in hang-in-and-hope-to-nick-something mode with that assessment. Certain factors could come into play here. Rodgers admits he had to "grieve and move on" from being on the receiving end of the club's two heaviest losses in the European domain: the 7-0 defeat away Barcelona in 2016 and the 7-1 away to Paris Saint-Germain the following season. Sore faces of the kind, as he notes, "better teams" than Celtic suffered against these teams in that era. A period when, in fairness to him, the mightiest destroyers Lionel Messi, Luis Suarez, Kylian Mbappe and Neymar were in strutting form.
These batterings came across two group stages in which he also had Manchester City – his team drawing home and away with them, in hugely creditable fashion – and Bayern Munich for company. Rodgers then and Ange Postecoglou last season made largely vain attempts to go toe-to-toe with more gifted performers. The Australian won many plaudits for the fact that his team went for it, and that they were exciting and competitive in all but their 5-1 beating in the Bernabeu by Real Madrid. Ultimately, though, Celtic earned only two points, to bring up the club's poorest return from 11 group phases and sit 30th of the 32 clubs in that contest, above two teams left scrapping it out to avoid becoming the worst group performers in its three-decade history.
It is notable that while Postecoglou's zeal was for attack and possession – he countenanced little else – Rodgers dares to discuss the need for requirements that reality will demand from Celtic. Even as the absence of any absolute big beasts in a section composed of Atletico Madrid, Lazio and Feyenoord does appear to offer – albeit slim – prospects. As was true, it must be said, of Postecoglou's men also having Shakhtar Donetsk and RB Leipzig for company last year.
"You have to be educated in your pressure," he said. "I think there are things you just cannot get away with at that level that you would maybe get away with domestically. I have always been someone who likes a team to dominate but I think you obviously have to defend. I think if you defend well with conviction and aggression that gives you a freedom, that will make your attacking better. That has always been the mindset really. You have to look to impose your way and give them something to think about, and play without fear but know that you have to defend and defend well. You can't always be pressing high, sometimes you will be forced back. But that happened to us in the Ibrox game the other week as well. Any top team, no matter how good you are, you are going to have periods when you don't have the ball. It's just about staying strong in those moments."
There is no criticism of Postecoglou's bold strategy from Rodgers when asked his thoughts on how Celtic set about their Champions League adventure under the now Tottenham Hotspur manager. Just a sense that the 50-year-old is not of a mind to ape it. "I was the same when I was first here," he said. "You want to impose your game, you want to play an attacking game. Which is great. You can go with the mindset 'it doesn't really matter how we play there is a big chance we will lose because of the quality we are playing against'. But I always think it is nice to try and have a way to win. I just know through experience of playing against top players, and also my own evolution as a coach, that you want to be aggressive and you want to press the game and go and impose yourself, but there are certain moments when the pressure has to be educated. It can maybe give you a chance to do better in terms of the results."
What undermines that possibility is Celtic appearing decidedly under-prepared for any onerous continental assignments in the short-term. They have no new signings firmly bedded in and, with Liverpool loanee Nat Phillips likely to form a centre-back pairing with a partner he will have played alongside for one game, defensive organisation will hardly be second nature. All Celtic supporters want, in truth, is for their club to take the Champions League money and run to the more-at-their-level Europa League, courtesy of a third-placed finish in Group E. Oh, and win a home game in the competition for the first time in a decade as they do so. Naturally, Rodgers doesn't want to "place limits" on his tournament ambitions before a ball is kicked. But, he gives away that this scenario could hold considerable appeal as he targets European football after Christmas. "You look at Rangers the other year, they did great, brilliant run, got to a final and were within a Ryan Kent slide of winning it," he said. "So, the possibilities are there. And the final is in Dublin? Well … let's see how we go, there's a long way to go before that."
Comments
 0 comments
Want to join the conversation? Please or to comment on this article.