Brendan Rodgers lifts lid on Celtic coaching staff - gold dust, hardest worker, analytically brilliant, lovely human
Celtic manager explains how each of his backroom staff play a key role behind the scenes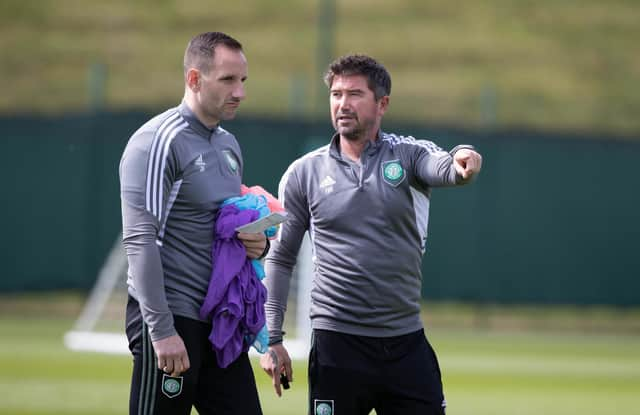 Celtic have bucked the usual trend with their most recent managerial appointments in that the backroom staff have remained largely unaffected by changes of head coach.
In most cases, a new manager will bring a new broom, sweeping out the previous regime and appointing his own people to assist him in the dugout.
Ange Postecoglou and Brendan Rodgers, and Neil Lennon before them, have all had the same assistant, in the shape of the former Celtic defender, John Kennedy – and all have rated him highly.
While Postecoglou added Harry Kewell as a first-team coach following the departure of Damien Duff prior to his arrival, Kennedy and Gavin Strachan remained on the coaching staff from Lennon's tenure.
And when Brendan Rodgers returned to the club this summer he inherited all three, the Northern Irishman also bringing Jack Lyons back to Parkhead, the analyst who followed him to Leicester City after earning a job at Celtic during Rodgers' first spell in charge on the back of his online tactical blog
The quartet all play a key role behind the scenes with Kennedy, Strachan and Kewell responsible for a different area of the first-team team while Lyons focuses on tactics and opposition scouting.
"The coaches have a specific number of players they work with on different elements of the game," Rodgers said. "An incredible amount of work goes on here from the coaching staff to help the players develop.
"We will identify areas they need to be better in. Harry will sit with the forward players, John the defenders and Gavin the midfield players."
Luis Palma has already credited Kewell with raising his game. The Honduras international has contributed five goals and five assists in 12 appearances in an impressive start following his arrival from Greek side Aris in August.
"He was probably referencing some pointers he gave him," Rodgers explained. "Which is great because that's why we are here – to train players, give them confidence and improve them. That's our job so it is once when they can reference people who are helping them."
"I have been impressed with all the coaches," Rodgers added. "John Kennedy is brilliant, and I saw that in my first spell. He is an outstanding coach and has an incredible thirst to continue learning and developing. He works as hard as I've ever seen anyone work in football. Besides all of that he is a good man. A very loyal man.
"I didn't know Gavin and Harry. I met Harry prior to taking the job and had a chat with him at my house down south.
"And I have to say, for a player who was world class in his pomp, the commitment he has to being here at Celtic and helping all our wingers, he is very good. And I think (former) players like him give you that bit of gold dust. He shares that with the players and he is good for our team and gives a different viewpoint.
"Gavin is an excellent coach, very diligent and has lovely human qualities. He is always there for the players. And obviously Jack Lyons. I brought in Jack as a really young, talented coach who is analytically brilliant. He can analyse and present that to players too.
"So the team is very good and that's why I didn't just single out Harry! The dynamics of it all make it work."
Comments
 0 comments
Want to join the conversation? Please or to comment on this article.