The 4-2 loss to Hibs proved the fourth time in five games that the champions had failed to come out on top and for a team that had spent most of the season sweeping all-comers aside, it offers cause for comment but the Aussie is relatively unperturbed.
"We love to live in the moment and everyone is sort of making assessments on what is happening right now. That's fine," Postecoglou said. "Most of that is on me, to be honest. I am the one making five or six line-up changes every week. That's hurting the side and there's no doubt about that, but I'm doing it for a reason and that has affected our level of performance.
"Although, until the sending off, I thought we were in a good position. We were in a good position and looking to finish strong. The red card comes and it is sort of chaos from then on – cancelled reds, penalties, mistakes, it just seemed the game got really out of control in that last 20 or 25 minutes. That sort of hurt us in terms of the outcome.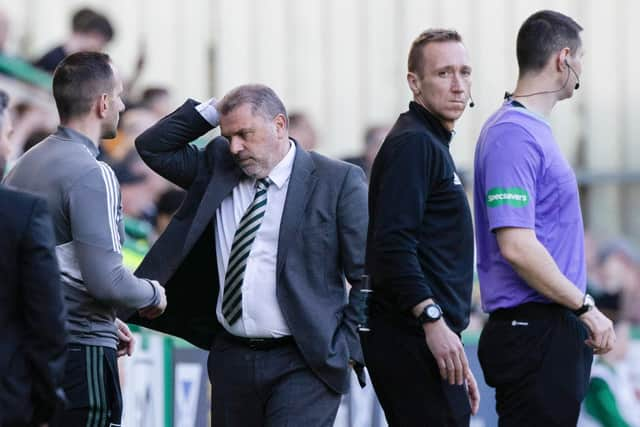 "Aside from that, as I said, that's my responsibility. I'll take that. That's the decisions I've made. In the last three weeks, they haven't been to the benefit of the team. But in terms of any far-reaching assessments or conclusions, as I said earlier in the week, it's for other people to make."
The Parkhead boss would not criticise Daizen Maeda, whose two yellow cards left his team-mates outnumbered. "He's a guy who just gives everything. I would never criticise him, the effort he puts in is just outstanding. He doesn't go down as easy as others. That's a credit to him."
Postecoglou also addressed the speculation that assistant John Kennedy is being lined up as the new Hearts gaffer. "John [Kennedy] plays a vital role. I give him a lot of responsibility. He's got a lot of experience at this football club, part of a lot of success. That isn't by accident. It's not surprising that people are looking at him. When the time is right he'll make an outstanding manager."