Ange Postecoglou reveals 'waste' message to Celtic stars and explains why performances will get stronger now
Celtic manager Ange Postecoglou paid tribute to his players for sticking to their principles on a pockmarked pitch as they plundered a quartet of exquisite goals in their 4-1 victory away to St Johnstone.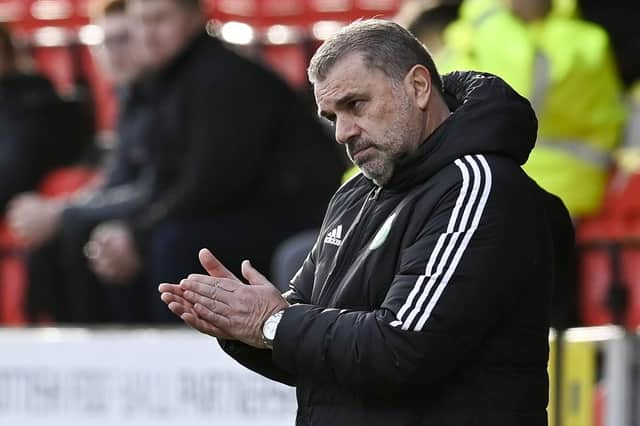 Conditions seemed to count out any effervescent football, but slick passing moves and delightful finishes were to the fore in strikes from Kyogo Furuhashi, Aaron Mooy and David Turnbull. The early opener came with an own goal from the luckless Andrew Considine, later sent off for a tug on Oh Hyeon-gyu in added time that allowed Turnbull to bury a low drive from the edge of the box.
"We knew it was going to be tough conditions today because of the pitch," Postecoglou said. "It's a tight pitch anyway and we know St Johnstone are always hard to break down. I thought we handled it really well in terms of doing the hard bits of the game, working hard and everything. The quality of our football was outstanding. It would have been very easy to come here today and think it was going to be a bit of a grind, and think you just want to get the three points and get up the road. But I said to the lads beforehand, don't waste any game of football. There is a goal to be found out there all the time if you are prepared to stick to your principles. It's pleasing the players look for that. They're not just going out there and saying 'lets get the three points and get on with it'. They wanted to put on a strong performance and they did."
Postecoglou maintains that the season is entering the stage where his team's performances will become ever stronger owing to the absence of midweek games until the host Hearts on Wednesday, March 8. "For about four or five weeks now we have a game a week so that gives us the chance to work really hard at training and get everyone up another level, another notch, and increase our performance," said the Celtic manager. "Both on an individual and collective basis. We have set our mark as always trying to finish stronger than we started and we are well on the way to that. We are definitely getting stronger every week and that's what we want to do till the end of the year. When you do have three games a week it limits the opportunities to work on our game style, our game patterns and individual work with the guys. The guys want that. We can't, as coaches, look to the games for improvement, we have to make sure we are giving them what they need on a daily basis and I'm sure we will use this period wisely."
St Johnstone counterpart Callum Davidson drew succour from his team's refusal to buckle at 2-0 down after 22 minutes, hitting back through Drey Wright shortly afterwards. He also appeared to have a minor quibble over Andre Considine being adjudged last man for his dismissal. "I have't really seen the red card back," said Davidson. "He's pulled his jersey but I don't know who's coming covering. I was a wee bit disappointed in that. As a player you don't think like that but as a manager you think of bigger pictures. I think [it might be possible to appeal it] ' but I'd need to look at it. I haven't looked at it properly. It did look like he did pull his jersey but there's players round about him. I still take a lot of positives. Against a very good team I thought we did well. When we tried to press them high, they could open you up but I thought we got the balance okay especially in the second half."