Ange Postecoglou responds to Michael Beale's 'lucky man' comments - and Celtic manager agrees with his Rangers counterpart
Ange Postecoglou can't help but agree with Rangers manager Michael Beale's contention that his Old Firm counterpart is a "lucky man".
Beale was referring to the size of the Celtic manager's transfer kitty in comparison to Rangers, who are still feeling the impact of long-term financial constraints, when he made this comment last week.
Postecoglou has already secured three new players since the World Cup break, with the latest, Japan's current player of the year Tomaki Iwata, unveiled at Celtic Park earlier this week. Although linked with several names, Rangers are still working on bringing reinforcements to Ibrox in the current transfer window.
Some frustration might have been at the heart of Beale's observation that Postecoglou "is a good coach – but he's spent a lot of money". The Rangers manager had noted the fact Celtic are already ahead of their rivals when it comes to restrengthening.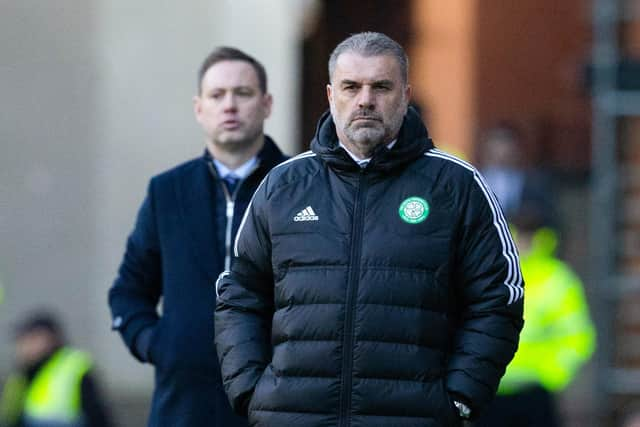 "They spend a lot more money than us, so Ange is a lucky man because he's spent a lot of money," Beale maintained.
The declaration raised eyebrows but Postecoglou has himself endorsed the view prior to Celtic's Viaplay Cup semi-final at Hampden Park against Kilmarnock.
"I agree, mate, I'm an extremely lucky man," was the Celtic manager's impish reply when Beale's comments were put to him. "I work for a fantastic football club with fantastic people. I've got a beautiful family. I've been doing this for 25 years now and long may it continue."
Postecoglou reported no new targets at present – and no departures. Defender Stephen Welsh has been linked with a move elsewhere. "When it comes to my desk, then I'll know there's something there that we need to discuss," said the Celtic manager. "But at the moment there has been nothing."I'm just dealing with what's in front of me. I've had a clear training week in terms of dealing with those kinds of issues."