Ange Postecoglou on Celtic crowd numbers, Ally McCoist offer to drive him to Leeds, and the only stat that matters
Celtic manager Ange Postecoglou has maintained that the numbers flocking to watch his team provide him with greater job satisfaction than any silverware totals ever could.
The treble-chasing Scottish champions' encounter at home to Aberdeen on Saturday afternoon sold-out weeks ago. It marks the third time in four Premiership outings that every seat will have been snapped up for a league fixture at Celtic Park. A period during which almost 80,000 were attracted to the stadium for two Scottish Cup ties – crowd returns for such one-off ties not previously witnessed this millennium.
The clearest indicators of how Postecoglou's high-octane, free-scoring playing style is proving box office dynamite for the Celtic faithful, the Australian prizes this above all. "For me that's the most important thing. Ultimately that's our biggest measure," said the Celtic manager, whose side will be looking to retain a nine-point advantage in the title race by extending their 100 per cent home league record to 13 games.
"Of course trophies are what this football club is about and that's my role – to bring success. But the biggest encouragement or rewards we can get is people wanting to come and watch their football club. I don't take that for granted. No one in the club does. Even cup games, it's a choice sometimes whether they come or not but they are coming in record numbers.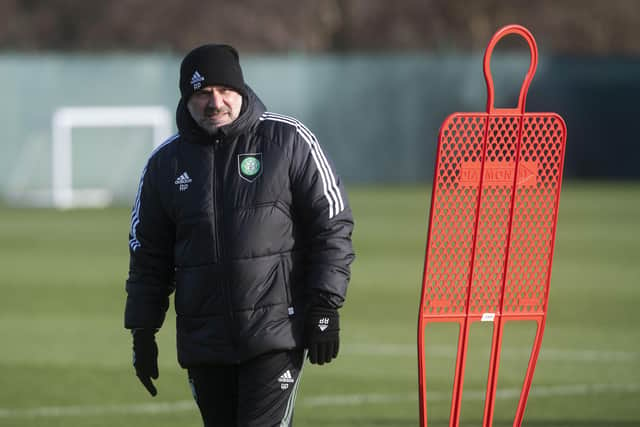 "They are not just appreciating the fact that we are winning games of football. I think they are appreciating how the boys are playing and they are excited by that. For me, that's the greatest reward. It's always been my barometer during my whole career. Fans will tell me how I'm going, more than the table or anything else. We can be winning games of football but if our supporters don't like what they see then I'll get that feedback for sure. For me, it's very rewarding that they are not just appreciating the fact that we're winning games of football but they are enjoying the way we are doing it."
Celtic's apparent unerring capacity for registering victories in the domestic environment is wearying those beyond the club's camp on the back of 27 wins, a draw and only one defeat in 29 such outings. Amidst the speculation linking Postecoglou with Leeds United, Livingston manager David Martindale joked he had already sent his counterpart's CV to Elland Road, while Rangers legend and television pundit Ally McCoist said light-heartedly he would drive the 57-year-old to England himself. Asked if he took this joshing as a compliment, the Celtic manager said, tongue-in-cheek: "I wouldn't struggle for a lift, mate… I've got plenty of people who'd take me, or I could drive myself. Listen, again it's all stuff that's not on my radar. My measure is the people who love this football club. That's the only feedback I'm looking for. They'll tell me how I'm going more than anyone else. That's always going to be my barometer."
A week before the bitter rivals face off in the Viaplay League Cup final, Rangers manager Michael Beale has stressed the importance of that showpiece is in part framed by the "low probability" of overhauling an in-form Celtic in the title race. Postecoglou chooses not to engage with that assessment. 'We've got to win tomorrow, mate," he said. "That's all. I've said before that my role in all of that is that we want to finish the season strong – stronger than how we started. If we win all of our games, we don't have to worry about anything else or anyone else or what anyone else is saying, or forecasting in terms of percentages. If we win every game between now and the end of the year, here's a percentage for you … 100 per cent we will win the league. So why would we think beyond that?"
Comments
 0 comments
Want to join the conversation? Please or to comment on this article.