Ange Postecoglou in revealing post-match press conference take as Celtic boss fields questions on future
Celtic manager Ange Postecoglou came as close to offering a valedictory address as possible without bursting the bubble of his club's support in the wake of the 3-1 Scottish Cup triumph over Inverness Caledonian Thistle that delivered the Greek-Australian and his squad a domestic treble, snaring a world record eighth such haul for the Glasgow side.
The 57-year-old gave no offer of tomorrows in the role he has held for two years – winning five of the six trophies on offer underpinned by back-to-back title success – as Tottenham Hotspur are understood to be closing in on him for their vacant manager's role. Asked if he anticipated remaining in the Celtic post next season, he intimated that making the tough decision about his future with the London club closing in would be imminent – but that he has no intention of spoiling the moment of arguably his greatest achievement in more than a quarter-of-a-century coaching. Postecoglou becomes only the fifth Celtic manager to lead the club to a clean sweep of the domestic honours, which they have now landed five times in only seven years.
"I anticipate enjoying this moment for the next 24, 48 hours, as long as I can before somebody drags me away and takes my attention away from enjoying something that has been hard-earned," Postecoglou said, in a revealing take. "The reality of it is there's probably players in that dressing room who won't be here next year. That's the nature of football. But I want them to enjoy it, I'm going to enjoy it and that's all I'm going to focus on until somebody grabs me by the collar and tells me that I have to answer certain questions."
He offered this giveaway address subsequent to being asked what he would say to a Celtic fanbase now, in truth, more resigned than concerned over his possible cutting his ties with their club. "I would say to them what I would say to the players – let's enjoy this," Postecoglou continued. "I deserve to enjoy this, the people around me deserve to enjoy this. Whatever other people want to focus on and talk about, I am not going to miss enjoying this moment with this group of people. But also I owe it to my family, my friends, those people closest to me. Everyone works hard and makes sacrifices to enjoy these moments. I understand that other people who aren't invested in it want to ask these questions, but for me right now the most important thing is that we reflect and just be in the moment of crowning something special. They deserve to enjoy this moment because, irrespective of what happens in the future, why would they not want to enjoy this moment for what it is? It is something historic."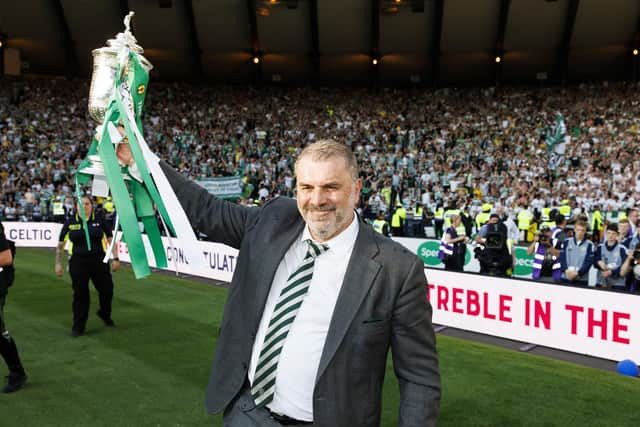 Fans had piped up with the song in his honour – and as a plea for him to stay, it was suggested – shortly after the final whistle of an stuffy encounter wherein Celtic seemed less than full pelt for spells against an oburdate Championship opponents. Goals from Kyogo Furuhashi and Liel Abade either side of the interval having seemed to end the Highland club's resistance before a late Daniel Mackay headed strike meant only an added time Jota counter made entirely certain of the outcome.
"I have appreciated the support I've had from day one," Postecoglou said. "Because of the way I came into the football club – without beating about the bush I was 'a joke', a lot of people made fun of me – but the supporters for their own reasons put their collective arm around me and said 'no he's one of ours'. It was up to me to repay that faith. The reason they felt so close to this team and so close to me was because while others may have mocked, they stood behind me. I think they deserve a lot of credit for what has happened because it would have been easy for our supporters to have been just as sceptical given the reaction to my appointment. That would have made my job a lot tougher, especially in that early period when results weren't there.
"I think they felt part of my journey here and they deserve to feel good about the fact that while a lot of people ridiculed it, they stood by the person who was representing their football club and that's what makes them special as supporters. For me, I have tried to repay that in my own way by hopefully producing a team that has brought success and that they are going to be proud of. But that for me has always been the most important thing."