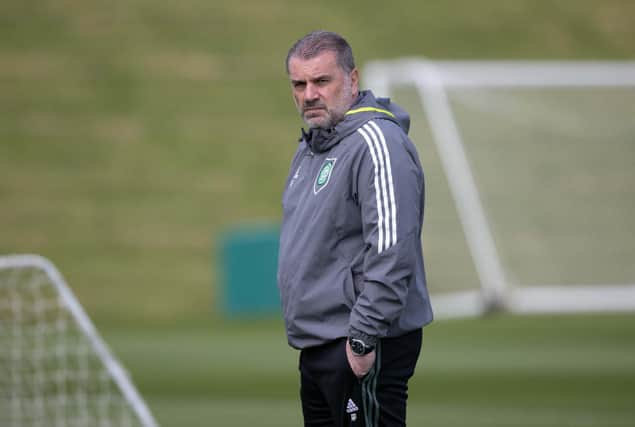 The 57-year-old is the bookmakers' favourite to become the permanent successor to Antonio Conte, with former Celtic manager Brendan Rodgers and Luis Enrique also quoted to be the next Spurs boss. However, in a wide-ranging interview with newspaper journalists as he was named Scottish Football Writers' manager of the year, Postecoglou picked his words carefully as he maintained he was living in the moment. The Australian claims he is fixing his thoughts on the Scottish champions' trophy day as Aberdeen are hosted in the closing league game and the Scottish Cup final against Inverness Caledonian Thistle next weekend which presents the opportunity to lead the club to the treble.
"I hope people know me well enough now and I have never thought about anything other than being present in where I am. That's the only way I know to work," Postecoglou said. "I have never charted a course for my career. There is no chance you could bridge the dots that brought me from Melbourne to Glasgow. It's not something you can do, 'In two or three years time I want to be there'. The only thing I have ever done is do the job I have as well as possible, have success and keep doing it until the circumstances change. For me, right now we have a big game on Saturday. It's an important, special day when we get the trophy. Then we have the cup final. It's a big week coming up.
"[In terms of it being flattering to be splashed over the back pages of English newspapers] that doesn't really rock my boat. Being on the back pages of papers isn't what drives me. All I have ever tried to do is the job I have to the best of my ability, bring success and rejoice in that. Not worry about what happens next, or when it happens, or if it happens. When you do that, you miss the opportunity of where you are at right now. The most important recognition of what I do comes from the people I am representing. If the people at the club and the supporters are recognising what I do, that's all I need."
It was put to Postecoglou that claims he could be tempted by an offer from the London club are unsettling for the Celtic faithful that have fallen for him as manager of their club hook, line and sinker. "I understand that," he said. "It's only natural, and I guess it's the same with players. As a manager I love to think that we will keep all our players for the start of next year, but the reality is that it probably won't happen. I think it's the nature of football and we understand that. But whatever the future holds for me or anyone else this football club continues to exist, it continues to be successful. That doesn't change."
Postecoglou continued in a fashion that could be open to all manner of interpretation when reminded of his comment after the Viaplay Cup final success in February that people would be "surprised" how long he was at the Celtic helm. "I don't put timelines on things. If other people are trying to then it's purely guesswork," he said. "I start every year and every job I do I do it as if I'm going to be here forever. The reality is that I'm not going to be.
"But every decision I make is a decision I think will be good for this football club or any football club I work for. I'm pretty proud of the fact that every club I've worked with, even after I've gone, has had success. No one has fallen off a cliff just because I've left. Every football club I left had success directly after I've gone and I'd like to think that what I've put in place is long-lasting. From my perspective I don't put timelines on how long I am at a football club. I just treat every year as a separate year and a chance to build."
Equally, it was pointed out, he couldn't know what was round the corner in terms of offers that could come his way. "It's not even about what offers I get. It's about sort of how I feel or how the club feels," he said. "If we don't start well next year and we are second and you guys start putting the heat on me then the club starts thinking about my future. That's the reality of it, the truth. I don't live in some universe where I think I am untouchable. That's the reality and you deal with it. And that's why I have always made sure that my efforts and consciousness is focussed in the here and now. I don't worry about tomorrow. Look at the Premiership this year and how many managers started and finished the year? Not many."
Sometimes you need to seize the moment, it was then pitched to him. "I think I've done that in my career," he said, leaving Yokahama F Marinos mid-season following three-and-a-half years with the Japanese club to come to Scotland in June 2021. His title-winning stint there of a similar length to the periods that brought him championship success at both first post South Melbourne across the turn of the century and later Brisbane Roar, ahead of a four year-spell in charge of the Australian national side from late 2013. "It's about how you feel and when you get to the end of the year how you feel about the next challenge. That doesn't mean you do it because it is there. There has to be reasons for it to happen. I've never taken anything for granted, never looked too far ahead and never worried about the next step.
"I know that if I don't worry about what's happening here right now my future gets taken out of my hands. I don't get to decide anything, other people decide it. I have been determined my whole career to have my destiny in my own hands. I wouldn't like to lose control of that."