Ange Postecoglou breaks silence on Celtic future in wake of Leeds speculation and 'source' claims
Celtic manager Ange Postecoglou has given his strongest indication yet he is committed to the club for the foreseeable future.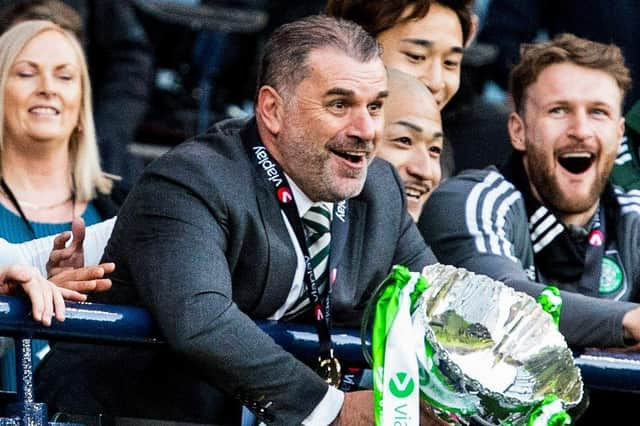 Following recent links with Leeds United, and a source in Australia claiming he would move on at the end of the current campaign after two years in Scotland, the 57-year-old chose to open up on the subject at length for the first time in the wake of his team's Viaplay Cup success over Rangers on Sunday. He did so to acknowledge "of course" he ponders that what he has with in Glasgow would not be easily replicable elsewhere, while providing himself wriggle room in admitting that he feels it is important to be abreast of other potential moves.
"You think about it all," said Postecoglou. "When people say 'he's going to go down the road or somewhere else with the first offer he gets' it's not how I'm wired, it's not how I think. For me, what it's about is just trying to leave a mark wherever I am. I have done that with every football club I have been at. I want to do that at this football club and that is all that consumes me. I don't think about the next step … or I need to go somewhere else … or I need to do this … or I need to consider other things. It is all there.
"You don't go through life oblivious to it. It is not healthy to put the blinkers up and not know what is going on because that tests your desire to keep doing what you're doing. If people are talking about my future or are interested in my future I will sit there and listen. It doesn't mean I am going to jump at anything that comes my way. I am really passionate about what I do and the people close to me know what is most important to me, what drives me and what keeps me sort of happy in my role. I couldn't be happier."
Asked if would require a big job to entice him away from Celtic, Postecologou chose to reframe the question, setting out that any longevity depended on continuing to be wanted. "I totally understand what you mean," he said. "I am hoping that over the course of time, as long as I'm here – and I am still here even though people have been getting me out there door, and I think you will be surprised how long I am here – all that I do when I am here is just be consumed by what I do and try to make this football club the best it can be and enjoy every minute of it.
"Mate, the world of management, I am too old to be kidded on by anybody. Things change very quickly. How many managers last three years in their roles these days? You have either got to have extraordinary success or in rare circumstances a club sticks by you. Apart from that, everyone doesn't last that long. I am going into my third year next year and I am going to keep doing what I am doing and not really worry about what other people see. Because I'll tell you what the first thing that will be said – and one of you [in the media] will be the first ones to do it – is I am not ambitious enough because I am not moving on."