Ange Postecoglou addresses Liam Scales' Celtic future and hails the 'outstanding people' behind his success
Celtic manager Ange Postecoglou has applauded Liam Scales' efforts on loan for Aberdeen and revealed a decision on the player's future is imminent.
Postecoglou's hopes for the centre back to gain valuable first-team experience have been fulfilled with the player making 37 appearances for the Pittodrie side already this season. It has been a campaign of fluctuating fortunes for the Irishman. He scored a contender for goal of the season against Rangers last month and has coped well with setbacks, including being sent off in a 6-0 defeat against Hibs at Easter Road.
Scales has just two games left of his loan spell as he is not permitted to play against Celtic on the last day of the league season. Now Postecoglou must decide whether to assimilate him into his first-team squad or loan him out again next season. There is also the possibility an offer might be made to buy him, with Aberdeen among teams likely to be interested in the 24-year-old. He is contracted to Celtic for another two years.
"We'll wait until the summer," said the manager. "It's good to see him doing so well at Aberdeen. When you put guys out on loan you hope they get good experience and make an impact. Liam has done that and I know Barry and the club have been really happy with hm. But those decisions will be made at the end of the year. We'll see what's best for him and the club."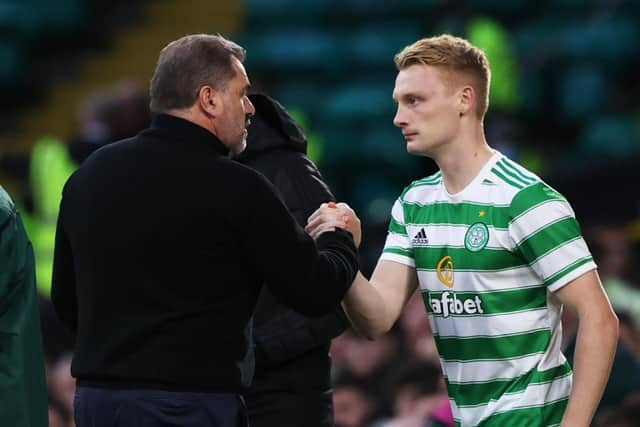 Meanwhile, Postecoglou has praised his backroom staff after he picked up the PFA Scotland manager of the year award on Sunday night. Assistant manager John Kennedy and coach Gavin Strachan were already at the club when Postecoglou was recruited two years ago but he developed an instant rapport with them. He added Harry Kewell to the coaching team last summer.
"They have been outstanding," said Postecoglou. "I know I'm the frontman and the manager is the one who gets the recognition. But these things are really recognition for the whole group. I have an outstanding staff here. The football department is led by John Kennedy, who is just an outstanding person and coach and leader.
"There is also the rest of the different departments, the analysts, the sports science and medical staff, they have all played their roles. We have the best people involved at all levels. I've got a tremendous group around me."
Postecoglou made special mention of the way Kennedy and Strachan have recovered after being associated with the failed ten-in-a-row title bid in 2020-21.
"They are outstanding people," he said. "I arrived here myself and I had the option of bringing people in. But when I looked at it, I know they had a difficult year, but the backdrop was nine outstanding years before then.
"John Kennedy was part of most of them. My feeling was they were outstanding coaches and I wanted them to be part of it.
"They had a difficult year but the way I saw it was that they had a huge motivation to sort of put it to bed and be successful at this football club. It's a great credit to them. They are outstanding at their work and a credit to the football club."
Comments
 0 comments
Want to join the conversation? Please or to comment on this article.