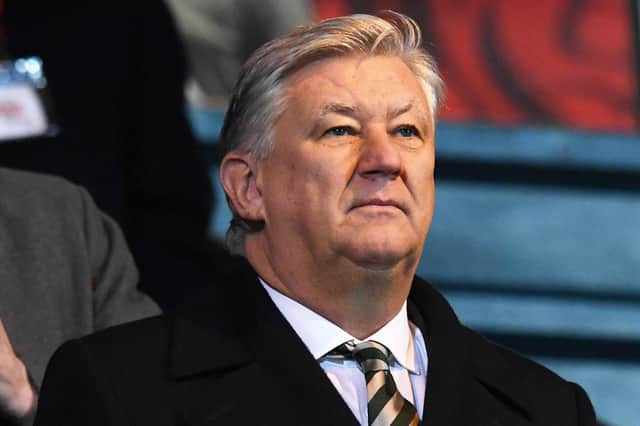 Celtic chief Executive Peter Lawwell has made an oustanding contribution to his club's cause for almost two decades. (Photo by Craig Williamson / SNS Group)
Peter Lawwell could give a variation on that following the announcement that he will retire in July and pass on the Celtic chief executive reins to Dominic McKay, closing almost 18 years in the role.
Owing to the carnage created by the abject failure to land a record tenth straight title so long crazily-obsessed over by the club's support, Lawwell has had many of the faithful dancing on his career grave. Give it time, and they will recognise they really should be toasting a man who has given outstanding service to the club he loves more than any balance sheet – whatever his blinkered haters rage.
The prophet is said to be unappreciated in their own land, but, oddly, it seemed the profit Celtic were capable of posting left Lawwell underappreciated. Yet, that Celtic could be in clover for trophy harvesting as they were a footballing model for remaining in the black sets apart what Lawwell achieved as a chief executive from practically any other person to have occupied the role in British football.
Only in two of the past ten years have Celtic lodged a loss. Supporters never seemed to understand it is precisely such sound management that provided the foundations for the greatest trophy haul across any decade of the Scottish game, topped by nine titles and four consecutive trebles.
I interviewed him for the Celtic Opus in 2008 and, even back then, he made a point of acknowledging every chief executive had his shelf life. In his quieter moments, he would maybe consider he stayed in position too long – and so became a punchbag for the malcontents that considered his £1m-plus basic wage an affront.
He once lamented to me that, in the grumbles over the quasi-head of football role he effectively assumed, he was never given credit for the signings of such as Virgil van Dijk and Victor Wanyama but held responsible for every failure. He maybe overplayed the low-balling and granite-hard negotiating at times, but in the round, he was hugely in profit – both in terms of the talent acquired and sums banked from sales – on that front too.
As a collective, Celtic's judgement has deserted them this season. Lawwell can be cited as having made a number of injudicious calls at odds with a previously intuitive sense of doing what was sensible, even if rarely popular. His strength of character to remain true to a pragmatic path so often putting him at odds with an emotional, neurotic support deserves commendation, not castigation.
It was wearily predictable the Green Brigade should offer such a classless response to his departure with their "one down, more to go" tweet … a reference to their viciously unedifying demands also for manager's Neil Lennon's head. I would dare suggest Lawwell's greatest mistake was to indulge this crowd. I told him not to ride that tiger, but to their detriment Celtic did so in providing them a section and status undeserved.
Whatever such Lawwell-bashers might want to believe, it reveals pathetic small-mindedness they cannot bring themselves to acknowledge Lawwell has been a titan for their club.
A message from the Editor: Thank you for reading this article. We're more reliant on your support than ever as the shift in consumer habits brought about by coronavirus impacts our advertisers. If you haven't already, please consider supporting our trusted, fact-checked journalism by taking out a digital subscription.