Alistair Johnston reveals family's late Celtic dash, name being Googled and Ange Postecoglou message that has come true
Until he arrived at Celtic, Alistair Johnston had not won a major trophy and despite picking up two in five months, the novelty still hasn't worn off. For him or his family.
Which is why his mum Kathryn and dad Bill made the last-minute decision to jump on a plane and travel from their home in Canada to Hampden for Saturday evening's Scottish Cup final and a shot at the treble. "It's funny, but they didn't actually fly out for the trophy presentation last week but they were seeing all the pictures from the celebrations on the pitch and stuff," said Johnston. "We were at our team function later and it was late when I got a call. I thought 'Who's calling me at this time?' It turned out it was my dad, asking me if I was enjoying myself and I told him it had been a great evening. He then told me they'd just booked flights because they felt they were missing out. So my mum and dad will both be out for the final, so that's good. I think they're excited."
If his folks' fear of missing out influenced their travel plans, there was relief in the Celtic ranks that the 24-year-old would not be an absentee this weekend. Injured in the semi-final victory over Rangers in his last visit to the national stadium, he sat out the majority of the post-split league matches, but made a welcome return for the trophy day thrashing of Aberdeen and is now hoping to wrap up a tremendous season with another piece of silverware. The fact his parents will be there to witness it and he hopes, perhaps even remember it just adds to the occasion.
"My dad's already been to Hampden, but my mum hasn't experienced it so she's excited," said Johnston. "Hopefully we can seal it the right way and they can see a good celebration afterwards. My dad was there [at the Viaplay Cup final] and he was loving it. I'm not too sure he remembers it too well because he was enjoying himself quite a bit! All the other parents came up to him and they could tell he was probably the one who wasn't 100-per-cent sure where to go. So they looked after him, which was really nice."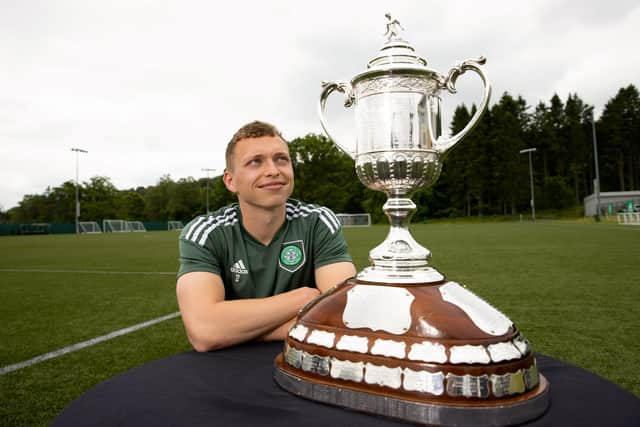 Two trophies down and another in the offing, there are still 'pinch me' moments for the Johnstons. "My dad will always Google my name," said the Canada internationalist. "I tell him it's not a good idea because when it's going well it's going to be fun but when it's not, it's not going to be great. But he says: 'Look, you go onto your Wikipedia or whatever and the first thing that comes up is winner of this and winner of this'. At the end of the day, you do want those accolades and accomplishments beside your name when you do hang it up.
"You want to look back and potentially show your kids and grandkids some medals so that they actually believe you did play. We're professional athletes and we've made it to this level because we are uber-competitive in every facet of life and winning trophies is how you show you were the most competitive and most driven. That's what we all want to be."
For some in the squad, there are records to be claimed – Callum McGregor will become the first player in world football to claim five domestic trebles if Celtic can see off Inverness Caledonian Thistle – but for guys like Johnston, it is just the beginning. "Before I got here I'd never won a trophy," he said. "Never really got close. So to have already won two is a great start and this is an opportunity to complete a treble. I think it can almost get lost just because of how many trebles this club has won in the past decade or so. But when you really look at it in the world of football, there are not a lot of players who have the opportunity to say they've won a treble. That's not lost on us. We understand, especially us younger guys who've never done it before, how much that could possibly mean to us."
Arriving in the January transfer window, on the back of appearing at the Qatar World Cup, things have panned out as promised for the Canadian right-back, who has been a prize asset for Celtic ever since. Manager Ange Postecoglou is reportedly set for talks with Tottenham early next week but Johnston knows that European ambitions remain unfulfilled and he is hoping that will be enough to keep the highly-regarded Aussie at Celtic Park.
Johnston recalled: "He [Postecoglou] said, 'Look, once you get a taste of that World Cup and that kind of atmosphere, you're going to want more of it. That's something we can provide for you at Celtic, playing in front of 60,000 fans. It's going to be super passionate.' And he was right about that. It's just something that you can't get enough of.
"He also said that I was going to want to test myself at the next level, and that's what it's all about with the Champions League. Thankfully, we've taken care of business with the league and that automatically puts us into the Champions League next season. That excites me and all of this group.
"I wasn't here for it earlier this season but the guys feel like they should've done more. They've kind of got their feet wet in the competition and this group really understands it now. They've had their first go at it with the manager's system and now they want to go at it again — and really kind of show the world what we're all about.
"That was another of the things he pushed heavily on me — and it's exactly that which has come true. Everything he said was exactly what I was looking for and it's exactly what's happened. I'm happy."