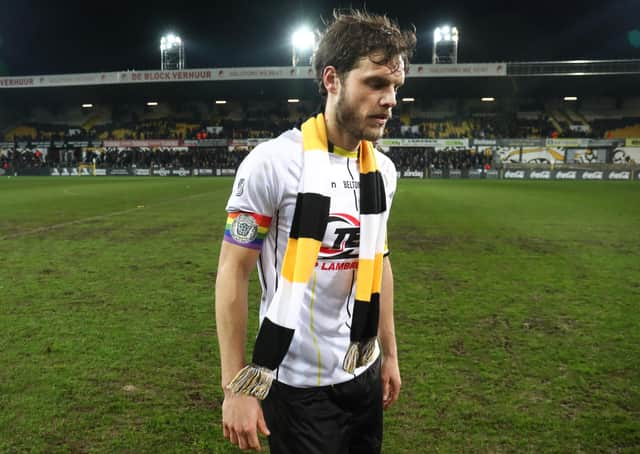 The news earlier this week that Lokeren have gone bust was a dismaying dose of reality amid on-going talk of when and how football should return.
The Belgian club will be remembered by Scots of a certain age as being where Jim Bett twice enjoyed spells at a time when British players did not often ply their trade abroad.
They were one of a glut of clubs from Belgium whose name will trigger some memories of European jousts in the 1980s. Winterslag were knocked out of the Uefa Cup in 1981 by Dundee United while Aberdeen blew Waterschei away in 1983 to reach the final of the Cup-Winners' Cup, which they duly won by beating Real Madrid. Neither Winterslag nor Waterschei are in existence any longer having merged to form Genk.
Now Lokeren, who once provided opposition for Dundee United in the Uefa Cup, have been consigned to the football graveyard. The point is that while some great old names of Belgian football have fallen by the wayside, Scottish football has proved admirably resistant to the see-sawing economic fortunes of football. Clubs have flirted with oblivion but somehow stayed upright. Since Third Lanark in the late 1960s, Clydebank – now reformed – and Gretna have been the major casualties. So far.
The current trauma is another level of financial pain, however. It exceeds the banking crisis of a dozen years ago because it is preventing each and every football club, great and small, from operating. They are effectively being mothballed. Few, perhaps only one, have the resources to ride things out in the long term. And increasingly, this is what it seems likely to be – long term.
Ann Budge has certainly reached this conclusion. Her statement last night confirming she had abandoned talks to defer players' wages and was now simply reducing them was the Hearts owner cutting to the chase. Wage deferrals only work if one can assume football clubs will have access to above-normal revenue streams when the action resumes. And that's a big assumption to make.
Indeed, the furlough scheme, on which so many clubs, like other businesses, are reliant, is only in place until the end of June, with a tapered reduction expected thereafter.
Football cannot rely on government help when the economy is so traumatised. The penny is dropping. Never mind now, what are the prospects in the future? The ability of Scottish clubs to gain funds from selling players to the cash rich leagues in England in the future might be severely restricted, since there's no telling what state the English game will be in when something approaching normality returns.
Might some part-time players have to operate in the Scottish top flight? Perhaps.
Even seemingly minor operational considerations such as the ongoing feasibility of a winter break are bound to be affected. What really is the point of it? The arbitrarily scheduled interlude – the weather rarely plays ball – has only aggravated the current situation since it has robbed teams of match income they might otherwise have had. That self-imposed spell of inactivity serves to mock us now.
Such issues must be parked for the time being. Perhaps reconstruction should be too. Does it really matter what Budge and Co come up with regarding the format of leagues if we re-emerge without the full complement of clubs?
While the vexed question of awarding Celtic the title and relegating Hearts continues to give the SPFL board agonies, the Dutch football federation have gone and null and voided their league season in order to deal with the bigger questions thrown up by the virus.
There's no more profound one than the existential threat it poses to clubs.