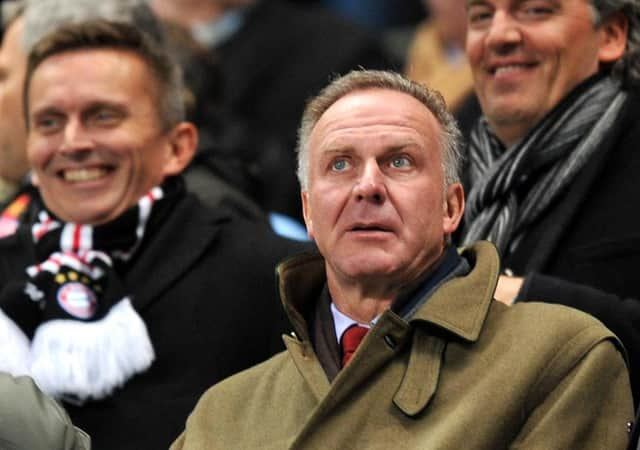 Karl-Heinz Rummenigge's Bayern Munich are one of four German clubs to pledge a solidarity payment of €20m to support struggling clubs. Picture: PA
The world's population will remain at risk from the sort of invisible enemy that is currently having such a profound impact. It could yet prompt a philosophical response. Some are even forecasting another Summer of Love when we are all allowed out in the open again.
Is it too much to expect Scottish football might develop something approaching a sense of community? Many are proving unarguably heroic in their own communities. The Scotsman has been carrying a diary from Stenhousemuir chairman Iain McMenemy in which he has been outlining his club's efforts in helping the vulnerable in the local area.
Others, many themselves operating on the breadline, are pulling out the stops, such as Inverness Caledonian Thistle. Individuals, too, are taking a lead, Inverness manager John Robertson among them. He slipped on some protective gloves to deliver food parcels to pensioners in isolation due to the coronavirus outbreak.
But what are clubs doing for each other? I recall receiving some flak for suggesting Celtic should help bail out Rangers back in 2012. It was, perhaps, foolishly idealistic. One or two Celtic fans got in contact pointing that out. However, it was not some hippy notion plucked out of the air. The column was written on the back of a story in Germany where it was revealed, almost ten years after the event, that Bayern Munich had provided a €2 million loan to help fierce rivals Borussia Dortmund stave off the threat of bankruptcy in 2003.
"It was a critical situation for Borussia Dortmund," Uli Hoeness, Bayern's president, explained. "I'm a big fan of tradition in sport. I think it was the right thing to do."
The right thing to do. Just think about that for a moment. Bayern have also helped out financially troubled 1860 Munich and St Pauli in the past.
This week, it was reported that four clubs in the Bundesliga, including Bayern and Borussia Dortmund, have pledged a solidarity payment of €20m to support other clubs struggling to stay afloat in the country because of the shutdown.
"In these difficult times, it's important that the stronger shoulders support the weaker shoulders," said Bayern chief executive and former star player Karl-Heinz Rummenigge.
It is hoped those in charge of clubs such as Rangers and Celtic might have the good grace to feel slightly embarrassed upon reading these words having presumably already banked the cheques received from the SPFL earlier this week. There has been little from either of them or any top-flight club in Scotland regarding the greater good. Of course, they have needs too. And compared to Germany for example, there is simply not the same level of funding to hand in Scottish football.
But we must also accept there is something far wrong in our game when earlier this week our top three clubs, including third-placed Motherwell, received an early handout totalling almost £400,000 each from the SPFL. League 2 clubs' share of the pot, meanwhile, was only £1,350. Barely enough to pay for floodlight bulbs they may be about to turn off for good,