Alan Pattullo: Neil Lennon Celtic situation is painfully similar to Craig Levein and Hearts - and mob rule unlikely to win quickly
Like a child opening a first advent calendar door and finding no chocolate behind it, some Celtic fans will have felt a profound sense of deflation after being briefly tantalised by news the club had released a statement last night.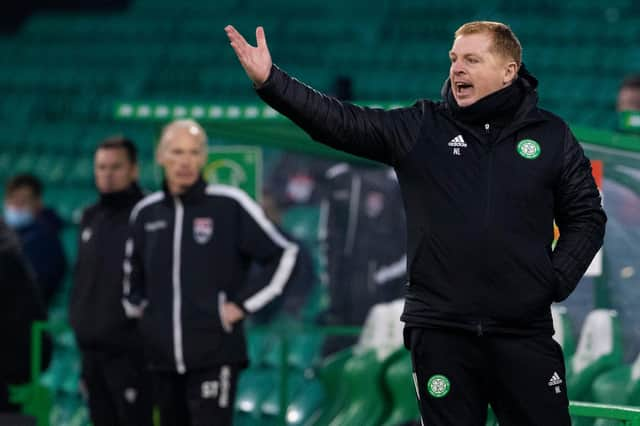 Neil Lennon remains in the picture. It's very likely he will be there tomorrow, and the next day and – barring complete humiliation against AC Milan - the day after that.
Dermot Desmond, the club's majority shareholder, is prone to set his face against boorishness. He abhors being disprespected, which helps explain why Lennon remains in situ.
There was the time at Hampden, when, having watched Rangers directors celebrate Scottish Cup semi-final goals with what was considered unseemly exuberance, Desmond decided enough was enough. He would go out and get someone he considered the best option, in that case Brendan Rodgers. He was offered a king's ransom to continue his football management career in Scotland at the club he professed to support.
That snap judgment was proved to be very sound indeed. Rodgers won every domestic competition he could while at Celtic. There were few complaints until he suddenly upped sticks with the season was drawing to a climax and opted to join Leicester City. He went from hero to nemesis overnight. Lennon's fall from grace has taken longer. It is twice as shocking in that he has been such a totemic figure for the Celtic support for nearly twenty years. A faltering attempt to secure ten-in-a row has tested that relationship.
It might even have tested Desmond and others' resolve were it not for the scenes that unfolded outside Celtic Park on Sunday evening. Supporters, frustrated at having no vent for their feelings, broke Covid-19 protocol by flocking to the stadium to protest at what they deemed to be the last straw – a Betfred Cup defeat to Ross County.
Lennon has been portrayed as grimly clinging on but this reaction, much of it considered hysterical, has contributed to Desmond's apparent orders from across the Irish Sea: don't submit to mob rule.
In a way Lennon's fate resembles the slow death of Craig Levein's most recent spell at Hearts. Despite a large schism developing between him and a section of the support, he struggled on. As with Lennon, there was no appetite from the major shareholder, in that case Ann Budge, to sack someone she was fond of and who enjoyed some previous success at the club.
She has since admitted she regrets taking so long before finally acting. She has also conceded that the successor, Daniel Stendel, was "the right man at the wrong time". Celtic would have to be very sure they had a suitable successor in mind before dispensing with Lennon's services, which they appear reluctant to do at this stage of the season.
As with Levein, a Scottish Cup final date – against Hearts, ironically – would appear to represent a life raft for Lennon, something further suggested by Peter Lawwell's statement yesterday. The chief executive mentions how, later this month, "Celtic will attempt what no other club in the world has achieved – a quadruple treble in domestic competition".
In any event, the leading alternative managerial alternative appear laughable. Martin O'Neill isn't even the most desirable M. O'Neill on the list – Michael, surely, has a more valid claim to be considered on account of recent achievements. Gordon Strachan, meanwhile, is already in a job as technical director at Dundee. Dropping everything to return to Celtic Park would render as meaningless his recent claim to be more passionate about youth football than anything else.
Lennon is continuing to prepare for tomorrow night's Europa League clash against AC Milan in San Siro, where he hopes to start winning back some favour among a restless, agitated support. It might already be too late for that.
Celtic fans have already organised petitions calling for his removal. They argue that they expect their complaints to be heeded because they have bought season tickets and club merchandise - like fans of every other club in Scotland. Something they can lay claim to that is different to nearly every other club in Scotland is strength in huge numbers. That alone could count against Lennon in the final analysis. As it stands, Desmond feels compelled to stand against the vocal section. He will argue – rightly or wrongly – that these malcontents do not speak for the majority.
Lennon, while clearly feeling he deserves the chance to continue, has sounded philosophical about this being taken out of his hands. If that happens, "so be it", he said, following the defeat to Ross County.
He did not come across like someone preparing to walk away. But then he's already done that – or so it was portrayed. It was presented as his decision to cut short his last spell as manager when he had nothing else lined up. He was finding it harder and harder to stay motivated at a time when Celtic, with Rangers condemned to the lower leagues, were having things their own way – or at least that was the explanation.
While there was a lack of on-field stimulus, there was plenty off-the-field drama, including bullets in post, an assault at a set of traffic lights and another unprovoked attack, this time at Tynecastle, when his back was turned as he watched his side take on Hearts. It took a toll.
Nevertheless, Lennon knows he is perceived as having already handed back a dream ticket to manage Celtic. It's why he cannot sound too aggrieved if he is asked to leave the premises before long. Much will depend on what happens, if not against AC Milan, then against St Johnstone on Sunday, when security will be as tight as it's ever been at Celtic Park despite no supporters being inside the ground. And that says it all at a time of supposed peace and goodwill.
A message from the Editor:Thank you for reading this article. We're more reliant on your support than ever as the shift in consumer habits brought about by Coronavirus impacts our advertisers.If you haven't already, please consider supporting our trusted, fact-checked journalism by taking out a digital subscription – https://www.scotsman.com/subscriptions
Comments
 0 comments
Want to join the conversation? Please or to comment on this article.