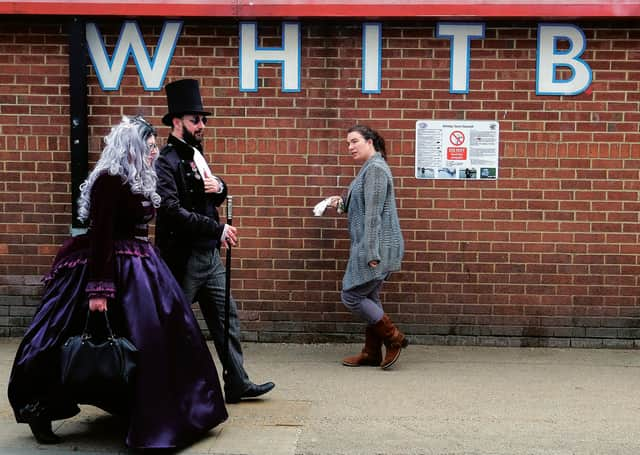 Gothic Weekend in Whitby, where the town's football supporters are mourning the premature end of the season. Picture: Ian Forsyth/Getty Images
Spare a thought for Whitby, Count Dracula's team, who've just suffered a stake through the heart. England's Northern Premier League, where they play, have had all results expunged amid the havoc left by the coronavirus. Those 14 wins from 31 games mean diddly. Truly Whitby – the town being gothic inspiration for Bram Stoker's vampire tale – are the undead.
So's every other team in this division and as Scottish football awaits its fate and a decision on the rest of 2019-20, maybe we should have the biggest sympathy for South Shields – 12 points clear at the top – who won't now be promoted so are threatening the FA with legal action. Who else plays in this voided league, the one due to be denoted by an asterisk and a sad footnote in future record-books? Just below Whitby are Scarborough, a seaside resort I've never visited but which always makes me think of the Beano Summer Special – a life-saver on the rain-lashed hols of boyhood – and the classic image: mangy donkey on the beach, washed-up starfish and Teacher from the Bash Street Kids tiptoeing through the shivery shallows in an Edwardian striped bathing suit, still with his mortar board on his head.
Next up in the Northern are Morpeth and I've been there, though didn't intend to stop, the car breaking down en route to a wedding. Then come Hyde United who might be content with mid-table mediocrity in the season that never was given that when they were plain old Hyde they were England's Bon Accord. As I progressed from the Beano to Shoot!, Preston North End 26, Hyde 0
was a corker of a scoreline for a lad becoming seduced by stats and big-bigger-biggest. Not as sensational as Arbroath 36, Bon Accord 0, but still: an English record which will never be beaten. Better organisation at all levels will ensure that, and so will sideways-passing midfielders, last-15-minutes-keepball and the "managing the game" philosophy.
But the really interesting fact about that tie way back in 1887 – no, the fantastic thing about it – is that a bunch of Scotsmen made off with nearly all the goals. With football at a complete standstill we can surely take a moment to remember their stunning theft, not least because Hyde United's Wikipedia page makes no mention of the epic score (although the club's match commentary channel is called 
26nil.com).
Edinburgh's Jimmy Ross, nicknamed the Little Demon, bagged seven, although some reports credited him with eight. Sammy Thomson, a son of Ayrshire who played for Rangers, scored five, as did John Gordon from Port Glasgow. Did George Drummond, also from Edinburgh, notch two or was it three? Again, accounts differ. But I'd better not forget David Russell's counter. Also from Ayrshire, he was "a strong-tackling centre-half who once ran half the length of the field to kick an opponent in the back".
Really, this tartan-dominant display is right up there with the 1978 European Cup final when Graeme Souness slid the pass for Kenny Dalglish's dinked winner and these two were joined by Alan Hansen in running off with the trophy after the presentation.
There are some evocative names in the Northern including Gainsborough who're based in Lincolnshire and sadly didn't originate at the London movie studios of that name. There's no record of the studios fielding a team during their 1940s heyday, or of James Mason, Arthur Askey and Stewart "No danger" Granger forming a front three. But there are evocative names in Scotland, too, none more so than Forres Mechanics and Inverurie Loco Works whose Highland League has just ended – incomplete of course. But at least Brora Rangers have been declared champions, something denied South Shields. In Scotland we must do all we can to avoid obliterating an entire season's endeavours.
Imagine if that happened after having seen your team play every game. You might have taken your kid to their first match in 2019-20,
or proposed to your girlfriend, or witnessed what you instantly installed as one of your all-time ten best-ever goals. What are these memories worth when the season, in effect, didn't actually happen?
Further down the Northern, hovering above the relegation places although that's academic now, are Grantham, the team from the birthplace of Margaret Thatcher. Maggie didn't much care for football – in fact, she hated it. So does Covid-19.