Aidan Smith: What has Ron Gordon been drinking?
What had Ron Gordon been drinking the other night when he called for an end to Scottish football's booze ban? The Hibernian owner chose the club's annual general meeting to suggest fans be given the chance to show they can enjoy a few pints at games and still behave themselves. Laudable in principle? Maybe, but laughable in every other way.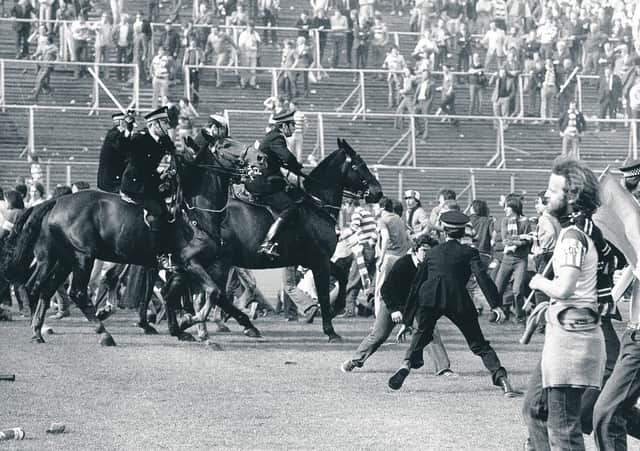 The riot at the 1980 Scottish Cup final led to the booze ban. Picture: Donald MacLeod
For one thing, Gordon's big idea was unveiled the other side of the Easter Road pitch from where there has been a series of unfortunate incidents recently, with some supporters able to turn sufficiently bampotish without bevvy being available in the stadium. Bottles have been thrown, the park invaded, opposition players challenged.
And for another thing, this is the 40th anniversary of Passchendaele.
Not the First World War battle but the 1980 Scottish Cup final riot which Archie Macpherson reckoned it resembled. Of course it was nothing like that. The bold Archie was accused by some of going over the top that day but not by me. What are you supposed to do when Rangers and Celtic fans pile on to the pitch and start battering seven shades of pie mince out of each other and you've got a microphone in your hand and it's your job to make sense of the mass hooliganism for the appalled nation?
Hibs chairman Ron Gordon believes drink should be sold at Scottish football games. Picture: SNS
Macpherson strained for another comparison, eventually opting for Apocalypse Now. Then he found the words which many of us have parroted every time since, whenever the Old Firm hordes have convened to sing hideous songs or simply snarl: "Let's be honest, these people hate each other."
There was hatred with drink in the belly and they've continued in their failure to send each other Christmas cards from the moment the Criminal Justice (Scotland) Act made it an offence to lug 24-can slabs of beer into grounds, and some buzzy wine to wash that lot down, as had been the custom for many.
Gordon, right, was a young man in the United States, maybe even in Paddington's Peru, in 1980. Nevertheless, you'd have thought he'd become familiar with the footage, easily YouTubed, if he was going to enter the plain nuts domain of Scottish football and especially if he fancied making a pronouncement about drink.
Have we moved on from 1980? Of course we'd all like to think so, but I'm not sure, I don't think you can be, and I'm absolutely certain that Gordon doesn't know. He points out that sports fans can drink "pretty much everywhere else" as if that was sufficient reason for cancelling the ban, but where's the evidence that we're more mature, less tribal, that our football's become middle-class like in England (perish that thought) and most crucially where are the cold, hard facts supporting the notion that Celtic could play Rangers at any time other than 12 noon and in any other environment save for one resembling a Temperance Society social experiment where 50,000-odd potential enlistees are locked in a stadium for a couple of hours in the hope they might sign up for the crusade? In the end they wouldn't. And the Glasgow polis wouldn't sign up for booze being reintroduced at Old Firm games. Imagine Gordon's "trial" being introduced next season when Rangers were trying to stop the dreaded ten-in-a-row? What a joke.
To be fair to the Hibs chief, this is a perfectly fine idea if you're envious of Spurs' beer taps which fill from the bottom or Manchester City's Tunnel Club for roasters and snobs (I'm not) and if you can drink in civilised moderation and simply would like a pint at the match (I don't, which is amazing, given the team I support).
But there's another motive here. Gordon isn't trying to turn Scottish football into French lunch parties where the alcohol flows as naturally at the sophisticated chatter. He's a businessman and simply wants the takings from the bars to boost income.
Want to join the conversation? Please or to comment on this article.