A glimpse into the 'Celtic family': stern look, different life stages, total alignment
It is tempting to see Ange Postecoglou as a cross between a drill sergeant and a life coach to his Celtic players.
That the inexhaustible application and appetite they have demonstrated to storm to the title – and so put themselves within a Scottish Cup final win of a win – with 31 wins and two draws from 34 encounters has its wellspring in his tough love, and restless quest for advancement. The situation hasn't been that simplistic and the commitment and camaraderie that has made this many-nationality Celtic squad such a compelling force the 57-year-old presents as being fostered from within the group themselves, in a way that has been a source of wonder for the Australian.
"It has been said … " he smiled of having a hard edge. "[But] sometimes a stern look is all it takes, mate. I learned that from my father. But I haven't had to [show that with them]. Not from that perspective. I want to make sure we are still evolving as a football team. I've got brilliant staff to help me and keep moulding this team. But in terms of attitude and character, the way they embrace new players into this football club is outstanding. They welcome them as if they are welcoming them into their home. It's just incredible to see guys coming from all over the world and they feel like they are part of the family literally from the first day that they arrive. That is the environment and the culture they have created in there."
It would be understandable if there were circles within the larger player circle at a club that currently has a five-strong contingent of Japanese performers among internationals from no fewer than 14 different countries. But that isn't the case, insists Postecoglou. "You would know if it was," he said. "But it hasn't been like that from day one. They are a really close group in the right way. It doesn't mean they all hang out together because they are all at different stages of their lives, some are parents, some are single, some have different tastes and stuff. But that's like any family, you want them to be themselves and to express themselves. But when it comes to the football club and to the way we want to behave and represent ourselves, they are all totally aligned."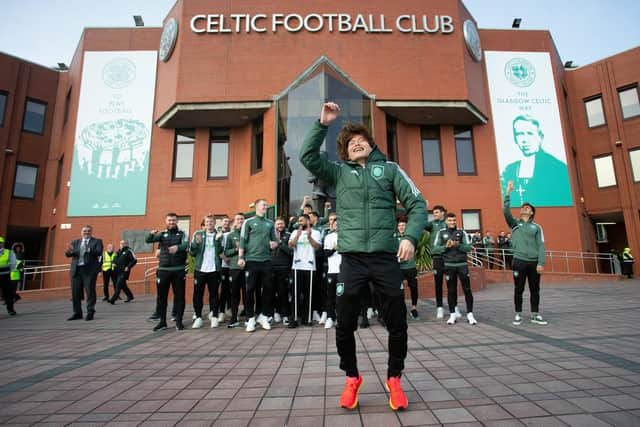 And that alignment appears to extend to buying into the ethos and history of the club – as vividly demonstrated last week with pictures of winger Jota playing darts in one of the city's known Celtic hostelries The Brazen Head attired in the 'bumblebee' away strip that dates back to 1996-97 season of fellow Portuguese attacker Jorge Cadete, and fellow Three Amigos Paolo di Canio and Pierre van Hooijidonk.
"I think that is important because you have a stronger understanding of what the most important people at the football club, the fans, are all about," Postecoglou said. "Part of that is the way we play, I think that is important. We are going to be a team that wants to excite our supporters and score goals. And you need to be a team that wins. That's the standard that is set by all of the great teams at this football club. You have to embrace that. You can't reject that or try to change that. That's what it is and you have to embrace it and use it to get the best out of yourselves."