A Celtic defeat too far for Rangers - players waved away, different ways to pile on heartache
Mayday will have very different connotations for Michael Beale when he wakes up at the start of this week. It might equal a Spring bank holiday for most people.
It is now four matches against Celtic without a win since he returned to the club. One had got the feeling he was already well aware that this Ibrox team's race is run, but if he didn't, he certainly knows now. It was writ large at a drenched Hampden Park. Celtic rule Raintown.
Initial attempts by Rangers to applaud their fans after the final whistle seemed to be rebuffed by a large section of those supporters who had stayed on until the end. The players were waved away. This was a defeat too far given the likely ramifications. Even the hunch that this limited Rangers side were unable to give much more did not seem to hold much water with many of these sickened fans.
Changing a manager has not appeared to have had the desired effect, not yet at least. Even a win when the teams meet again in two weeks will be the definition of hollow victory. "Cheer up Michael Beale!" sang the Celtic fans at the end after he was again on the wrong end of a one-goal defeat. Rangers might not be getting any further away but they're not getting closer either.
There was a spell near the start of the second half when you felt that if Rangers didn't score then, when they were so obviously on top, then they would never score. James Tavernier hit the post with a sweeping shot and substitute Fashion Sakala stubbed the rebound into the side-netting with the goal gaping. Celtic rode the storm, with Cameron Carter-Vickers imperious at the back on his last appearance of the season before knee surgery. They remain on the crest of a wave.
They are finding different ways to pile the heartache on their rivals. It's becoming cruel. Of all the ways they source a win, doing so via a header from a mercurial Portuguese winger was not among the obvious range of possible outcomes predicted beforehand.
Jota's goal three minutes before half-time was another self-inflicted wound for Rangers, whose hesitancy in defence was a huge contributing factor. It might be the age of VAR but playing the whistle remains as much a part of the game as ever. Rangers would do well to remember this. It was criminal the way Borna Barisic reacted with such sluggishness after the ball broke free following a challenge by Nico Raskin on Matt O'Riley.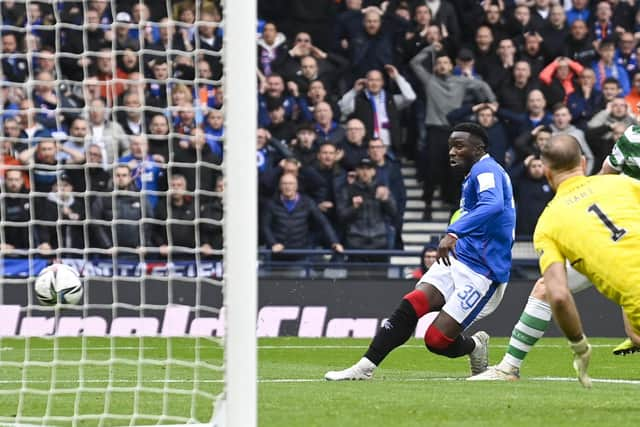 It wasn't even as if Barisic was expecting his own side to be awarded a free kick. He thought Celtic would get it. But they didn't. Referee Don Robertson, who had replaced original appointment Willie Collum minutes before kick-off due to injury, allowed play to continue and Daizen Maeda reacted in a way the Rangers players did not by immediately seizing on the loose ball. He then whipped in a cross towards the back post. Jota's anticipation put Tavernier's to shame as he stole in front of the Rangers skipper to head his side ahead. The timing proved every bit as disastrous as when Kyogo Furuhashi struck a minute before half time in February's Viaplay Cup final. Rangers wanted the clouds of pyro smoke that saw the start delayed to roll in once again.
It was like Brigadoon at kick-off. Rather than the mist parting to reveal a mysterious Scottish village that appears once every 100 years, the swirl of smoke lifted to expose the players in an ancient drama. It was the fifth edition already this season, with a sixth imminent.
Too many? To judge from the first half, yes. Still, no matter how poor the game is, no matter how hard it is to see anyone emerging in profit, if a team will find a way, then it seems that team will always be Celtic. A treble might have been on the line but normal rules applied. Is it too early for a coronation? Celtic were even afforded the luxury of playing with a passenger. Reo Hatate was clearly not fit. It was not surprising to see him included in a triple substation on the 65-minute mark, moments after Rangers had come close to equalising through Tavernier.
It was 27 minutes before we saw a shot of any real note. An Alistair Johnston effort was beaten out by Allan McGregor, who was trying to ensure he might have one more Scottish Cup final appearance in him before retirement. The goalkeeper then blocked Jota's follow-up effort from a tight angle. Little was coming off for anyone. Even the ball players were struggling for their touch. Jota let the ball run under his feet when in a promising position after Maeda's cross from the left.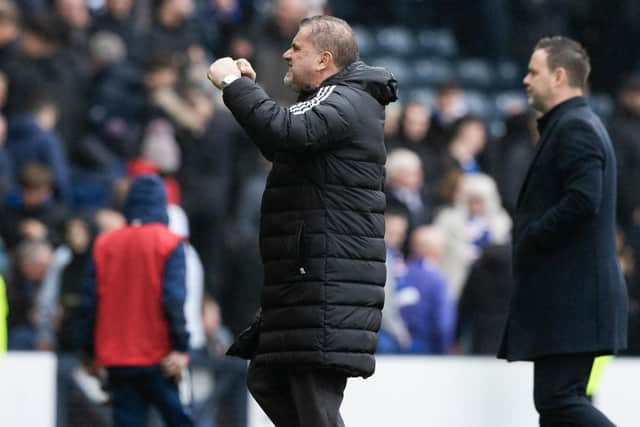 It might have been 0-0 at this point but Rangers had already suffered a significant blow when Malik Tillman, someone they hoped might finally put his stamp on one of these meetings, collapsed to the turf holding his hamstring after receiving treatment following a challenge on Greg Taylor. It was a big, big blow for Rangers but then Scott Arfield, his replacement, did save the tie for his team at the same stage last season with an equaliser that forced extra time. His side wasn't trailing this time around. Not when Arfield came on at least.
But they were behind by half-time and it proved a ruinous goal to concede, both for Rangers' Scottish Cup aspirations as well as hopes of stopping Celtic in their treble tracks. And once again, it was of the entirely preventable variety. The players clearly aren't learning.