Celtic, Rangers and Glasgow City serve up 'movie' climax as SWPL trophy arrives at Parkhead only to depart for Ibrox
Fran Alonso's Miami Vice look was back at Celtic Park yesterday afternoon. By the time this game was over, however, the look was spoiled by the need for a sick bag.
This will be as nauseating as it gets for Celtic. But for two minutes and a pesky Lauren Davidson goal at Ibrox, the title was theirs. Indeed, the SWPL trophy was just about in place at the stadium, ready and set to hand to declare the club champions for the first time in their history when news filtered through from the opposite side of the city.
Davidson's 92nd minute goal, a goal that delivered the title back to Glasgow City for a record 16th time, was related to Alonso with a whisper in the ear. Crestfallen he fell still for the first time in an afternoon in which he had been a perennial, noisy jack-in-the-box around his technical area.
There was silence too around Celtic Park as 15,822, a laudable record for a women's domestic game, reacted to their titles hopes disintegrating. There was cruel hope of a reprieve when a loud roar quickly followed as Rangers' disallowed goal offered the briefest of hopes.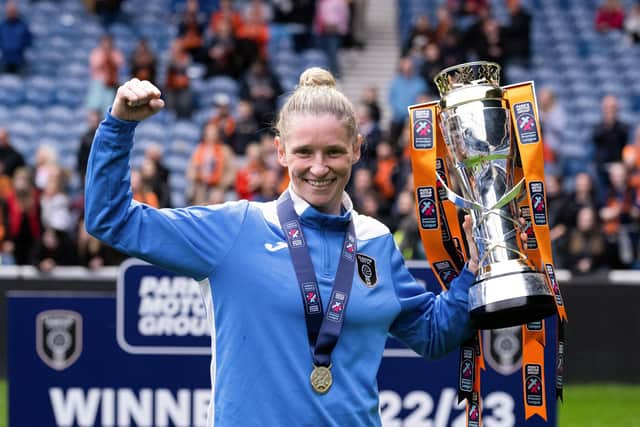 "I thought today felt like a movie," said the Spaniard. "We took the league to the last game but it was a bad end to the movie for us.
"The worst thing was when they told me Glasgow City scored. That was absolutely devastating but then hearing the whole stadium cheering a few minutes later…that was one of the happiest moments in my career.
"And then it wasn't and I can't tell you how hard that was to take. Football can be cruel and today was cruel. We did what we had to do. I am gutted. So gutted. For the players not winning the league and for those fans who set another record crowd again and did not see us celebrate the league. It is breaking my heart."
If there was no happy ending for Celtic, there was a Hollywood moment for Glasgow City. The dominant force in the women's game for so long, they were almost overlooked this week in a build-up to a game that almost universally was acknowledged to be heading for a goal difference shoot-out between Celtic and Rangers.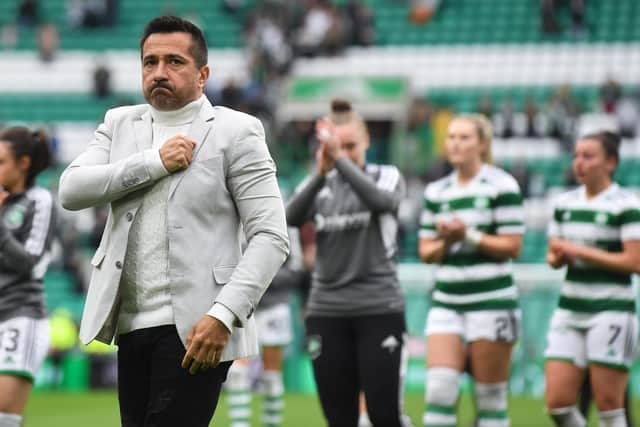 Veteran City goalkeeper Lee Gibson admitted that having been written off, not just this week, but across the entirety of the campaign had acted as a quiet catalyst for Leanne Ross' side.
Having finished last season empty-handed with Rangers claiming the title in an unbeaten league campaign and Celtic claiming both Cups, the prediction was that the landscape of the women's game would assume a hue every bit as recognisable as the men's. Gibson was delighted to buck the theory.
"Nobody thought we'd come first or second this year," she said. "It's so pleasing. We don't half leave it late a lot of the time! We led for a long time since Christmas and been far ahead but I'm just so excited for where this team can go.
"I don't think we were ever panicked. We were just disappointed at how we lost to Celtic and Rangers, and we only had ourselves to blame. Our performances against them this side of the year weren't good enough. I'm so delighted for everyone involved at this club. A lot of people write us off, but we're winners."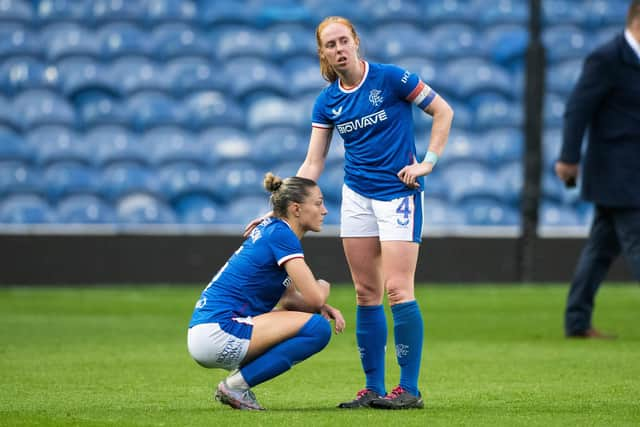 Leanne Ross wanted nothing more than bed. Having assumed the role just before Christmas and having watched an eight-point lead dwindle to two in the last month, she was as exhausted with her relief as obvious as her satisfaction.
"I'm going to get a better night's sleep tonight than I have over the last few weeks, I'll tell you that," she said. "You start to question yourself in terms of decisions you've made but the staff have been great. We've discussed things at length and tried to make sure we were keeping focused on the task of winning every game."
Celtic and Rangers will still be lamenting their part in yesterday's drama. Both now have the task of lifting players for Sunday's visit to Hampden for the Scottish Cup final with Alonso confident that Celtic's recent implosion of fans will present themselves at the national stadium.
His players were visibly devastated yesterday afternoon as they wept at the final whistle. They will come to appreciate the second place and the Champions League possibilities it brings in time with Alonso also urging them to appreciate that they have changed the perception of women's football too.
"Last year I would have told you that getting 15,000 fans into Celtic Park for a women's league game was impossible," he said. "But they have done it. They have changed the women's game in Scotland forever."
Malky Thomson has a similar task of rousing his players for one more big day at the office although his disappointment did not seem as wounding as Alonso's.
"I'm disappointed for the fans," he said. "But we'll move on quickly because we've got a big important game on Sunday.
"We haven't scored enough and haven't capitalised on the chances we created. Everybody will agree we play some real nice football but we've just not been able to score. If you don't score goals you don't win games.
"But it's [the season] a success in the sense that we've got a lot of young girls who are going to learn from this and that experience is going to help them in the future."
Comments
 0 comments
Want to join the conversation? Please or to comment on this article.