Celtic and Rangers all-time trophy totals show historical significance of Viaplay Cup final showdown
So much will be decided at Hampden on Sunday.
The 77th winners of the Scottish League Cup - now carrying the Viaplay branding - in the first instance. And, as a follow on, whether it is the trophy cabinet of Celtic or Rangers that is housing the first silverware to be dished out in the 2022-23 season. Moreover, the identity of the victors will dictate whether Celtic claim a 21st League Cup to sit only three major honours behind their ancient adversaries on the 114 mark, or Rangers extend that gap to five with an 118th honour, through lifting the trophy for a 28th time.
Then there is the fact that this will be the 31st time Scottish's football behemoths have been the last pair standing in a domestic cup competition; the 16th occasion in a League Cup very much the junior partner to the Scottish Cup. A derby dust-up with particular resonance, their latest final will change the running total for showpiece spoils when in direct opposition from Rangers 17 and Celtic 12 (the 1909 Scottish Cup withheld following a riot following a drawn replay). In addition to all these historical perspectives, events at the national stadium on Sunday afternoon will dictate whether it is Ange Postecoglou or Michael Beale that draws first blood as they operate either side of the Glasgow divide as trackside equals.
Endlessly fascinating strands one and all, what must also be said of the first Viaplay Cup final is that there should be no pull to draw anything decisive from its outcome. It is a day and a date in time. Celtic are homing in on the Scottish Premiership, whatever the colour of ribbons that ultimately adorn the oddly-alluring, three-eared cast of metal up for grabs. No team has ever blown a nine-point lead in the closing 12 games of a top flight campaign. Postecoglou's opposition-pounding irresistible league force, on the back of 24 wins, a draw and a loss, isn't going to be the first to do so. And the corollary is true for Rangers. A first trophy success for the Ibrox side under Beale, won't suddenly mean that Englishman and his men are on track to threaten Celtic's supremacy. It can, though, earn him a certain buy-in and a certain grace. As he recognises.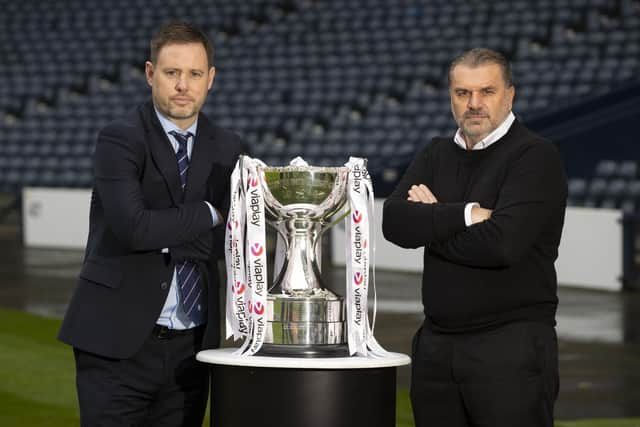 "I think we're going to start to see a new team develop," Beale said of where he stands three months into his tenure as successor to the jettisoned Giovanni van Bronckhorst. "I don't like the word 'rebuild'. I think we're adding and evolving and growing. 'Rebuild' is harsh on a squad of players that have won 13 out of the last 14 games. I didn't think it was anywhere near as broken as some people seemed think.
"It's amazing how one or two results can change the perception, certainly in Scotland. And listen, it's okay to have two good teams, we don't need to just have one. But we're certainly looking to add. Players who I can go on a journey with. My journey will be as long as I am successful in the short-term. But as long as you're planning for the future – and with Nicolas Raskin and Todd Cantwell I think you can see we're doing that. We've probably been robbed of Ridvan [Yilmaz] showing that as well."
The mention of the injured Turkish full-back alights on what would appear to further tip the final balance in favour of Celtic. Central roles are likely to be required from newbies to the fixture Raskin and Cantwell, with among the Govan club many recent fitness issues, the latest doubts over Malik Tillman, John Lundstram and Ryan Jack. Even without those concerns, all evidence points to Celtic possessing a considerably more talented and settled squad. With them, the advantages of Postecoglou being able to construct his team around a midfield trio of Reo Hatate, Aaron Mooy - the country's two form performers - and redoubtable anchor Callum McGregor can only appear as if they will be telling. Especially when the champions' supply lines are formed by a front three of the country's top scorer Kyogo Furuhashi flanked by Jota and Daizen Maeda. Only two of that front six - McGregor and double-scorer Furuhashi - were in situ when Postecoglou claimed his first trophy courtesy of last season's League Cup final triumph over Hibs in December 2021.
The Australian doesn't engage in the standard football tropes. He has no interest in framing the defence of the trophy as a motivation. His focus is on hauling his team further up a hill where the summit is a forever-out-of-reach nirvana that grants them the unearthly abilities to produce unerringly perfect, trophy-snaring football. A striving that ensures a perpetual push for improvement, and has certainly meant Celtic forward steps every few months of his 20 at the helm.
"We've just got to win it. Whether it's the first one or the tenth in a row," said the 57-year-old. "I love winning. I'm obviously not a fan of losing. It's the winning that drives me more than the fear of losing. I don't take defeats well but I just enjoy winning. I enjoy what that does to people, to groups that achieve it. I enjoy building teams, I love that process. But it's got to be building to an end goal. And that's to win things. As much as my passion is the team playing a certain way, the reason I am passionate about that is that I love success. It has brought me a lot of success and that's why I continue to coach the way I do and play the way I do."
Elements of the unpredictable can result in losing. VAR will be added to the usual mix, the system in place at a domestic final for the first time. "I don't worry [about that]. I've had my say on VAR a while back," the Celtic manager said. "But I've never gone into a game worried about decisions the referee is going to make. The beauty of our game is that no-one can write a script on how it's going to go on Sunday. No-one can predict it. Something can happen in the first minute that changes the dynamic of everything that happens. What I tell the players is that, to the best of our ability, we control the things we can control. Things might interfere with that, like the opposition or the conditions - the pitch in the semi-final was tough for us. It could be a mistake or a referee's decision, a moment of magic from someone. We can't control those things. But we can deal with them if we do the stuff we control really well." The entirely unexpected notwithstanding, Celtic would appear to have more about them than rivals Rangers when it comes to exerting the decisive control at Hampden.
Comments
 0 comments
Want to join the conversation? Please or to comment on this article.