'Carnage': Derek McInnes recalls match with new Hibs boss Nick Montgomery when 'deliberate act to try to get a game abandoned'
Kilmarnock manager Derek McInnes will recall an afternoon of "carnage" when he comes up against new Hibs boss Nick Montgomery at Rugby Park on Saturday.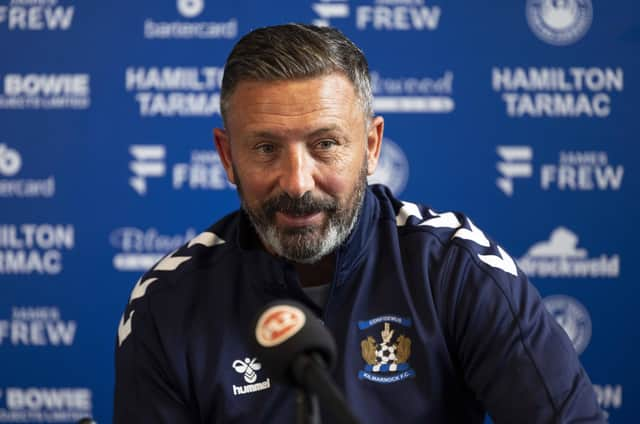 On March 16, 2002, then West Brom captain McInnes was a key figure in the 'Battle of Bramall Lane' between Sheffield United and the Baggies. McInnes scored for West Brom while Montgomery, who joined the Easter Road club this week from Central Coast Mariners in Australia, was on the bench for the Blades. United had three men sent off – substitute Patrick Suffo was dismissed for headbutting McInnes – and when two players went off injured at 3-0 down leaving the home side with only six players, referee Eddie Wolstenholme had no option but to abandon the game, with West Brom subsequently awarded a 3-0 win.
McInnes said: "I remember getting headbutted and scoring the best goal I have ever scored. Nobody talks about the goal, they always talk about the headbutt. It was just carnage. It was an unsavoury afternoon for English football. Nick was an unused sub but we were just the opponent, we weren't part of it, it was all played out by Sheffield United. What went on that day was ridiculous and nothing will change my mind on it, it was a deliberate act to try to get a game abandoned.
"I felt for the referee, Eddie Wolstenhome. We were pleading with him to make sure it got finished, but the antics of that lot led to it being abandoned. We got a 3-0 win awarded to us. I haven't seen Nick since we were all fighting in the tunnel that day – no, I am joking. I knew Nick was operating in Australia and doing well and he deserves this opportunity and I am looking forward to catching up with him tomorrow."
However, McInnes, looking for Killie to get back on track after losing to Motherwell and Ross County before the international break, is saddened that Hibs have already replaced Lee Johnson as manager so early in the season. He said: "Nick has a good opportunity with the players available. It saddens me that we have a new manager already and we are just in September. It is unfair, but decisions get made above us as managers. It is getting more and more difficult to manage in the modern era. Nick has been doing well in Australia and has been recognised by Hibs, good luck to him. But it is important that we get to winning ways."