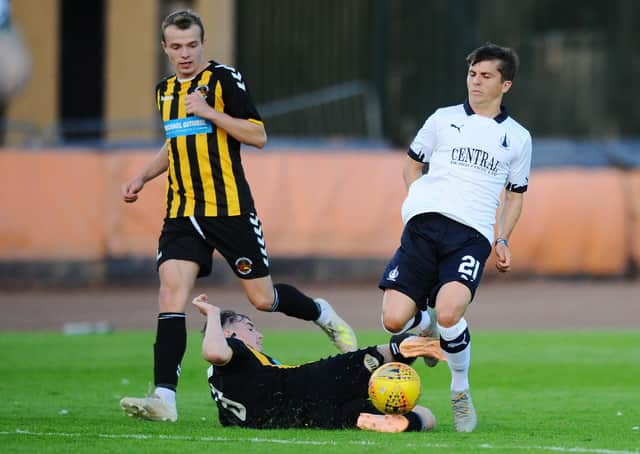 Berwick Rangers were relegated from League Two last season. Picture: Michael Gillen
The chairman of Stenhousemuir has called for relegation from League 2 to be suspended for at least two seasons.
Iain McMenemy expects to have the backing of several clubs who would welcome the chance to regroup after the current shutdown without the threat of dropping out of the league completely.
As it stands, the bottom team in League 2, currently Brechin City, face a two-legged play-off final against the winners of a Pyramid play-off involving the champions of the Highland and Lowland leagues.
McMenemy believes a pause would give clubs the chance to "push the reset button" following what is set to be a prolonged period when they are earning no income due to the coronavirus pandemic. It's not even guaranteed there will still be 42 senior clubs in business when competitive Scottish football resumes.
"Times are hard enough as they are," said McMenemy. "It is going to stretch clubs. Those that are lucky enough to have any reserves will be using them now to get themselves through this current crisis. Others that don't have reserves are right up against it hoping they can survive. The last thing you would want to happen next is immediately jumping back into the race. If that trap door is still sitting open then you will have clubs who will stretch themselves and do something silly to try to avoid dropping through it.
"Rather than go down that road, let's just take a pause for a couple of seasons to give clubs the chance to have a recovery period and give them a chance to rebuild and regroup and see if they can get back to a level of normality.
"What this idea won't do is affect those clubs who are well funded in any of the four leagues. They can still put their money behind the team and go for it. But those in most distress will have the chance to push the reset button."
The Highland League champions – as of earlier this week Brora Rangers after the Highland League agreed to declare this season's competition over – had expected to play the winners of the Lowland League, where Kelty Rangers are currently leaders, for the chance to gain a place in the SPFL.
Cove Rangers, currently top of League 2, beat Berwick Rangers over two legs last season to become the most recent beneficiaries of a pyramid system that was put in place from the start of the 2014-15 season.
Brora chairman William Powrie has already admitted he is "slightly concerned" there will be no promotion into League 2 this season.
McMenemy argues that a pause gives clubs such as Brora the chance to "take a breather" before pushing for promotion again. It remains doubtful whether the four top leagues will ever be played tocompletion, which therefore makes the likelihood of play-offs unlikely.
"Obviously Brora, having been declared champions of the Highland League, would want to try to get to that League 2 play-off.
If we're all being honest, they won't have the opportunity to do this season," said
"It is not about closing the trapdoor. It is about giving everyone, whether in the Lowland League or Highland League or League 2, a chance to have a couple of seasons to get themselves back
"Then it's all systems go again and the competition will be as fierce as ever."