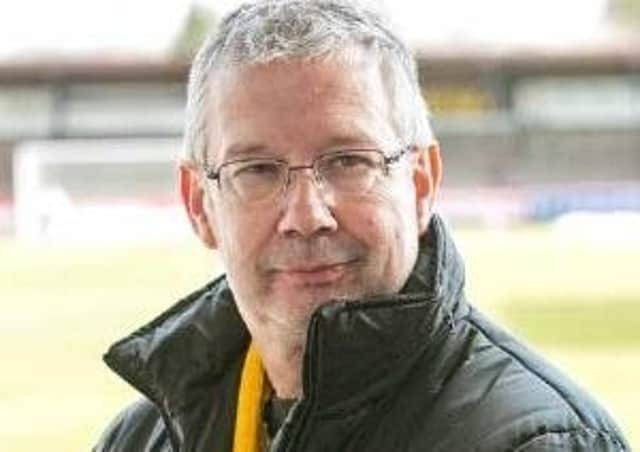 Graeme Robertson's 650-edition landmark will have to wait a little longer. Picture: Fullarton Photos
The 63-year-old was looking forward to the lead-in to what will be his 30th season producing the club's matchday magazine. The three editions he was scheduled to produce for the remaining home games of the season would have taken the number he has produced to the landmark figure of 650.
Oh, and the last fruit of his work – for the visit of Falkirk on 14 March that never happened – was 
a topper.
"It was our best front cover in a long while," he said. "A picture of Carsie [Stuart Carswell] sliding on his knees as he celebrated an injury-time winner against Raith Rovers in the previous home game. It was a brilliant shot. And now no-one will ever see it."
Well, not quite no-one he admits. Of the 150 run, he has shifted 30 with Falkirk fans snapping up a couple of dozen. He is not quite sure what to do with the rest. "Know anyone who might want one? They might become collectors' items…"
To Robertson, every programme is an item to covet. He remembers the days when his day and a half of putting them together – he has the help of a handful of contributors – necessitated delivering handwritten pages to a type setter. Now, he sends his computer generated words and images to a company, Curtis Sport, based in Wolverhampton and responsible for the programmes of "about half of Scottish football" – and back comes a full colour record of all matters Dumbarton Football Club.
His role, and that of the programme, has not been overtaken in the online age – whatever some might think. Not when the League 1
 club don't have much of a presence on the web.
"I see programmes as like the old part-encyclopedias that would build towards a complete set," he said. "Each one is a historical document. Where else will you find out the exact date Dumbarton signed an under-18 player."
Robertson says he is "climbing the walls" without football, and the outlet it gives him. All he can do right now is what he does every day, and that is keep a diary of developments at the club for chronicling in the next programme. This feature, he says, is likely to be as extensive as when it appears in the first edition of any season. "Whenever that might be," he said.
There hasn't been much good news to record, with Dumbarton players and staff agreeing to defer wages during the shutdown. "I just hope that when the game does return, so will all 42 clubs. It isn't easy for my club, but we have a shortfall in the tens of thousands whereas for other teams that will run to many millions."
An Edinburgher whose love of Dumbarton was stoked by trips to see them he was taken by friends of his uncle and aunt as a child, he is a home-and-away attender. As well as being programme editor, he helps out in the hospitality suites at the C&G Systems Stadium and assists the stadium announcer. "I am the substitute spotter, with the dug-outs at the opposite side of the ground from the stand," he said. "It doesn't always work..."