Big interview: Liam Craig on why it all went wrong at Hibs but then oh so right at St Johnstone
Just a few more days to go and Liam Craig will be back on the training field. Back to work, back to football, back to St Johnstone where on Wednesday the double cup-winning legend begins life as a coach.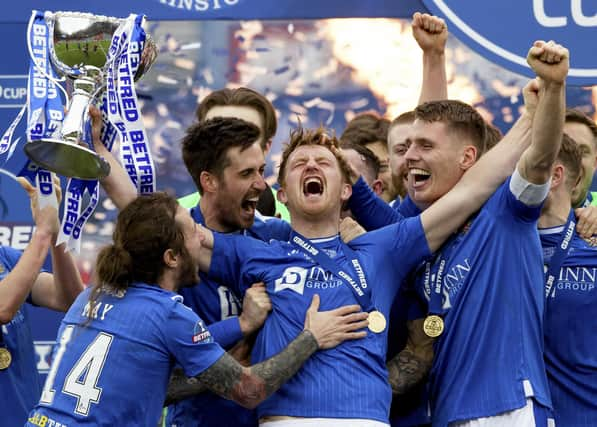 Retirement from playing - and he put in 19 years - has been "different", which to your correspondent sounds very much like a euphemism. "For 15 of those years Laura has had to arrange her life around me," he says of his wife, "but over the last few weeks while she's been at work the roles have been reversed.
"Earlier today, for instance, I had to trample across a muddy field and fetch our daughter Melissa's pony and bring her back to the stables to have a new shoe fitted. That was definitely a case of a horse being led by a donkey!"
Lest you get the wrong idea about good guy Liam, he's not Unreconstructed Man. The 35-year-old and now ex-midfielder is grateful to his family backing him through his playing career - all the triumphs and disasters and he's experienced both. But he's excited about the new gig and can't wait to get started.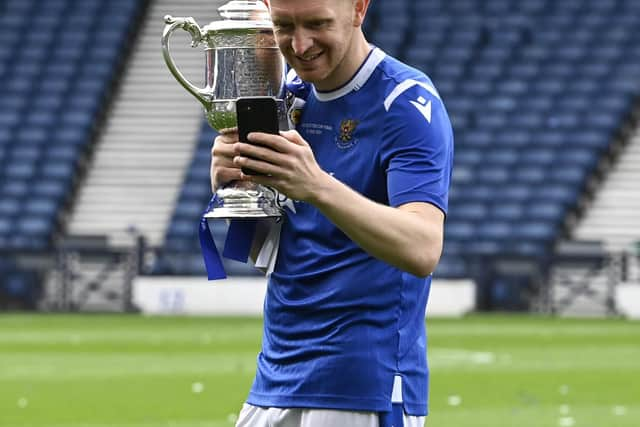 The Saintees avoided relegation last season by the hair of their chinny chin chin. Craig, backing up manager Callum Davidson, will be hoping they can break with recent tradition and, next campaign, make a fast start. He is at a club he knows, and they know him. That, he stresses, is important. In fact, it's everything.
How did it feel hanging up the boots? "Oh fine. I'd been fortunate to play at a really good level for a number of years. I could have left St Johnstone and played for a bit longer elsewhere but coaching is something I've wanted to try and this is where I've been happiest so it's great to get the opportunity here." What, though, will he miss about playing? "That's easy: the roar when you score a goal. Those ten seconds immediately afterwards, all that incredible emotion. Maybe a last-minute goal or a goal in front of your fans huddled in the away end. I was lucky enough to experience that feeling a few times and know that whatever I do now it won't ever be replicated."
We're talking via Zoom, Craig at home in Larbert having cleaned the manure of his boots. It's not all been househusband duties. With his father-in-law, a Rolling Stones fanatic, he's about to head down to Liverpool to see Mick Jagger & Co perform at Anfield. And the other night he took the family - including sons Calvin, 11, and four-year-old Oliver - to Oh When the Saints!, St Johnstone's story brought to the theatre stage.
What a story and what a wham-bam finale - the League Cup and four months later the Scottish Cup. In 2020-21 the men from Perth made a complete mockery of diddy reputation to land both. No fans could be at Hampden because of Covid but the triumphs rang round the world.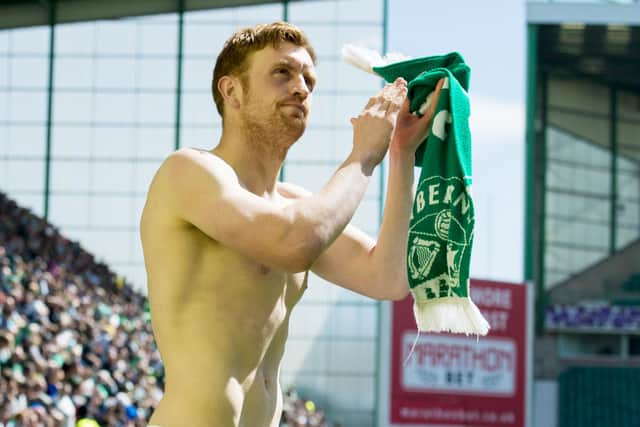 In the house Craig has a photograph of him clasping the League Cup tight while facetiming Laura and the kids who watched Saints beat Livingston on TV. "I'm looking at them, Oliver in his wee St Johnstone strip, and I'm crying because of all the emotion, all the sacrifices the family had made for me, all the hard times I'd put them through, with me thinking that at 34 and after 500-odd games as a pro and seven semi-finals ending up on the losing side, maybe I was never going to experience a day like that."
Then he experienced another day like that, defeating Hibernian where he'd spent two seasons which very nearly finished him as a footballer. Yes, we have to talk about Hibs.
Borderer Craig began at Ipswich Town, skippering their colts to the FA Youth Cup. Then came Falkirk when the Bairns were managed by John Hughes, Anthony Stokes was the young man in a hurry up front and Russell Latapy took his own sweet time in the midfield - "The most technically-gifted footballer I've ever seen up close," Craig says of the latter. These were three with past and future Hibee links and there were others including Jack Ross. Before Leith for our man, though, there was McDiarmid Park, first spell.
I remember a performance from him for St Johnstone at Easter Road in 2010, having been despatched to write a piece about the old East Stand, the last remaining part of the original stadium which was about to be bulldozed. Although there to collect the reminisces of fans, some of whom had sneaked in screwdrivers and pliers so they could remove their seats as souvenirs, Craig's surges from the middle of the park were eye-catching and he scored the equaliser to deny Hibs a sentimental victory.
When he signed for the club, then managed by Pat Fenlon, in 2013 he seemed just what they needed, indeed what they always seem to need - a strong-running midfielder with goals in him who's prepared to take responsibility.
He says: "I signed on a pre-contract, stayed at St Johnstone for the remainder of the previous season, scored a lot of goals, helped them finished fourth in the league and probably because of leaving on good terms and with a good relationship with the fans I was eventually able to come back - but I was up for the challenge of Hibs and it was one I wanted at the time, no question."
Speaking of the Stones, though, you can't always get what you want. Craig's debut was the 7-0 hammering by Malmo at Easter Road in the Europa League qualifiers - the second-worst result in Hibee history. Perhaps unsurprisingly after that, the domestic season for both club and player began underwhelmingly. "Before Kilmarnock away, the manager called me into his office. 'I need more from you,' he said. The criticism was merited. The club weren't doing it, I wasn't doing it." Craig went out that day and scored two goals - first win. But then Fenlon left, replaced by Terry Butcher who appointed Craig skipper. "I still say it now - captaining Hibs was one of my biggest achievements." Unfortunately, he would lead them to relegation.
Talk me through that mid-season plummet, I say - from strong Euro candidates to play-off chumps, collapsing against Hamilton Accies at Easter Road from a 2-0 winning position. "I can't put my finger on it," he sighs, but when I mention the admission to me by Butcher's assistant Maurice Malpas that management mucked up by writing off players on whom in a dire situation they would quickly have to depend, there's a wry smile.
"I've kept quiet on what happened that season. Everyone is entitled to their opinion but what I would say is that we all must take responsibility and I hope other people have looked at themselves regarding what went wrong.
Maybe I'm naive but I believe in football it's down to the collective. I came to Hibs from a club where it was all about that. We lost confidence and that was massive. No one wanted the ball. I was captain and I fully accept I didn't do my job well enough. But there was total breakdown: between the players and the management and the club as a whole and the supporters."
Amid desperate rearranging of the deckchairs, Craig would sometimes find himself out of the team. He accepted this but was less impressed by the managerial outbursts. "If all you're ever doing is shouting, how's that going to get the right reaction from players?"
Guilt, embarrassment, despair. These were Craig's feelings when Hibs tumbled through the trapdoor into the Championship. "It was the first time I'd faced adversity. Right after the Hamilton game I phoned home and told Laura I was ready to walk away from football and never kick another ball."
As a high-profile signing who hadn't delivered, Craig copped much of the fans' anger. "I knew it would come and I took it. As captain, off the field I tried to conduct myself properly and answer questions honestly. On the field? Well, I didn't set out not to play well. There will always be an element [of the support] who won't forgive. Fair enough. But honestly I don't have a bad word to say about the Hibs fans."
There was a night of the long knives - or, as it was, scorching close-season afternoon of players' cars roaring away from East Mains for the last time - though Craig survived the clearout. Enter: Alan Stubbs. Also, for a complete regime change and new positivity, Leeann Dempster, CEO. But, when Hibs missed out on promotion straight back to the top flight, Craig was let go.
"I went into that meeting thinking I was going to get another year. Walking out of it was was probably the last time I cried." He pauses. "Until those cups, I mean." Despite it all, he retains fond memories of Easter Road. "Folk laugh when I say this but I loved my time at Hibs. I scored the winner in an Edinburgh derby and in a 4-0 victory over Rangers - Scott Allan was magnificent that day. I made great friends in the likes of David Gray, Paul Hanlon, Lewis Stevenson, Jason Cummings and Danny Handling. They all know how much it meant to me to play for Hibs and how much I wanted to succeed there. It just didn't work out."
Where next? Craig admits he felt like a flop. "I was never the quickest, didn't have a stepover, no tricks. The one thing I did have as a midfielder was the awareness and anticipation of when to arrive in the box. But at that moment I had to prove I could still kick a ball."
And, one summer on from almost quitting footballer of his own volition, he wondered if that decision would be taken out of his hands. He couldn't find a club or even anyone to train with. The best he could muster after some knockbacks was to tag along with St Johnstone's Under-18s.
"No player wants to fail and be released," he says, "and when you discover that no one wants you it's horrible. There were a couple of offers from abroad but they seemed too risky. I knew guys who'd gone away and ended up not getting paid. That was a nervous period and tough on Laura as well. I wanted - needed - to provide for my family. I was beginning to think: 'What am I going to do - join the police?'"
For the last three years Craig has been chairman of the Scottish PFA. He probably couldn't have chosen a more challenging tenure but has loved it all the same. "After Hearts' goalkeeper [Zdenek Zlamal] was attacked by a fan during an Edinburgh derby I suddenly found myself in a room with the SFA, the SPFL, Police Scotland and a bunch of lawyers discussing what needed to be done about player safety. I knew the job would test me - and then Covid struck. Everything changed so fast during the pandemic. There would be five-hour meetings on contracts being cancelled and clause 12. It was important that the SPFA stayed strong and I'm proud of how we looked after players. I'd never been in a situation like that before, where you needed to have an opinion and a good one, and I'd like to think the job has improved me."
Back to Craig being clubless. He put the free time to good use to gain his coaching badges and enrol at uni on a football management course. Then in the nick of time Tommy Wright took him back to McDiarmid Park and the rest is history. Zero to hero.
"Just about. I had to suffer a bit of ribbing at St Johnstone, which was only to be expected. First day back the chairman [Steve Brown] said to the girl on the front desk: 'Can you arrange for a slice of humble pie for Liam - better make it a big one.' The club didn't need me to come back. They'd just come fourth again and were in Europe. But they had the likes of Jason Kerr, Ali McCann and Liam Gordon coming through and there was a role for me as the elder statesman, organising and taking charge of the middle which was how I wanted to play at Hibs. Of course St Johnstone had won the Scottish Cup since I'd been away - and after I left Hibs they won it. All the lads reckoned my timing was horrendous, that I was a jinx and that if they were to lift a trophy again I would have to be gone. Thankfully that wasn't how it all panned out!"
Comments
 0 comments
Want to join the conversation? Please or to comment on this article.