Beaton has say on improved VAR, transparency and gives thoughts on Rangers 55-game penalty run
John Beaton, one of Scottish football's top referees, believes there will be a marked improvement in the application of VAR this season.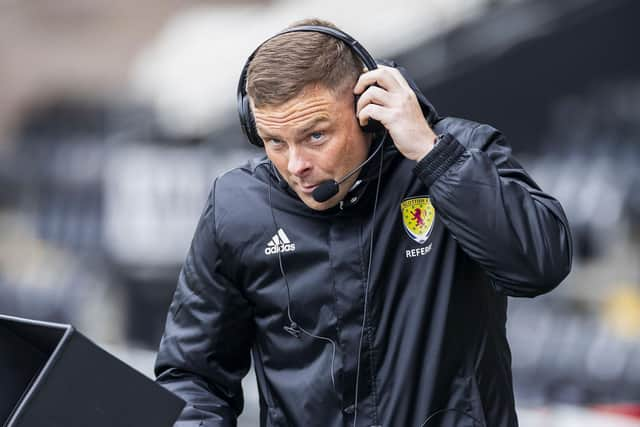 After a controversy-laden first six months in operation, the 41-year-old official believes the system will now come into its own when the cinch Premiership resumes this weekend. Beaton's assessment is that this is imperative, as he considers familiarity with VAR will leave those in his field with nowhere to hide, but also nothing to hide. It is why he welcomes the moves being driven by head of referees Crawford Allan to be more open in communicating the thought processes behind VAR decisions, in an effort to address myths and misunderstandings, and part of this will also be acknowledging when mistakes have been made - an inevitable consequence of referees being human.
Beaton likens this season for VAR and its operatives as "kind of like a club signing a player and that player not getting the full pre-season", in reference to its introduction midway through the last campaign in the cinch Premiership. "There has been training over the summer, we have 181 matches under our belt and I think it's fair to say there will be less forgiveness … not that we ever get any anyway," said Beaton. "But I think there is a much higher degree of confidence among us as we start the season.
"We always want the accuracy of decisions to be high. Our hope, our aspiration, would be that there is less chat about VAR this year. We want on-field decisions to be correct and then we want VAR to be swift in changing things when errors are made. So we hope there is less noise about it. But the smaller number of errors might get a disproportionately higher number of articles covering it because there is less forgiveness of errors now, because there's a feeling we shouldn't make an error because we get to see it again. We are always going to have that. We will never take away the endless debate about decisions. But what we would hope this season is that decisions are a bit more efficient, quicker and ultimately correct."
If they aren't, the anticipated acknowledgement holds no fears for Beaton. "We have absolutely nothing to hide. Anything we can do to explain how we are arriving at decisions and anything we can do to show people what we do on a Saturday and what happens in the VAR centre, we absolutely welcome that. The more transparency the better. The more questions we get the more answers we can provide and to, we hope, get to a better place."
There is, though, one question it is difficult to answer. How in a VAR world that inevitably produces more penalties, Rangers have now gone 55 top flight games without conceding a single one, an oddity that is manna for conspiracy theorists. "You are asking for an impossible question to be answered," added Beaton, who boasts 26 years experience in the middle. "Stats are stats and you can present stats on how x, y and z have happened. All we can do is show you things on an incident by incident basis. And if you show us something and say, 'how is that not a penalty kick' then we can talk about that incident. But when a club goes a period of time without conceding a penalty then we need to look at incidents individually. It's impossible to comment on a longer-term statistical thing. It's an anomaly and stats will back up a story any way you want them to back up a story. All I can tell you is talk through decisions and say, 'here's what we did here."
Comments
 0 comments
Want to join the conversation? Please or to comment on this article.