Barry Robson addresses angry Aberdeen fans in wake of Hearts defeat and says Dons will click - 'there's a good team there'
Barry Robson has told angry Aberdeen fans that he is convinced his team will "click" soon despite the Dons chalking up their worst start to a league campaign since 1999 following a 2-0 defeat by Hearts.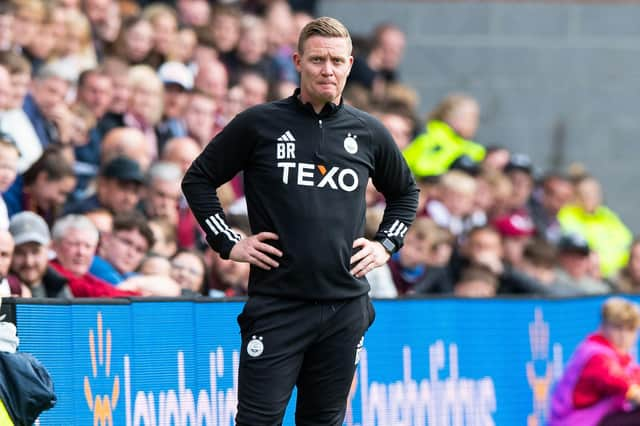 Aberdeen are joint-bottom of the Premiership along with St Johnstone after five matches with just two points on the board. They suffered at Tynecastle – a venue they have not won at since 2017 – thanks to goals from Yutaro Oda and Liam Boyce. The team were booed off the pitch by the travelling support and while Robson fully understands their reaction, he is sure that fortunes will change once the squad become more acclimatised to each other, with Robson having made 13 new signings over the summer.
"It was a difficult afternoon for us," admitted Robson. "I didn't think there was much in the first half. We lost a goal from a deflection. I think we could have been better in the attacking and the defensive third. When you're not at your best at both sides, that's what cost us.
"The first goal was a deflection and the second one, I'll need to see it back. But we are built on our defensive structure. We were very good at that last year but we've had to build a whole new defence. We are still a work in progress. I think Richard Jensen and Stefan Gartenmann met each other for the first time this week. They're good players and we will be alright, I'm very confident of that. We just need to perform better there for our fans.
Asked if he understood the supporters reaction, Robson replied: "100 per cent. We want to win football matches. I think they know that. We are a work in progress. That was a whole new back five today. We tried to change it at half-time, but you could see a lack of cohesion with us. We tried to work on it a little bit during the international break but we had a lot of them away. I've been at this club a long time. I've seen the fans and rightly so, they want to see us win the game and obviously we never."
Robson also feels it is too early to press the panic button despite Aberdeen's lowly league position. "When you look at where we were as a club last year ... we've had a difficult start," continued Robson. "I think that's the first time we've had all the players who we've tried to sign all in. You can see a bit of that. But listen, even with that, we still need to try and get results. I'm honest enough and smart enough to know that you need results even with the hard start, a lot of away games. We've obviously taken in 13 new players. But all of that doesn't count for much because we need to get results. We need to improve and get better at both ends - and we will.
"We're all trying to get to know each other. Some of them are trying to understand the league. Some of the ones who have been here probably need to start hitting some form. And I think once they do start hitting form, I'm really comfortable with the squad the players we've got here, there's a good team there. They will click and they will get going. We just need to make sure that it is sooner rather than later."