To review the present and look ahead to the future, understanding what has gone on before is important. It is closing in on 45 years since Ayr were last in the top-flight. They have never won a major trophy. A game of Somerset Park spot the difference from 45 years ago to now would leave many puzzled. That inertia makes the ground so special within Scottish football, a reliable relic.
On Saturday, fans queued out onto the road to enter the popular Somerset Road end through tight turnstiles. Past a Santa collecting donations, a sign notifying visitors that Raith Rovers were in town and another which read 'Entry to home covered Somerset Road end only. No transfers to North Terracing'. On the surface it was another Championship fixture but it was also one which pushed Lee Bullen's team one match closer to promotion and Premiership football. A 2-0 win ensured a one-point lead at the top.
It has been quite the 2022 for the club. At the start of the year they were 19 points off the top and just four ahead of relegation. Yet, key appointments were made in December and then in January. Graeme Mathie, formerly a sporting director at Hibs, came on board as managing director and then Bullen as manager.
Combining modernisation with tradition
This is a momentous time in the club's 112-year history. On and off the field. Planning permission has been granted for the redevelopment of the north terracing which will combine old and new with terracing, seating and hospitality suites. Elsewhere, work has already taken place. Club legend Michael Moffat is the team's strength and conditioning coach, a head of recruitment has been brought on board, while outside the ground sits a hub. A space which houses the club shop, staff offices and an impressive supporters' bar. The pre-match hubbub was in full swing with fans who make the pilgrimage from Kent or Fort William every other week or Willie McCulloch, a key member of the the AU Player Fund which raises more than £3,000-a-month and helped bring Lawrence Shankland to the club in 2017.
On matchday staff bounce from one area to the next. The hub acts as the perfect example of what the club, from chairman David Smith, a lifelong fan, through Mathie to the vital volunteers wants to create. Striving to move forward in a modern world but maintaining ties with tradition as it does so. Moving forward together. With unity.
"We spoke to all the staff and asked them fundamental questions such as what defines Ayr United," Mathie told The Scotsman. "Unity was massive because that's how the club existed. What's a community club? Davie White the head of the academy came up with the best answer: 'it's a local that values and works with local people'. The academy is really important to us. We have a high percentage of match minutes from academy players this year. It is important to us to use local supplies and as far as we can local products. We want to inspire the town of Ayr. What would this town be like if we were in a different divisions and there were thousands of people coming to the seaside every two weeks? That's exciting."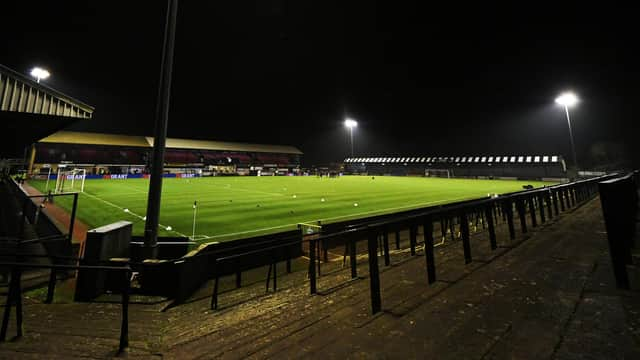 Open-top bus
Mathie, no longer making the two-hour journey back and forward to Edinburgh from his Ayrshire home, has jumped into his role with two feet. Bullen has called him a dreamer. One such dream is for an open-top bus down to the Low Green in the town to celebrate something big, accompanied by the the club's panda mascot. Livingston, Ross County and St Johnstone show why it is possible.
"You wonder at certain sizes of clubs when you've not got unlimited resources how can you set out a vision and how can you deliver it," Mathie said. "There was a big debate about do we be really bullish and to say this is exactly what we want to achieve. You can set yourself up for a bit of a fall. Quite clearly I have put it out there that we want to achieve something we have not done before. We do want to ambitious. The Championship is incredibly exciting, you don't know who is likely to beat anyone but that also gives eight or nine teams an opportunity to think 'we are not a million miles away from winning it'. Why not Ayr United?"
Dare to dream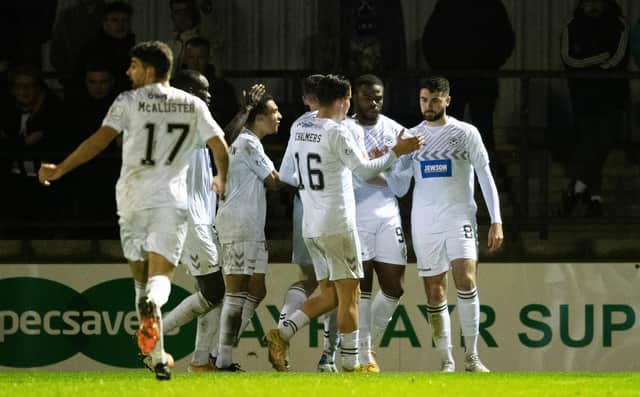 Importantly, the supporter has been put at the centre of the journey. Fan numbers are up on average 600 from last season. Mathie said Smith wants to build something which is exciting to be a part of.
"The feeling I get chatting to people is that they feel more engaged with the club, they know a bit more about what's going on," Mathie said. "We are asking their opinions on loads of stuff because it is their club. Everyone together, trying to take Ayr forward. They see the changes now and it is tangible, that's always important. You can write anything you want in a document but people have got to see it and feel it and I do get the sense that is happening here.
"What the aim is now is to win more games, go into every game believing you can win, have a wee bit of swagger about you because you are part of Ayr United. There is a mindset shift now where being part of Ayr United means something. It means you can dare to dream about what you can achieve."