Andy Robertson: Gap between haves and have-nots has grown too big
Andy Robertson's last-minute corner kick the other night was a lovely, arcing delivery which tempted the Tottenham goalkeeper until the realisation - too late - that it was Christmas-wrapped for a Liverpool player. The power on the ball was a huge aid to Roberto Firmino whose bullet header duly sent the champions clear at the top of England's Premier League, after which the Brazilian sped off on a demented dash of celebration. But he was soon skipping back down the field to offer grateful thanks for the assist to the wee guy in the No 23 shirt with the sweetest of left feet.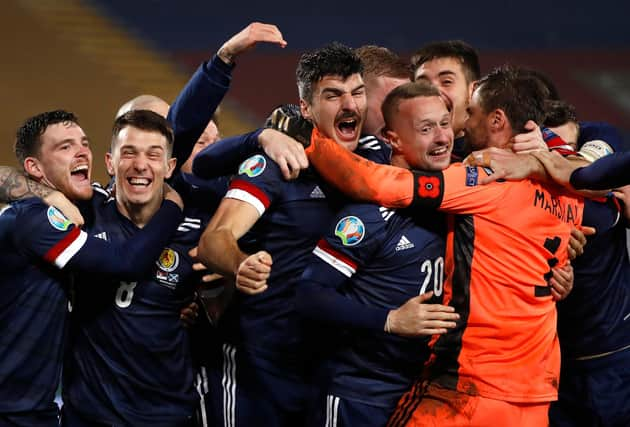 So what did Bobby say to Robbo this time? Maybe we'll find out later. What I do know, because the Scotland captain has told me, is that he'll never forget a compliment paid him by Firmino back in the summer on the brink of Liverpool ending their 30-year wait for the title.
Robertson had been injured, missed the Merseyside derby, but was fit for Crystal Palace. "At half-time Bobby said that the difference when I played, compared to when I didn't, was incredible." At least he thinks that's what the striker meant with Robertson's accent - he's a Clarkston boy from East Renfrewshire - being just as likely the cause of communication breakdown as Firmino's uncertain English. "I don't think he can understand a word I say!"
Robbo, 26, explains that such praise, man to man, is rare. Yes, players talk up each other in post-match interviews but, face-to-face, teasing and ribbing is the norm. "For Bobby to say something like that blew me away," he adds. And there was more. Knackered after his lay-off Robertson was subbed near the end, falling into the arms of Jurgen Klopp. "The boss gave me a big hug and said: 'I love watching football when you're playing.' That was amazing, too."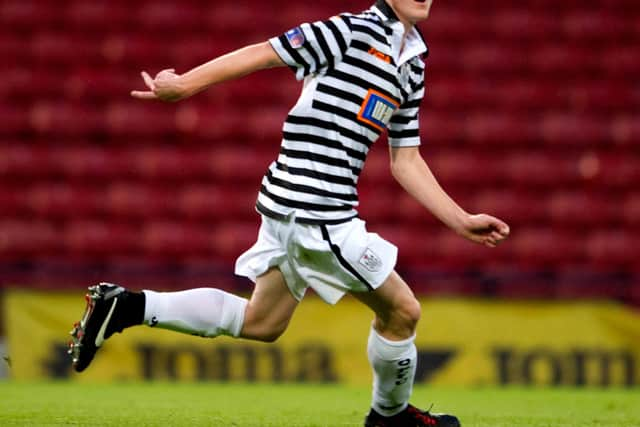 Robertson's reaction to the esteem in which he's held down Anfield way tells us a lot about the man. He's a billboard-friendly, highly articulate world champion. He's the best left-back in the business. He's going to be the first since Mel Gibson to lead us into the finals of a major international tournament (or was that Colin Hendry? 1998 was so long ago). But, you know, there are times when he barely believes a word of it.
Robertson is extremely hard on himself and the flaws, as he perceives them, in his game. Spells out injured and transfer windows have prompted anxiety, lest his club recruit someone new, possibly untried at elite level just like he was, who turns out to be sensational (ditto). And when he talks about the Reds' sensational attacking trident of Firmino, Mo Salah and Sadio Mane, and of being bollocked by club skipper Jordan Henderson in a prefect-to-first form manner, it's like he's won a football mag's competition to run out with these guys and that his dream prize will end soon.
"That's just me," he says when we talk via Zoom, "and I think my insecurities will always be there. People probably look at footballers and top sportsmen and think they're untouchable and untroubled but I do believe that a big theme of my journey and the reason I'm at Liverpool now is that along the way I've doubted myself, never mind that others have too.
"But I've always pushed myself in an effort to, first and foremost, prove me wrong. That was what I did at Dundee United and then Hull City before coming here and those two years of trying to break into the Liverpool first team. Then, when I got my chance, always thinking I was one bad game away from being taken out of the team or a couple of bad ones away from somebody else being signed - that drove me forward every day. I wanted to stay in the side. I didn't want anyone else taking the left-back spot."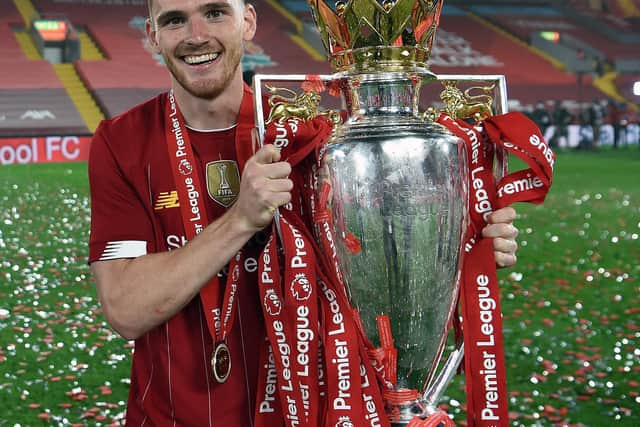 To prove the point he famously abandoned his beat and ran almost the length of the field to hound and harry and hassle a succession of Manchester City players, forcing them to send the ball all the way back to the keeper in their exasperation at the energy and relentlessness of the snappy Scottish terrier.
"The insecurities are still there," he continues. "They might have decreased ever so slightly because of the brilliant players around me and the bits and pieces I've been able to contribute." Though he doesn't itemise them, his efforts for the cause were recognised in the title season with a terrific stat: 27, the most number of assists by any top-flight defender since 2014.
Robbo never looks as cool on the ball as Virgil van Dijk but then really, who does? His slightly panicked expression is part of him. "I suppose my life would be easier if I was less anxious but I really don't believe I would have had a successful career if that wasn't there."
Though clearly not lacking spirit for the fight his innate reticence - call it good, old-fashioned Scottish humility - was again in evidence at the beginning of the year when Robertson looked around him and wondered if it was possible for a footballer, society-wise, to make a difference. This footballer? Initially, regarding himself, he wasn't sure. But in the end he decided he should try, so Andy Robertson now has his own charity.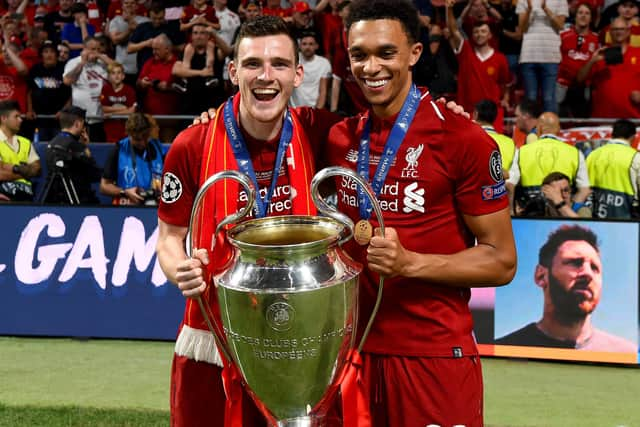 Called AR26 it bears the slogan "Passionate about giving young people in Scotland a chance". These kids might have serious health issues or difficulties at home and appreciate some respite. They might be about to leave school and need help with the next step. Or they might be football-mad but unable to afford the local 3G.
"I think I was a bit guilty of not realising, or maybe not wanting to realise, that as a footballer perhaps my voice can carry a little bit further," he says. "I'm still not sure I agree that it should but I accept it might be of use. If I can help towards the greater good then I'll be thrilled."
Robbo, dad to son Rocco and daughter Aria, adds: "I had a good upbringing and I know my children will have one but I'm aware that others are not so fortunate. The charity is very definitely aimed at underprivileged children because I do think the gap [between the haves and the have-nots] has grown too big."
He hatched the idea with partner Rachel back in February. He knows of many footballers involved with charities including those like Liverpool team-mate James Milner who've set up their own. So he was surprised - and disappointed - when Health Secretary Matt Hancock singled out his profession at the beginning of Covid-19 by urging players to do their bit to ease the financial burden of the pandemic and take a pay cut.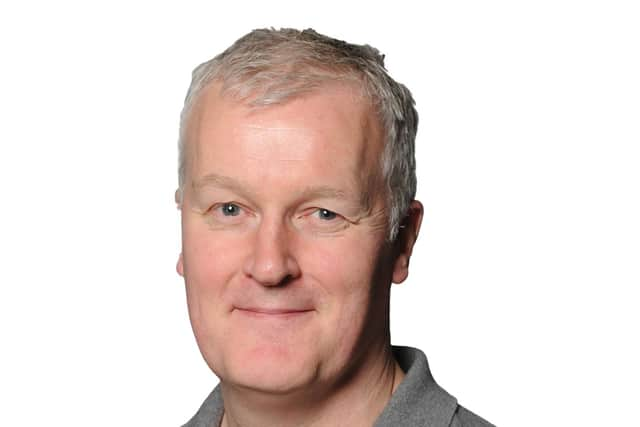 "My jaw dropped when he said what he did and I remember staring at the TV in total disbelief. A lot of footballers would have been hurt by it. The clear inference was they weren't doing anything to help but, whether it got publicised or not, a lot were already active. I know that at Liverpool guys were making anonymous donations to local hospitals, children's charities and care homes.
Hendo [Henderson] had already set up a coronavirus fund for the NHS involving all the Premier League captains and Milly [Milner] had his foundation. Then there's Marcus [Rashford]. What he's done with his campaign to alleviate child poverty has been an absolute inspiration. He had to rely on foodbanks when he was younger and he's determined to make a difference. He's a credit to football and to humanity.
"Myself I was well underway with the charity at the time [of Hancock's remarks]. I'd given money to foodbanks in and around Glasgow which I hadn't particularly wanted made public but that got out. And I remember it was 3.30am one morning as I was trying to get our son Rocco to sleep that I made a donation to the Back Onside mental health charity - goodness knows how many people are suffering problems in that area right now.
"So I think he [Hancock] was rather uninformed. There was no mention of other wealthy people in sport or in industry. I think everyone who's well off can do more to help but I also think that footballers nowadays are very switched on. Most of us come from working-class backgrounds and we know how tough some people have it. We understand our privileged position and try to help society. Our social conscience is as strong as it's ever been. For us to be attacked like this, held up as a symbol of selfishness, was wrong."
Though he doesn't say as much, Robbo appears to have found his voice here. He thinks it will be "strange" for his mates back home, the people who know him best, to see him speaking out like this. He continues: "My mum and dad had decent jobs so me and my brother always got the football strips we wanted. They also took us on holidays which would have gone on credit cards and taken a few years to pay up. We weren't well-off but for me that's being able to keep a roof over the family's heads and put food on the table. Poverty is hard-hitting and I just think that those who can help should all try and give kids a chance in life.
"We were enrolled in football camps in the summer holidays which would have hit the budget as well. If the charity can help in that respect, great. The aim is to provide free coaching for kids up and down Scotland. And one of the other projects is called Hope for Youth. The plan there, for teenagers coming out of school hoping to further their education and life skills, is that we'll try and team them up with businesses who'll provide them with paid work and the chance to flourish."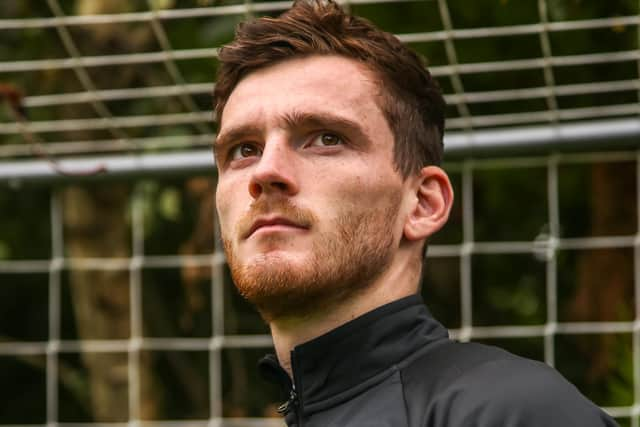 Robertson has just had a book published, titled Now You're Gonna Believe Us … What, and him just 26? Well, why not when you look at the accompanying photos, in particular one of him grinning like a boy in a toy shop behind his trophy haul: Champions League, Super Cup, Club World Cup and, at last, the pot for winning the Premier League. It's a story which, as the TV commentators often like to remind us, began at Queen's Park in front of the time-honoured trio of bunneted intellectuals and a faithful hound, although the tome doesn't go back there too often, mainly being the chronicle of recent glories, beginning with Robbo carousing with Kenny Dalglish in Madrid, scene of the Champions League triumph. A combination of "lager-induced brain fog, lack of sleep and outright surrealism" made the moment difficult to compute. But for a Liverpool player, lifelong Celtic fan and Scotland international there was none better.
Of his apprenticeship at Queen's Park he says: "A lot of people reckon I should reflect on that time more. It's not like I wasn't grateful for it, just that I'm one for looking forward. But I'm sure there will come a moment, maybe when I've hung up my boots, when I'll look back on the whole journey, beginning at Queen's Park."
The journey actually began at Celtic, 15-year-old Robertson suffering the rejection of being released. He tried and tried again, becoming a Spider. "I went there thinking: 'Right, I'm going to give this 100 percent.' If I fell short and had to come out of football I wanted to know that I'd given it absolutely everything." Take note, young Scotland captains of tomorrow.
"I'd like to think I've always done that. Even when I was a ticket boy at Hampden I reckon I did my best and the same with working at Marks & Spencer to earn some money for Christmas. When I was on the tills I hope my old boss would say I was pretty good at beeping through the Percy Pigs for everyone!"
The book, with all proceeds going to his charity, ends with Scotland and hoped-for Euros success. Robertson describes how much the national team means to his family, not least his Auntie Vera who passed away at Christmas seven years ago. He's only ever worn personalised boots in her memory, once in a goalscoring appearance for his country against Cyprus. The boots bore her date of birth and "Cheeky V" as at clan gatherings she was partial to a Vimto.
Robbo signs off not how the playoffs for next summer's tournament will go, so let's bring that chapter bang up to date today: "We really felt the love going into those games; the whole nation seemed to be excited for what was coming. Unfortunately we couldn't be back in Scotland after qualifying [with the penalty shootout win in Serbia] but it seems that everyone bounced out of their front doors with big smiles on their faces. After the year everyone's had in 2020, if we managed to give the county a boost - fantastic."
Robertson and his men, in their choice of dressing-room celebration song, also gave Baccara a boost, sending the aged disco duo's Yes Sir I Can Boogie back into the charts. "That was our greatest achievement, no? Honestly, none of us will forget that night, particularly those who've been through a number of disappointments with Scotland. I've been involved for eight years and beyond that as a fan it's been a long, long wait for us to qualify for anything again. I remember finding a quiet moment to sit down with David Marshall when the two of us went back over all the tough results. We decided they'd all been worth it for what we'd finally achieved."
The tough results had brought tough criticism: for the players, previous manager Alex McLeish and his successor Steve Clarke. The much-decororated skipper wasn't absolved from blame. "I think a lot was expected of me, coming from a highly successful club side, but Scotland are not going to be able to dominate the ball the way Liverpool do and against a world-class team like Belgium I'm not going to be able to bomb forward all the time.
"Listen, some of the criticism I agreed with. Performances, including mine, were nowhere near good enough. Right from kick-off we weren't in games and we conceded sloppy goals. But at other times the criticism was, I think, too harsh and as captain I felt I should take more of it on my back in the hope of releasing the pressure on some of the less experienced guys. Fortunately, I'm quite thick-skinned." And, as Man City's harassed defence will testify, he doesn't give up easily. Scotland had been a "broken" team who needed rebuilding. "That took time and maybe it was hard for pundits and fans to see the progress being made with every camp. Hopefully now they can."
Now for England, our group opponents. Well, smiles Robbo, not quite. "First day back at training with Liverpool that match was discussed with Hendo, Trent [Alexander-Arnold] and the other English boys, although it hasn't been mentioned since. I've got 104 games to play before then, not that I'm counting or anything. But it's going to be huge and hopefully stadiums will be back to being full by then.
"Scotland mean an awful lot to my family. Before me and my brother came along our parents used to throw big parties on the days of internationals and as soon as the pair of us were old enough we were on the Hampden slopes. I was four when we last played in finals so our generation missed out. This team don't want that to happen to the next generation. The ultimate aim is that Scotland will qualify regularly again but first, next summer, we want to put our stamp on these Euros. Yes, England will be tough opponents but they should know that we're going to be tough, too."
Leading Scotland to victory at Wembley? For Andy Robertson that would be sweet - Vimto-sweet, Percy Pig-sweet.
Information about Andy Robertson's charity can be found at www.ar26.org.uk. His book Now You're Believe Us … is published by Reach Sport, price £20.
A message from the Editor:Thank you for reading this article. We're more reliant on your support than ever as the shift in consumer habits brought about by coronavirus impacts our advertisers. If you haven't already, please consider supporting our trusted, fact-checked journalism by taking out a digital subscription.
Comments
 0 comments
Want to join the conversation? Please or to comment on this article.