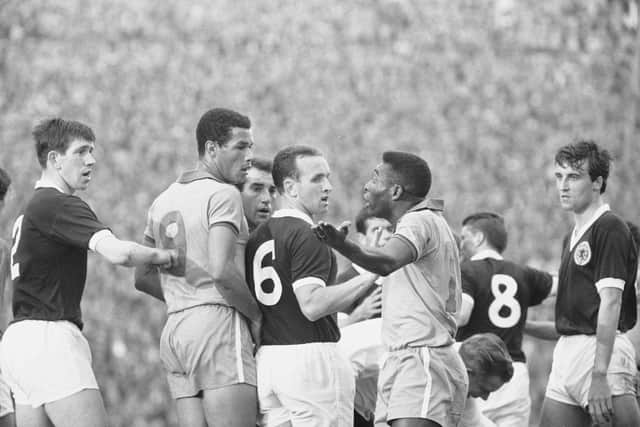 He wasn't Caesar or Big Tam. Nor Wispy or Cairney, the full-back whose nickname came from a TV show. And he wasn't Chopper or Ten-thirty or Faither, the mature-years goalie – none of these guys.
He wasn't Stevie Chalmers, who scored the goal which won Celtic the European Cup, but even though you won't hear this from his mouth he was vital to that triumph for the ages.
All of the aforementioned were either more flamboyant players or, when they retired, more flamboyant storytellers, waxing lyrical about 1967 in Lisbon. Some indeed were both. Or they got into trouble with the boss more or there was something funny about them, like they'd do anything to avoid getting on a plane or they kept their teeth in a bunnet. But John Clark was a Lion, too, and the rest of the pride, be they still getting a kick at the ball down here or up in the high stand, would affirm that most heartily.
I've met some modest football veterans in my time but Clark takes the Tunnock's Caramel Wafer. This is him talking about a game the summer before Lisbon: "I wasn't nervous. Football's about testing yourself against your opponent and that's all I was thinking about, not his reputation or the fabulous goals I'd seen him score on TV. I was concentrating on what I had to do. If your job requires you to line up against the best player on the planet, you do it. That's what I did at Hampden that night. I just got on with it."
Just got on with it. With shackling double world champions Brazil and none other than Pele. Clark, when I catch up with him at home, makes this sound like a dauner to the shops in downtown Hamilton from where incidentally he's just returned with his wife Eileen. He is not, though, saying it was easy. That's definitely not his style.
The passing of Edson Arantes do Nascimento as the old year ended and his funeral this week has had Clark reflecting on the first-ever international between Scotland and Brazil on 25 June, 1966. Pele was 82 when he died, the age Clark will be come his next birthday in March. The old left-half is one of the few survivors of that friendly who can still remember it.
"Everyone is talking about Lionel Messi just now. The best in the world? That very much depends which generation you're from. For me and I think all my team-mates that day it would be Pele. Even though we managed to keep him pretty quiet."
The game, like one the previous week in Glasgow against Portugal, was a warm-up for the World Cup in England offered by envious non-qualifiers, a chance for Brazil to familiarise with British pitches and British tackling. Clark had been on the bench against Eusebio & Co but was then called up by manager John Prentice for his first cap.
"Celtic had just come back from a tour of the United States and suddenly me wee Chalmers were in the Scotland team. I remember it was a lovely warm night with a rare crowd in the stadium [73,933]. Eileen was there and I'm sure some of my uncles were too. They'd kind of shared the father-figure duties after my own dad had been killed on the railways."
John Clark Sr, an engineer, died in an accident on an English line when his eldest son was just ten. Suddenly in the Lanarkshire village of Chapelhall the lad had to assume breadwinner duties. "I had little brothers and a little sister while mum was expecting my other sister so I had to go out and find wee jobs. A local farmer let me sell his eggs and potatoes. I did all sorts to help bring a few bob into the house."
Nowadays when a player scores a goal or a game is won he'll extend his arms and gaze up to the heavens to commune with loved ones no longer around. In Clark's day footballers kept their feelings very much to themselves but he says: "Of course I would have liked my father to have seen me make it in the game, to play for Celtic who were just about everybody's team in our village and for my country. I don't know if him not being there when I was growing up made me more determined to succeed but there wasn't any other option." Like facing up to Pele, he just got on with it.
The Scotland team were: Bobby Ferguson, John Greig, Leeds United's Willie Bell, Billy Bremner, Ron McKinnon, Clarky, Alex Scott of Everton, Charlie Cooke, Chalmers, Jim Baxter and another debutant, Hibernian's Peter Cormack, then just 19.
For Brazil, the great Garrincha was bound for his third World Cup but sat out Hampden. The youngest in their side was 21-year-old Jarzinho who would go on to score in every game of the 1970 tournament but of course it was the name of their No 10 from Santos, then 25, which stood out, as it did on every team-sheet.
Says Clark: "Like everyone else I'd watched the 1958 World Cup on the telly, Pele scoring that wonderful goal when he flipped it over the boy's head and volleyed it into the net [the strike which announced him in football, against Sweden in the final]. But when Brazil came to Hampden wee Chalmers surprised them."
Thirty-eight seconds - that was the time of his fellow Celt's goal, missed by many still queueing to get into the ground. Truly this was a different era with short back and sides for Clark and his team-mates, black boots and white laces looped round the soles and no ink anywhere on the pale Scottish skin. Probably the only tattoos around in 1966 would have been found on the seafaring relatives of footballers, anchors or mermaids.
Clark does not build up his part, about this game or any other. You will find testimonies about how he marked Pele out of the contest; not strictly true, he says, there was huge help from Bremner. "Billy got in a strong tackle early in the game. I don't think Pele liked it!" Clark did, though, tangle with him as play unfolded and Brazil hit back with an equaliser by Servilio, but you have to work hard to wheedle the admission that in these confrontations the Scot generally came out on top. "If I did really get the better of him then he didn't do too badly otherwise, did he?"
Clark will reference Pele along with the other notables he played against with Celtic, among them Eusebio, Sandro Mazzola, Jimmy Greaves, Denis Law, Ian St John - "the cream of strikers," he calls them. But make no mistake, Pele was the best, even if he didn't show it that day. Brazil left Glasgow for England but their World Cup defence ended with exit at the group stages. "Pele was kicked all over the place by Portugal and Bulgaria, it was terrible."
A buttercup yellow shirt would have been a fine souvenir of the 1-1 draw at Mount Florida – Cormack unfurled the strip he swapped with Gerson for me; the cotton is properly heavy – but Clark chose to keep his Scotland colours from that first appearance. There would only be three more: Wales away in the British Home Championship – "I won't forget that one; it was the day after the Aberfan mining disaster" – then Northern Ireland and finally a friendly against the old USSR. Was he disappointed by the modest total? "Ach, I don't know. Some say that Celtic players got a raw deal from Scotland and Bobby Murdoch for instance certainly deserved more caps. I was proud to represent my country on the occasions I did but didn't think I was an inferior player to anyone else in my position at the time." (From Clark, this is almost tantamount to outrageous boasting).
Certainly there were consolations to be found in club football. He helped Celtic to six titles, the League Cup five times and the Scottish Cup three. And don't forget Lisbon. Clark can't; the fans won't let him. What for instance does Rod Stewart say to him when they meet? "'Get oot o' ma' road!' No, I'm joking. That sadly won't ever be done again – a Scottish club winning the European Cup – at least not unless some big moneybags strikes oil someplace and buys a whole new team. Clubs everywhere are spending millions trying to win the trophy and failing. We did it just with guys, all Scots, from round and about and here and there." (All but two of the 15-man squad were born within a ten-mile radius of Parkhead).
Clark signed for Celtic aged 17. "I felt as though I'd won the pools." His first-team debut came at Arbroath's Gayfield in 1959, the first goal in a Scottish Cup replay at Hibernian two years later. "If I say so myself it was pretty good. Pat Crerand played a short corner, I rounded Sammy Baird on the byline, then poked it through Ronnie Simpson's legs. When Ronnie came to Celtic later I liked to remind him about it. Well, I did only ever manage to score for the club three times."
He was much better known for his doughty defence, forming a rock-solid partnership with Billy McNeill. But any suggestion of telepathy between the pair is downplayed. "There wasn't a strategy. 'You take care of the headers, I'll sweep up.' We had to let the games, the situations, happen then deal with them as best we could." What is not open to question, though, is that between April of 1965 and September '67 Clark turned out in the hoops in 140 consecutive matches – an astonishing statistic. How many of today's players are feeling a twinge in the groin just from reading that?
For the first of them new Parkhead manager Jock Stein selected him and clearly the boss had found a fellow upon whom he could depend. "I knew Jock from before when he'd been in charge of the reserves so was delighted when he came back to us. We got on well, although he was an absolute stickler for time-keeping. I remember Billy and I arriving early at St Enoch Square for the one o'clock bus to a game at Dumbarton so we took a wee stroll along Argyle Street. When we got back Jock was raging. 'What the hell time do you call this?' It was only a minute after one but we were never late for anything ever again."
Clark, father to two and grandfather to three, is in with the bricks at Paradise. After playing he was a coach, an assistant manager and the kitman, and his involvement with the club continues today. It won't come as much of a surprise to learn that he doesn't mind being known as the quiet man among the immortals and the unsung hero. "I loved being a footballer, only wanted to do my best and got that chance at Celtic. I've had a great life."
To what does he attribute its longevity? "Not drinking? But I don't really know because it's probably not advisable to scoff as much chocolate and as many sweets as I do. The great man above has been good to me."
He acknowledges this at every passing of a team-mate or illustrious opponent: Bertie Auld in 2021, John Hughes last year and now Pele. There is one more story about Clark and the Black Pearl. It comes from 1981 when our man was McNeill's No 2 and Celtic were in New York and suddenly Pele, on promotional duties for the POW movie Escape to Victory, was riding in their hotel elevator. He recognised Clark, remembered Hampden and that his old foe wore No 6 and they chatted about the game. Young Davie Provan, also in the lift, was completely awestruck. Then Pele reached his floor and bid them farewell. The doors closed, Clark turned to Provan with the latter's jaw still on the floor, and said: "Do you know, I was just being polite. I've no flamin' idea who that was!"