Aidan Smith: Why I don't want Scotland to qualify for the Euros tonight
Okay, here's what I want from Oslo tonight, which I'm guessing is different from what you want. You probably would like it done, Spain to avoid defeat and for us to qualify. I want us to get there, obviously, but as top of the heap.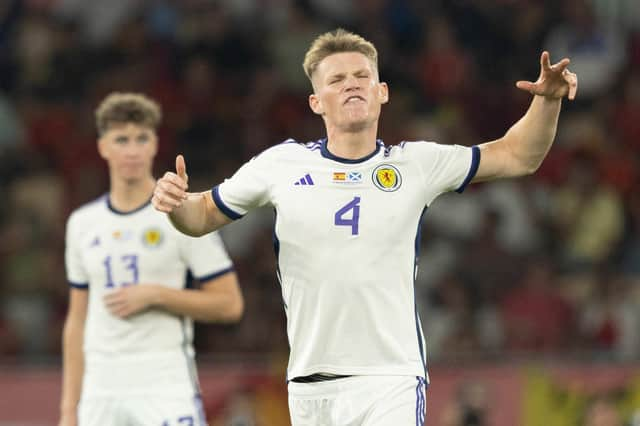 Just imagine. Eclipsing one of football's superpowers in the group, wouldn't that be pure dead brilliant?
Okay, I know a Norway win would be risky, possibly too fraught with danger. It would maintain Erling Haaland's interest and potentially turn our final qualifier into a shootout. We're Scotland, after all, the original defeat-from-jaws-of-victory guys. Delaying the desired outcome could turn into a game of Russian roulette. Or Spanish roulette. No, Spanish omelette. Ach, maybe I'm being greedy and just not thinking straight. But then neither were the officials the other night.
That body-check on John McGinn? Actually, was it? Leanne Crichton in the BBC highlights said McGinn could not have avoided the collision with Dani Carvajal, but the Spaniard was so close that I'm not sure he could have done either.
Unai Simon taking out Andy Robertson in mid-air? The goalie led with his knee. For "protection". All keepers do this and no charges are ever brought against them. Ridiculous that the Scotland captain was booked, though; similarly that Nathan Patterson was yellow-carded. And the penalty claim involving Che Adams? In the "hopeful" category.
But then there was the "ghost goal". Scott McTominay's outrageous strike from right down near the byline. The type Lionel Messi and Cristiano Ronaldo in their absolute pomp would have attempted every three-and-a-half seasons. The type lesser geniuses will try once. The type the flashest characters will save for the end of training, last ball. The type that, around the hour-mark of a vital game in a hostile venue, big guys up from the back, opportunities so scarce they can't be wasted on a whim, a humble Scotsman beholden to the philosophy that we don't get above ourselves would dare to contemplate, oh let me think … never.
Honestly, have we ever fallen from a cliff in the manner of last Thursday night in Seville? Ascended to the summit to be privy to something rare and fabulous only for the tour bus to come off a treacherous bend?
There was a treacherous bend to McTominay's free-kick. Simon wasn't saving it and after the ball whizzed past him and into the net he wasn't complaining about a foul or offside. Neither were the half-dozen team-mates near enough to bear witness and Spanish enough to be entirely subjective about such matters (like all footballers, indeed).
But, as we quickly learned and have been torturing ourselves about ever since, replaying it in the mind while wondering how poor McTominay must be feeling, this turned out to be the greatest goal we never scored.
First it's awarded. Then, hang on, did Jack Hendry get ever so slightly tactile with Simon in a way all Mediterranean men would understand and a way contact sport like football must permit, otherwise the game goes to pot?
The referee studies the pitchside screen and calls a foul. It's not – not even in an era when goalies are World Wildlife Fund-rated as an endangered species alongside Javan rhinos, Amur leopards and Sunda Island tigers.
So where was the "clear and obvious" error in the strike being allowed to stand? And then, piling muddle onto confusion, the narrative changes.
Uefa inserts the phrase "offside". If the governing body was a polisman in the witness box stumbling over his recollection of an alleged crime, it would be asked by the sheriff: "Is your note an accurate account of what happened and was this made at the time?"
Uefa, not seeing the foul and having many minutes to work up the alternative theory, demonstrates it has the ref's back. "Covering his a**e, more like!" bellows a disgruntled nation in unison.
Disgruntled and deeply suspicious. How can the precision and certainties of VAR produce two different verdicts, one countermanding the other? If it was offside, why weren't the lines drawn? For clear and obvious, read vague and dodgy.
"That's wrong, that … Oh f***!" Part of the transcript of the Luis Diaz blunder – and a contender for football's most telling quote of 2023. In the wake of that and what went down in Seville, VAR is giving a fair impression of a deranged robot. Lest we forget, though, the technology is controlled by humans.
It was supposed to settle all argument in football but suffers in comparison with Hawkeye, the unchallengeable final arbiter in tennis. In rugby there are the calm, clear and transparent deliberations of its referees with their video counterparts and we trust them. VAR's interventions, though, are to be dreaded.
There have been a number of nuclear incidents in England; Thursday was Scottish football's first whopper. With our traditional masochism, some will revel in the greatest goal we never scored, maybe even drawing comparison with mythical, unfinished cult movies, lost Beatles albums or the extra, 13th episode of Fawlty Towers.
Well, I think we should move on quickly. Be outraged by VAR by all means. Request transcripts. Demand that we get to hear the debate between on-field and off. But look forward to all those stirring victories before Seville propelling us to the Euros sooner or later. And really, why not later as group winners?
Comments
 0 comments
Want to join the conversation? Please or to comment on this article.