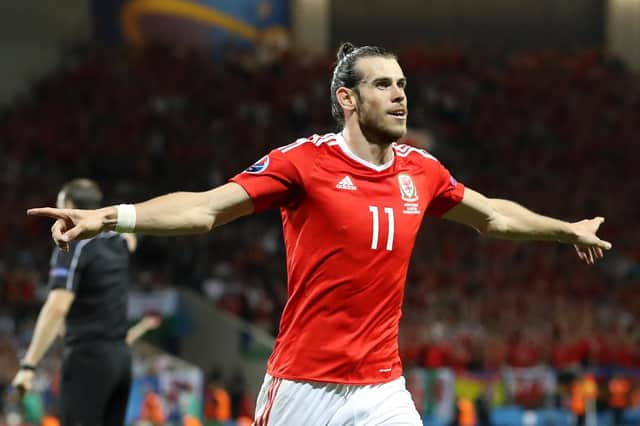 In a previous life professionally, Katherine Jenkins concluded lunch with a smoochy hug. Tom Jones flattered me by claiming three times: "Oh, I've never been asked that before." And with Nicky Wire of the Manic Street Preachers I shared happy, pervy, teenage memories of long afternoons in record shops spent examining the sleeves of Roxy Music LPs with all the enthusiasm of first-year gynaecology students.
Meanwhile in sport I've been working my way through the magnificent Welsh rugby team of the 1970s including Gareth Edwards, JPR Williams, Gerald Davies, John Taylor and Phil Bennett, RIP - terrific raconteurs one and all.
But come on, boyos - Gareth Bale as the greatest British footballer of all time? You're surely havin' a taff.
This boast began to rumble through the valleys as soon as it was announced Bale had played his last game in a red shirt. I learned about his retirement from the sports reporter on the BBC's Breakfast show who oddly, after one of these best-bits compilations, told us that what he took from the clips was that the player was a really nice guy.
I'm sure he is but that wasn't really what any football fan was pondering at that moment - and certainly not what Bale's camp followers were about to run off and proclaim.
To be fair to the hapless journo he hadn't much to show us in the way of Bale's skillset. Where was the supreme athleticism, those thundering runs and in particular that spectacular overhead kick to win the Champions League for Real Madrid in 2018?
I'm guessing the latter is the property of BT Sport and that other highlights were similarly unavailable to the Beeb at short notice. So the report had to make do with a few free-kicks and penalties, notably the one from which Bale netted Wales' only goal of their dismal World Cup.
This reminded me of David Beckham and how towards the end he could only score when play had been halted, although a little collection of dead-ball moments would frequently be assembled to advance his case for legendhood.
Bale was better than Beckham, I'll give the big, brawny Welshman that. Never a great mover at the best of times, Becks was seemingly intent on turning football into golf. As George Best once famously put it: "He can't run, tackle, head the ball or use his left foot - but otherwise not a bad player." But Bale superior to Best? Sorry, but he wasn't.
In some ways this is a pointless argument. Fun, but futile. It's subjective, for while Bale might seem like the greatest to those of an impressionable age right now, the age you are rules you out of ever having witnessed Bestie in excelsis.
You, the younger fan, could look up Best on YouTube and find that delirious diagonal run across the Old Trafford pitch, finished with the shot back from whence he came and into the opposite corner of the Sheffield United net. You could find the lobbed goal at White Hart Lane. But you might think Bale's bicycle kick beats both.
Don't, though, take players and their skills out of context and out of time. No one was dribbling like gorgeous George as the 1960s turned into the 1970s. Windsor Park, Belfast for Northern Ireland vs Scotland in '67 remains the greatest individual display I've ever seen. And remember: that game, in glorious black-and-white, was a rare live telly treat. There must have been cameras present every time Bale played whereas a lot of Best's brilliance can only exist in the memory of the gnarled Stretford End suedeheads who were present.
Cultural impact? To my mind "fifth Beatle" trumps everything, despite there being far less innocence and much more cynicism around when Bale arrived on the scene, so he couldn't appear as sexy or as witty as Best, though in any case this would have been beyond him.
Paul Gascoigne had a sense of fun but he didn't win five Champions Leagues. Ah but these titles were with Real who unless you support Los Blancos with their galactico tradition have always been difficult to love. Bobby Charlton was wonderful and dignified, so too Bobby Moore. And hang on: all Welshmen will nominate Bale, their most capped player who dragged the national team into tournaments to which they seemed to have a terrible aversion. That's fair enough, but I hope there can be acknowledgement for the fact it has taken this long for this Scot to nominate one of his own.
Actually two. I've just watched Bale's overhead again and it's astonishing, both in distance and power. But didn't Denis Law patent the technique? Didn't the Lawman, at the first successful attempt, probably missed by TV like a lot of Bestie's twisted-blood deedle-dawdle, utter the immortal words: "That's one small step for football, one giant leap through 180 degrees, while imperilling my splendid high quiff, for footballkind"?
Then there's King Kenny. Ultimately you can only properly speak with authority and feeling about football when it most affected your life, when you devoured every single piece of information about it, when you could name the personnel in just about every team and then elevated one player to top of the heap. That was Dalglish, the ruddy-cheeked, ruddy brilliant inventor of his own signature goal: the arse swivel-enabling left-foot strike into the faraway top corner.
Enjoy your retirement, Gareth, and enjoy the acclaim of your countrymen. Maybes they reckon you're the greatest but maybes I think differently.