Aberdeen VAR gaffe shows one major change needed urgently - but refs will still mess up with tech on their side
VAR has come under the spotlight once more as referees continue to baffle with decision-making
"When VAR comes in, they're there to look at things six times, and they still get it wrong? That's my problem."
Those are the words of Aberdeen manager Barry Robson, who actually held it together quite well last night. A fiery character as a player, he would have been quite within his rights to go off his rocker following an appalling officiating decision during the Dons' 3-2 defeat by PAOK in the Europa Conference League. Leading 2-1 at the time, Jack MacKenzie was felled by Vieirinha as he drove into the penalty box. It looked a penalty in real time but referee Sebastian Gishamer wasn't interested. Neither, remarkably, was VAR. No call for the Austrian whistler to check the monitor. Baffling. And to rub salt into the wounds, VAR did get involved, in stoppage time, to award PAOK a penalty. It wasn't as obvious but they did get it right for Slobodan Rubezic's foul.
Had Aberdeen been awarded a spot-kick and netted it – all likely – then they would have probably gone on to record a famous win in Europe. As it is, they are now joint-bottom of the group, robbed of valuable prize money. All pundits and onlookers saw it as a penalty – heck, even a prominent Rangers fan website expressed sympathy for Aberdeen! – and Robson revealed afterwards that he saw Gishamer kick his own dressing-room door in frustration after the match. Surely that tells the biggest story.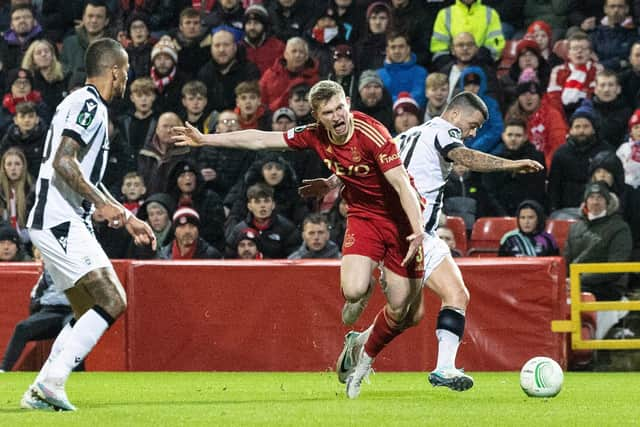 Responding to suggestions there was no check for the incident, Robson fumed: "If that's the case, what are they doing here? You're as well taking it away. I'm told they're supposed to check every incident." And he's right. VAR is supposedly there to make sure that glaring errors like this do not slip through the cracks. A safety net to make the game fairer. However, it is becoming one of the biggest talking points in football. Yes, it adds an extra layer of theatre, but try telling the fans on a cold Tuesday night at Dens Park with no update on why a goal is being checked that it is good for the game. Spectators are often left in the dark.
The best way to solve this is to let the public hear the comms, like they do in rugby. You might not agree with the verdict but at least then you understand how the officials came to it. In this incident, we would have known for sure which replay angles the VAR looked at and what was relayed to Gishamer, and why they did not deem Vieirinha to have fouled MacKenzie. I'm sure we would have loved to hear the conversation between officials during Spain v Scotland recently too …
Ironically, IFAB announced yesterday that discussions will take place in November about how VAR can be improved. "Any proposed changes will be considered in collaboration with major football competitions with extensive experience of using the VAR system, prior to presenting any formal recommendations to The IFAB concerning amendments or trials," an IFAB statement released on Thursday read. Let's hope two major issues are looked at: live audio between referees and VARs should be available for broadcast, and whether play could be stopped in the event of a serious error even after play has restarted.
None of this will come as consolation to Robson, or other managers who have been let down by VAR this season. While technology helps referees do their jobs, it doesn't actually make them a better official. It's not the easiest profession in the world but they are still making too many mistakes – with even more tools at their disposal.