"Took their time, didn't they!?"
There was a pleasing symmetry to Aberdeen securing third place with a 3-0 win over St Mirren. The same opponents arrived at Pittodrie in the first game after Jim Goodwin was sacked in February and feasted on Aberdeen's shot confidence.
The home team were not helped by having Ross McCorie red carded early on and went down 3-1 in Barry Robson's opening game in interim charge, though they did make it 1-1 with 15 minutes left.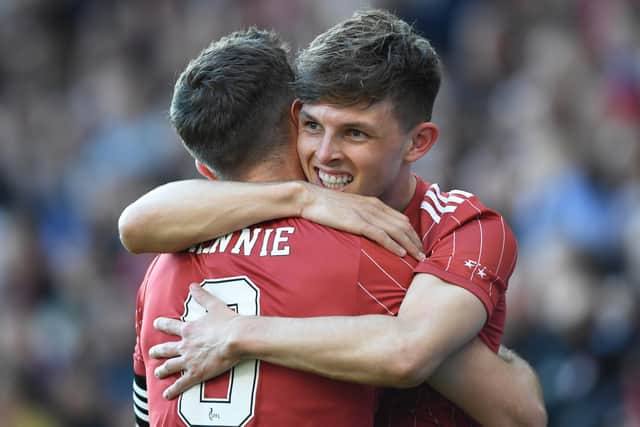 Robson has since been made permanent manager – rightly so on the evidence of last night, as his team proved the previous three winless games had simply been a wobble. This time they were helped by a red card to St Mirren teenager Thierry Small after 31 minutes although Aberdeen were on their way by then after Leighton Clarkson's superb free-kick opener.
Robson was asked to reflect on the journey since that first night against St Mirren, when everything was cheerless, dark and deadly.
"We were just in the door, had 48 hours to work with them, tried to get as much info into them as possible and we went down to ten men after ten minutes," he recalled. "But we got them in at half-time and we got back to 1-1. That is what I hung onto - the passion and desire and from that moment on they knew they could stay in the fight.
"I say a lot about fighting and running and it has never changed in 100 years. When you bring that you give yourselves a chance. Of course there is work and analysis but that aspect never changes."
Robson smiled at the waiting game before he was made permanent manager – it only took seven successive wins, the last of which was against Rangers.
"They took their time, didn't they?!" he said. "The chairman (Dave Cormack) and Stewart (Milne) and (Director of Football Operations) Stephen Gunn, I have known them a long time. These people live for the club. They love the club.
"They try hard and they want the club to do well. It is pleasing for them as well and good for the club and it will put good finance into the club. Most importantly the fans are looking forward to Europe. Over the last three months they have been brilliant - I haven't heard Pittodrie like this for a long time."
Although joy was the principal emotion after Aberdeen secured third place and a European spot, there must have been some sense of apprehension as they cheered the players off and wondered what the fate of some very significant individuals might be.
Take goalscorers Clarkson and Graeme Shinnie for example. The back page of local paper the Evening Express featured a puff for a column by reporter Sean Wallace: "Dons must retain loanee Clarkson". The midfielder showed exactly why with a tremendous free-kick opener and Aberdeen supporters will hope Liverpool might be persuaded to allow him to return for another year or else perhaps agree to sell him to the Pittodrie club.
Fine player though he is, it's hard to see him breaking into the first team reckoning at Anfield next season even given the long list of departures recently announced by Liverpool, including midfielders James Milner and Alex Oxlade-Chamberlain.
Shinnie is another whose whereabouts are still uncertain next season, with parent club Wigan Athletic mired in financial problems as they contemplate third tier football. And there's Ross McCrorie, who seems all but certain to move on, and Luis 'Duk' Lopes, who has alerted many suitors with his performances in his first season in Scottish football. Aberdeen fans would probably be happy if at least two of this quartet are still around come the new campaign.
Hearts are falling apart, again
A season where Aberdeen managed to ship five and then six goals to Hearts and Hibs respectively while also being beaten by Darvel and yet still managed to finish third might yet be most notable for another occurrence: home fans celebrating a Rangers goal at Pittodrie.
A huge cheer went up when news filtered through that Rangers had equalised against Hearts at Ibrox and thus Aberdeen were back on track to secure third.
A chant then started up in the Red Shed to the tune of Joy Division's Love Will Tear Us Apart: "Hearts are falling apart, again". I am not sure a 2-2 draw at Ibrox is evidence of falling apart but the Tynecastle side have been guilty of letting slip the ten-point lead they held over Aberdeen in early February. They are now four points adrift of Aberdeen and in a fight for fourth place with Hibs.
Still, it was a bit naughty of the Pittodrie DJ to stick on guess which record from Joy Division almost as soon as the final whistle sounded last night.