The Scot who 'hated' cricket now plays a leading role with Cricket Australia
Accountant Todd Shand explains his rise to chief financial officer Down Under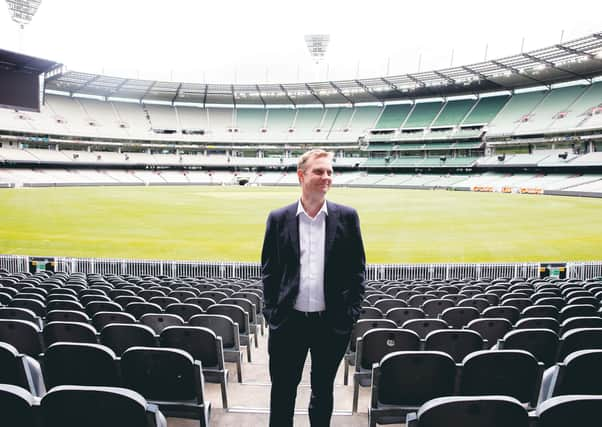 For a Glaswegian who never picked up a bat in his early life, Todd Shand has played a pivotal role in world cricket.
Growing up in Newton Mearns, Shand loved football, golf and tennis, but neither he nor his mates ever played a single minute of the sport that was to dominate his working life.
He jokes: "I disliked cricket with a passion when I was growing up in Scotland. It wasn't considered a Scottish sport. I had no interest in it before moving to Australia. I had only heard of Ian Botham from A Question of Sport!".
Shand attended Mearns Castle High School and Glasgow Caledonian University before passing his accountancy exams with the Association of Chartered Certified Accountants, which has its global finance, exams and operations based in Glasgow city centre.
His qualifications and adventurous spirit led him to emigrate to Australia aged 23, rising to chief financial officer at Cricket Australia, in charge of an annual budget of AU$500 million (£250m).
He has been at the forefront of negotiating massive rights deals for Cricket Australia with broadcasters, including their domestic deal worth AU$1.2 billion, as well as the UK deal with BT Sport.
He said: "It's amazing that a person who grew up in Scotland hating cricket now has what would be a dream job for any Australian kid who grows up playing backyard cricket over here.
"Of course, I love cricket now, but it meant nothing to me when I was growing up. I had never picked up a bat and didn't know anyone who had.
"When I first joined Cricket Australia, I spent weeks talking to [Australian cricket legend] Greg Chappell over many drinks and had no idea who he was!
"Nowadays, I have met nearly every legend of the game, including Mark Taylor, Boonie, Merv Hughes, all of the current team and even the prime minister of Australia. I have also had the pleasure of meeting greats from around the world of cricket, such as Viv Richards and Mike Gatting."
The Australian game is currently in lockdown due to the global pandemic of Covid-19.
The standstill threatens their ability to host the Men's and Women's T20 World Cup, due to start in October.
Before that, some one-day matches for Australia against England scheduled for July are looking unlikely, along with Tests against Afghanistan and a series versus India.
Shand will be charged with bolstering the balance sheet of Cricket Australia to ensure it can withstand these commercial blows and still fulfil its aim of investing heavily in the grassroots game Down Under to ensure it remains relevant to younger people obsessed with their smartphones and online gaming.
And since Australian cricket's darkest day, with the ball-tampering scandal in Cape Town almost exactly two years ago, Shand has helped to try to re-establish the Aussies' reputation for fair play and ethics.
Australian player Cameron Bancroft was caught out smuggling sandpaper into his pocket to tamper with the ball during the Third Test against South Africa at Newlands.
The international outrage that followed claimed the scalps of coach Darren Lehmann and chief executive James Sutherland while captain Steve Smith was banned from the game for a year and Bancroft for nine months.
Shand reflected on the incident's aftermath, saying: "It struck deeply: people expressed their anger, disappointment and concern – every emotion was thrown around.
"I, the team and cricket work hard on the learnings we take from that. As an accountant, ACCA trains us to be ethical and certainly ethics came into question in this instance. While we will never forget the lessons of the past, we want to reassure the cricket community that we've listened, and we – from the players to the administration – are genuinely committed to moving forward, earning back the trust of cricket fans across the country and making Australia proud again."
But for the time being, despite unprecedented challenges for the sport, Shand still believes he was right to venture down under and join Cricket Australia.
"Millions of people in Australia and across the globe would love my job. It's hard to call it pressure when you love your job, love coming in to work each day.
"I might get a grilling at a barbecue or in the pub when someone asks me why a certain player was picked ahead of another, but at that point I politely remind them that I am not a selector. I'm an accountant, who's proud of my purpose to do the right thing for Cricket Australia and the wider world of sport."
Comments
 0 comments
Want to join the conversation? Please or to comment on this article.