Cricket Scotland launch racism independent inquiry in wake of Majid Haq claims
Cricket Scotland have started an independent inquiry into historic allegations of racism within the game.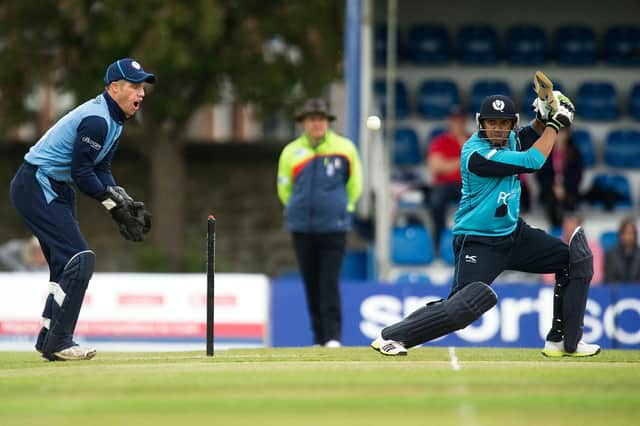 Majid Haq, right, made allegations earlier in the week.
He also called for an independent inquiry into Cricket Scotland alongside former team-mate Qasim Sheikh as the pair opened up on the alleged racism suffered during their careers.
And the game's governing body has confirmed that a probe will take place as a matter of urgency.
A statement read: "Cricket Scotland (the governing body of cricket in Scotland), the five Regional Cricket Associations in Scotland (each of which administers club cricket in their areas), the Scottish Cricketers Association (representing the national women's and men's players) and the Cricket Scotland Match Officials Association (representing umpires and scorers) condemn racism and discrimination in all its forms and renew their commitment to responding with appropriate action in response to reported racism, wherever it appears in the game.
"At the heart of the Cricket Scotland Equality Action Plan, which has been endorsed by all the Regional Associations, the Scottish Cricketers Association and the Cricket Scotland Match Officials Association, is the planned consultation process, led by an independent expert, to listen to and learn from the past experiences, bad and good, of participants in all levels of our game. This is currently being progressed as a matter of priority and, as said, will be delivered by experts independent of Cricket in Scotland. Allegations of racism or other forms of discrimination – whether recent or historic incidents – that come out of that consultation, or that are reported separately, will be thoroughly and properly investigated and addressed.
"There will be considerable learning and the report will inform the required future actions for Cricket Scotland and the wider cricketing community.
"As a result of the planned work, we will ensure that cricket in Scotland is a more welcoming place to everyone regardless of their race, ethnicity, religion or presence of any other protected characteristics. We would encourage everyone to engage with this fully independent process, details of which we will share in the very near future.