Cameron Norrie: The fork in road after moped incident as he gears up for quarter-finals
One of the most impressive things about Cameron Norrie as he slowly but surely emerges as a Wimbledon contender has been his temperament. "Keep Cam and carry on" is his motto.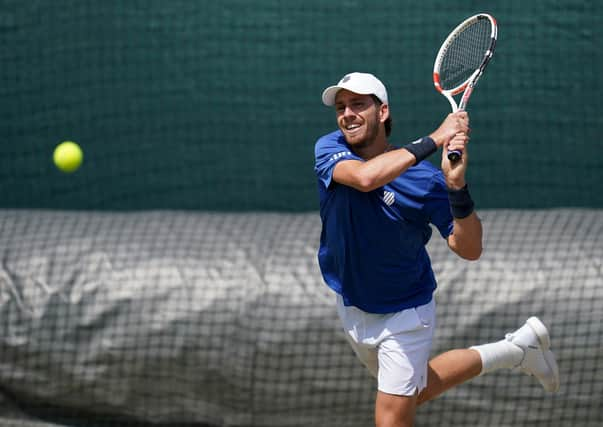 After the British No 1's latest victory – straight sets against America's Tommy Paul, and his most impressive of his tournament to date – he was asked if he'd always been this composed. Was he, for instance, ever a brat?
The question seemed to be asked more in hope than expectation, given the 26-year-old's quiet serenity on court and refusal to be distracted, far less angered, by anything happening around him. He took a while to answer directly before admitting that in his youth, at uni, he'd "had his moments".
Cynics might have wondered what these "moments" could have been. A messy dorm? Not clearing up after lunch in the refectory? Or clearing up but putting his cutlery in the wrong bin?
Well, a bit more dramatic than that. In his second year at Texas Christian University there was an incident on a moped after a night out in the bars which had gotten quite messy, so probably not involving barley water. He came off his machine, bashing his chin on the handlebars, blood everywhere. Norrie needed stitches but what was possibly more painful was going before the coach and the dressing-down he received. Norrie failed a concussion test and had to miss an important tournament. He was handed a final warning and told: any more trouble and he would be kicked off the team.
"I was not the best mentally," Norrie said of his time on the junior scene as he prepared to face Belgium's David Goffin in Tuesday's quarter-final. "That's something I've worked on a lot. I would say it's one of my biggest strengths, being able to stay pretty level-headed and pretty calm and pretty focused throughout an entire match."
Norrie's time on the Forth Worth campus was part of his personal world tour – born in South Africa, grew up in New Zealand and now residing in Putney in southwest London – and definitely his growing-up years.
The incident, he said, was "a realisation I was not doing [my tennis career] the way I wanted to do it and not making the best decisions. I was going out more than I probably should have been, a typical student, and enjoying myself a lot. But the coaches really kicked me into gear and I was definitely more professional after that.
"I matured a lot and from then on I was like: okay, I'm going to play tennis and commit to that. It was my sophomore year, [the incident] wasn't too bad, but it was more the reaction of my coaches and the team. I didn't want to let anyone down. It was a turning point."
Norrie's father David is Scottish and mum Helen is Welsh. He 'fessed up to them and they understood that students will be students. "I was honest with everything and it was all good. I'd had to tell them worse before … '"
What on earth could that be? He's got us wondering. If he wins Wimbledon this might have to come out.
Comments
 0 comments
Want to join the conversation? Please or to comment on this article.