Stuart Cosgrove on why soul music was pivotal in the life story of Muhammad Ali
Off The Ball presenter chats about his fascinating biography, Cassius X: A Legend in the Making, and explains why he focused on 1963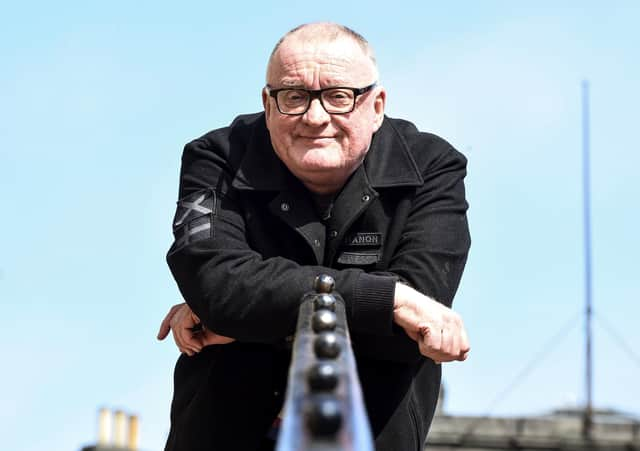 Stuart Cosgrove, one half of BBC Radio Scotland's Off The Ball team, is promoting his book about Cassius Clay, which specifically focuses on the boxer's life in 1963. Picture: Lisa Ferguson
In 1963 in a playground in Lasswade, Midlothian, a young schoolboy – me – is pondering the name Cassius Clay. Does it mean this man is actually made of clay, like Thing of the Fantastic Four seems to be in those Marvel Comics the older boys read, carefully assembled from little orange bricks? This is what I think.
The same year in a playground in Letham, near Perth, another young schoolboy – 
Stuart Cosgrove – is also pondering the name and the fame by association it has bestowed on a friend. "That was a time when everyone in your class was called Davie or Kenny or Bobby," he laughs. "What kind of name was Cassius? It had this aura about it. And Bobby Cassidy thought so too. His nickname was Cass and he milked it for all it was worth, even though he was just a wee titch of a guy."
And what kind of name was Angelo Dundee? "Did Cassius have a trainer, a man in his corner, who came from just up the road? … " In an Edinburgh hotel today two blokes who wouldn't necessarily describe themselves as big fight fans are soon discussing other boxers we knew at least one thing about, and all because of that Clay aura. I mention Billy Walker, who pugilism's Moss Bros-tailored eminence grise, the equally titchy Harry Carpenter, always hailed as the "Golden Boy", while Jack Bodell was unfailingly fanfared by the BBC commentator as "the chicken farmer from Swadlincote".
Cassius Clay in 1963, predicting he will stop British heavyweight Henry Cooper in five rounds at a pre fight lunch in London's West End
Cosgrove – Scottish media man o' pairts, the most conspicuous pairt being the football radio knockabout, Off The Ball – counter-punches with three from the homeland: "Dick McTaggart I always got to read about in the Perthshire Advertiser
or Dundee Courier – front page when he made it to the Commonwealth Games or the Olympics. Walter McGowan had a gym in that Lanarkshire boxing epicentre and Eamonn O'Neill [sidekick on the Talk Media podcast] trained there in his youth. And I just loved Ken Buchanan and what he achieved as a world champion. Young folk need to be aware that the guy who eventually beat Ken was Roberto Duran, himself one of the greatest boxers of all time."
But he wasn't Clay who in '63 would soon become Muhammad Ali – the greatest of the greatest. "I can still remember that 
edition of Sportsnight, black-and-white 
pictures, Carpenter in London and… where was he? Right at the top of the Empire State Building: 'And now we're going live to America to speak to the Louisville Lip …' We were mesmerised, weren't we?"
We were. In '63 there was still plenty of deference and decorum around, at least in the way TV presented the world to us – but who was this fellow full of boasts and funny with them? Ringo Starr hadn't yet stuck a drumstick in Harold Wilson's pipe and the Monty Python gang were still rehearsing their anti-establishment moves. Clay was also black which hadn't been much in evidence in our American imports such as Bewitched, Green Acres and Mister Ed, with horses seeming to gain access to the small screen before people of colour. But Clay had better comic timing and dance moves than many of the showbiz professionals and we had to remember that he was first and foremost a sportsman – and indeed the first sporting superstar of our generation 
of Scots. I hadn't yet got into football and Cosgrove's beloved St Johnstone weren't tearing up the Scottish League either.
We know the man's story so well, the biggest bouts and most bodacious braggadocio, that what else is there to say about him? Well, Cosgrove has stepped on to the weigh-in scales as contender-biographer and in Cassius X: A Legend in the Making has 
produced a fascinating book.
Cassius Clay donning a pin-striped suit and bowler hat ahead of his fight with Henry Cooper. Picture: Daily Express/Hulton Archive/Getty Images)
Who knew that Clay was a soul music nut who collected 45s and friends in the business including Chubby Checker whom he liked to impersonate, Little Stevie Wonder as Tamla Motown's blind prodigy was originally known, Dionne Warwick and Ben E. King whose famous hit Stand By Me Clay recorded on his debut album? What, Clay made an LP? And who knew that he'd broken off from hanging out with the King of Soul himself, Sam "A Change is Gonna Come" Cooke, probably his biggest buddy
in music, to be interviewed by Carpenter
atop the world's tallest building? 'Arry 
never asked about any of that. And who knew that Clay was obsessed with magic and after the merest encouragement would produce coins from behind ears and turn walking canes into bunches of flowers? I certainly didn't – Cosgrove admits it's little-known – and once again we have to compare him with contemporaries in the field, such as the bald, avuncular TV conjurer David Nixon, looking more like he belonged behind the counter of a bank, and repeat: there was no one like Cassius.
Cosgrove explains: "There are lots of great books about Ali which span his whole life but I was interested in just the 13-month period covering all of '63 and into the following February and his defeat of Sonny Liston in his first shot at the world title." He wasn't, though, Clay one minute becoming Ali the next. In between he was Cassius X, rejected his slave name in the manner of Malcolm X, having been turned on by Islam through a friendship with the black Muslim
firebrand. "This is the juncture which intrigued me because of all the social forces – religious, political, cultural – which shaped him. He was a witness to history, not simply to the divisive racial landscape of America but also to those new, self-confident forms of music and entertainment which enlivened his youth."
The book can be read as a prequel to Cosgrove's award-winning soul trilogy which bears the prefixes Detroit '67, Memphis '68 and Harlem '69. "Ali popped up a few times during the research for that," adds Cosgrove whose book is definitely a different take on its subject, like a wayward and weird B-side of a highly familiar tune.
Check the index of one of the heavyweight biogs of the heavyweight fighter, for instance David Remnick's King of the World, and you'll find no mention of Chubby or Sam or Little Stevie. In the banterish, wind-up traditions of Off The Ball I suggest to this soul music nut that Cassius X is yet another tome on his specialist subject with Ali as a crowbarred-in contrivance. Cosgrove laughs and says: "Funny you should say that because my American publishers were slightly mystified by a lot of the music stuff [in the manuscript]. This spooked my publishers here who were like: 'They must be right'. I threw a wobbly. I asked: 'How are white liberals in the US who've never heard of Northern Soul being allowed to influence your thinking?' "
Music is valid and vital to the story. "Philadelphia, where Cassius was based in '63 at the 5th Street Gym, was the capital of teenage pop. It was where they filmed American
Bandstand, the TV show which paved the way for teens taking over the entire networks. Cassius's first real girlfriend, Dee Dee Sharp, responsible for dance-craze hits such as Mashed Potato Time and Do the Bird, was the star of Bandstand. And yet the show was racist on the door, choosing
white dancers from the Italian-American communities and ignoring the black kids." Cosgrove won his argument on a TKO.
But it is very easy to detain and detour our man by asking him: "Stuart, what's the record you most wish you had snaffled away under the mattress at home?" "One I might assassinate for? Good question," he says and revs up his smartphone to show me a label image of I'm Gone by Eddie Parker on Awake Records. Then comes a wistful sigh: "It's an upbeat, growly R&B tune from Detroit, 1966, but such a holy grail on the Northern Soul scene that it fetches eight or nine grand. So I'm rather hoping that my Scotsman fee for this interview might pay for it… "
Back to Ali: Cosgrove does own a copy of his I Am The Greatest LP, songs and skits and schtick which achieved an Emmys runner-up spot for Best Comedy Record in '63 but suffered from finding America
in mourning over the murder of president Kennedy? Yes, and he rates Ali an "okay" singer with another crooning boxer, Joe Frazier, having a superior voice. The album includes a duet with Sam Cooke of the Gilbert & Sullivan standard Hail, Hail the Gang's All Here which Cosgrove deliberately omitted to mention in the book. "I don't want Celtic fans claiming Ali and Sam as two more of their own!" he chuckles. For the same reason he was tempted during the writing of the Detroit '67 volume, when the saga reached May of that year and needed historical contextualising, to leave the page blank apart from: "Nothing of note happened." The Lisbonites would have been apoplectic.
Cosgrove describes Clay as "the soul DJ lost to radio" and "an R&B jock without a station". His jive-talking was spectacular:
"It's hard to be humble when you're as great as I am
I've wrestled with alligators, I've tussled with a whale
I done handcuffed lightning and thrown thunder in jail
You know I'm bad. Just last week I murdered a rock, injured a stone, hospitalised a brick
I'm so mean I make 
medicine sick."
Clay called himself "the astronaut of boxing… Joe Louis and [Jack] Dempsey were just jet pilots". He cautioned: "If you even dream of beating me you'd better wake up and apologise." He was a magpie, stealing quippery from real DJs, soul troupers, rival fighters and out-there practitioners of close-up magic. From the wrestler Gorgeous George came the calling card "I am the greatest" and he even appropriated from president Kennedy: "Ask not what boxing can do for me, ask what I can do for boxing."
But did Ali in fact invent rap? "His personality was definitely shaped by black radio as much as boxing," says Cosgrove. "He cut around with these DJs, listened to their patter and popped the choicest phrases in his pocket for another day. Although never jailed and by no means deprived, he played the prison game known as The Dozens where two guys hurl insults until one gives up. In his clever and confident use of language and rhyme, self-aggrandising and putting others down, there's a direct route through to hip-hop for sure."
Coyness seemed to befall Clay only when invited to openly discuss religion. He spoke warmly of the Nation of Islam and of Malcolm X as a good friend. He didn't confirm he was a black Muslim but nor did he outright deny it. Renouncing his slave name of Clay had not been straightforward. He'd always liked it and his father's stories of the original Cassius' role in fighting slavery. Cassius X had been a short-lived incarnation with the man telling persistent journalists: "I don't have to be what you want me to be. I'm free to be who I want." But even this was viewed as a revolutionary statement, signalling his emancipation from the prescribed role for a black sportsman.
My favourite bits of the book are the 
stories of how Clay played the press but also of course gave good quotes, arriving in London to fight Henry Cooper with a pin-striped suit and bowler hat because he thought the photographers might want the City gent look if they were bereft of ideas of their own, and always carrying masking tape for the old failsafe of the Louisville Lip suddenly being silenced. Maybe the most famous of all Ali shots is the fighter sparring underwater. Alerted to the photographer, Sports Illustrated's Flip Schulke, having the requisite gear for such a stunning image he made up a story about always training in a pool when he couldn't even swim.
The book is a great one for nicknames: Lucky, Shorty, Bowlegs, Blinky, Little Beaver, The Glass, The Enforcer, Butterball, Fat Daddy, Frantic Ernie, Tall Paul, etc. What's Cosgrove's? "I was always Cozzie until a long-time friend, fine DJ and these days 
St Johnstone director, Stan Harris, exploited
the fact that I suffer from eczema, which is the sort of thing long-time friends will do. A few years ago he started calling me Lionel Itchy, which acknowledges my love of soul music, I suppose, and at least he uses the nickname discreetly, so he'll whisper: 'Your round, Lionel'. No one else knows about it."
Cassius X: A Legend in the Making by Stuart Cosgrove is published by Polygon on 3 September. £17.99.
A message from the Editor:
Thank you for reading this story on our website. While I have your attention, I also have an important request to make of you.
With the coronavirus lockdown having a major impact on many of our advertisers - and consequently the revenue we receive - we are more reliant than ever on you taking out a digital subscription.
Subscribe to scotsman.com and enjoy unlimited access to Scottish news and information online and on our app. With a digital subscription, you can read more than 5 articles, see fewer ads, enjoy faster load times, and get access to exclusive newsletters and content. Visit https://www.scotsman.com/subscriptions now to sign up.
Our journalism costs money and we rely on advertising, print and digital revenues to help to support them. By supporting us, we are able to support you in providing trusted, fact-checked content for this website.
Want to join the conversation? Please or to comment on this article.