Regular fights will put Lee McGregor back into world title contention following defeat to Erik Robles
Friday night had been billed as Scottish boxer Lee McGregor's homecoming following a period of inactivity these past few years.
A first world title shot, in his hometown Edinburgh, at a newly-redeveloped Meadowbank, in front of an electric partisan crowd. It ticked all the boxes for the 26-year-old who had been licking his lips ever since the show was announced a little more than six weeks ago. All it needed was for the man himself to round off the perfect evening with a shiny new belt attached to his waist.
Unfortunately, Mexican Erik Robles didn't get the memo as he stole the hearts of the judges to land a unanimous decision win that left the Scotsman on his knees.
The North American, three years his opponent's junior, had only suffered one defeat from his previous 14 and it became clear why as the rounds unfolded. So, where did it go wrong for the British and European champion who suffered the first loss his career? On the face of it, not a lot. Was he simply beaten by the better and more productive boxer over 12 gruelling rounds? Perhaps. But having boxed just five times in the last three years - four wins and a draw - prior to Friday night's duel, McGregor simply hasn't been active enough, through no fault of his own. After signing a multi-fight deal with Wasserman Boxing last month, promoters Kalle and Nisse Sauerland afforded him a shot at a world title in his first outing under their banner. Ultimately, it's a gamble that hasn't paid off.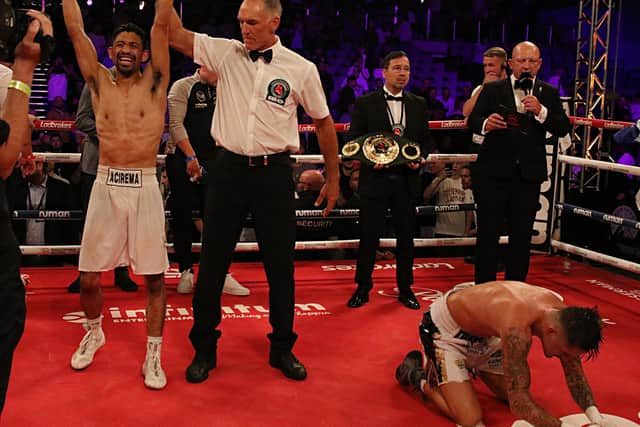 McGregor isn't someone who hides his emotions. He wears his heart on his sleeve and this one is sure to sting for quite some time. But he has a good team of people around him who will keep him on the straight and narrow. Does his future lie at super bantamweight? I'm not so sure. He needs to recharge the batteries, spend some quality time with daughter Maddie and fiancée Amber after prolonged periods away training in Essex. McGregor is made of the strong stuff - so much that it wouldn't be out of character where he to be working the punchbags at 9am tomorrow morning. He'll be back.