'A lot of fighters won't come back from this' - Lee McGregor fears for fellow boxers
The coronavirus pandemic has turned life on its head, not to mention our working patterns with the draconian restrictions confining large swathes of the population to their homes.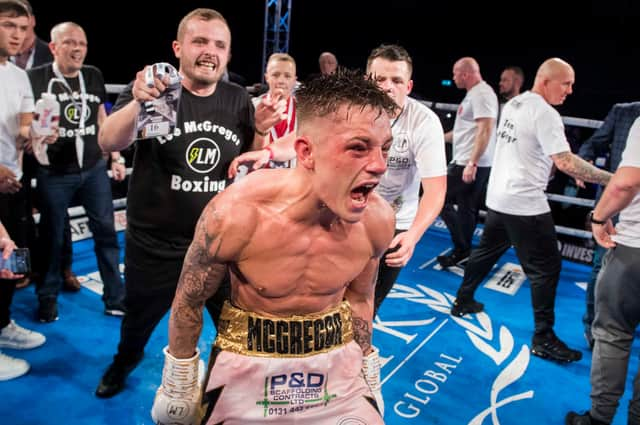 Current Aston Villa and former Hibs midfielder John McGinn said in a recent interview that, as an elite athlete, he considered it a privilege to continue doing what he loves – albeit behind closed doors.
That luxury, however, has now been revoked for those in the boxing fraternity after the British Boxing Board of Control postponed all scheduled fights until the end of the month at least, officials citing a surge in Covid cases as justification for their decision.
And the announcement last weekend hasn't been met with universal approval, particularly by those who were preparing to step foot inside the ring over the next few weeks.
Undefeated Edinburgh British and Commonwealth bantamweight champion Lee McGregor is one who has had his flourishing career brought to an abrupt halt.
The 24-year-old was due to go toe to toe with Frenchman Karim Guerfi, pictured inset, for the vacant European title in 12 days' time only for the young Scot's dreams to be left in disarray.
It's also not the first time the contest has been shelved, McGregor himself forced to withdraw from the fight in November after testing positive for coronavirus.
And having taken some time to recover from the debilitating effects that included severe headaches and fatigue, McGregor says the latest disappointment has left him heartbroken.
However, he remains optimistic the fight can be rearranged for early February all being well but is concerned about the number of fighters the sport may lose to the pandemic.
"A lot of fighters won't come back from this, I have no doubts about that," McGregor told Scotland on Sunday. "They'll have put on a lot of weight that they won't be able to get it back off, some might have slipped into depression so there's so many factors. I really do fear for the sport and that goes for the amateurs as well who aren't even really allowed to train. I'm fortunate that I've got the right people around me to keep me on track and get me back in the ring as soon as possible.
"People only see what you do in the ring. They don't see you being away from your family for long spells, not being able to eat what you want, you're constantly worried about your weight, you're put through training sessions that make you physically vomit, the headaches after being hit hard, having to drag yourself out of bed to put yourself through another session so it's just as tough mentally.
"And then to finish it off you have to make weight and then go in and fight 12 rounds. Then you hear people say 'oh that doesn't look too bad, being under the bright lights, it looks good' – I've been through absolute hell just to get to that point. Tears, blood, sweat… you name it.
"It's the most positive I'd been about the fight before the call came, visualising being in the ring and then winning, with the belt, so to have it pulled again was just gut-wrenching. I was in a much better position than what I was going in to the November fight. And then getting the virus itself. It was bad, I'm not going to lie.
"The headaches were like something I've never experienced before, all my energy completely disappeared. I wouldn't wish it on my worst enemy. It took me a while to get myself back in the gym. I still don't have any sense of smell."
For now, McGregor will continue to hone his skills at his Essex base with trainer Ben Davison so when the green light is passed, he's in the best possible shape to combat whatever 33-year-old Guerfi throws at him.
"Hopefully it's only another few weeks and we can get going," he said. "I'm staying put down here with Ben but it doesn't have to be as strict like reporting my weight every day to the nutritionist because we don't have a new date yet.
"But I'm not changing my routine as I've got it in my head that I'll be fighting early next month. 'm hoping we might get a bit more clarity next week. If I have days off, with diet and training, then I'm back to square one. I've come too far to throw it all away. I've been in that hole before and it's not nice to get out of.
"It's even more frustrating because it's not the government that has put a stop to it, it's a decision made by the board. We've had so many shows up until now, went through rigorous testing just like footballers so why the change?
"I'm fortunate that I've only just turned 24 but for a lot of boxers, this will just feel like it's time wasted. I could have been European champion by now and been about to defend it with the possibility of a shot at a world title in late summer. It's just so unpredictable.
"But people's health comes first and I get that. We have to work in a safe environment, just like everyone else. But it's tough having had just one fight in the last 14 months."