Australian Open Tennis Andy Murray 2023: Prize money, when are Andy Murray and Emma Raducanu next playing, who are the favourites and how to watch?
The world's best tennis players are preparing to do battle for the first Grand Slam tournament of the year.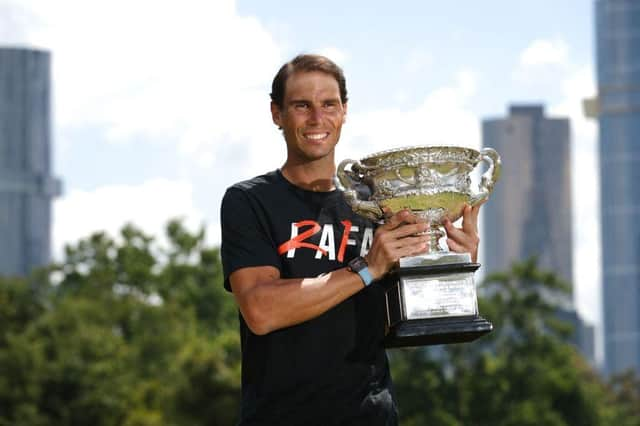 The Australian Open will take place at Melbourne Park later this month and will be the 111th time the competition has been staged.
The prestigious tournament is the first of the four annual tennis majors – along with Wimbledon, the French Open and the US Open.
The 2023 event will see the return of Novak Djokovic to the Australian hard courts after he was deported and barred from the country last year due to not being vaccinated against Covid.
Along with the main men's and women's singles competitions, there will be trophies awarded for women's, men's and mixed doubles, wheelchair doubles and singles, and boys and girls singles and doubles.
Here's everything you need to know about the tournament.
When is the Australian Open?
The Australian Open runs from January 16-29.
The women's singles final will be played on January 28 at 8.30am BST, while the men's singles title will be decided from 5am on January 29.
What is the schedule for the singles tournaments?
Here's when the action will be taking place in UK tims.?
16-17 January - men's and women's first round (from midnight, night session from 8am)
18-19 January - men's and women's second round (from midnight, night session from 8am)
20-21 January - men's and women's third round (from midnight, night session from 8am)
22-23 January - men's and women's fourth round (from midnight, night session from 8am)
24-25 January - men's and women's quarter-finals (from midnight, night session from 8am)
26 January - women's semi-finals (from 5am)
27 January - men's semi-finals (first 5am, second at around 8.30am)
28 January - women's final (8.30am)
29 January - men's final (8.30am)
What is the prize money?
There is a total of $76.5m AUS (around £42.74m) in prize money up for grabs in the 2023 Australian Open.
The singles tournament winners will receive $2,975,000 AUS, while the runners-up will get $1,625,000 AUS.
Even players who fail to win a single game in the tournament will bag $106,250 AUS.
Tournament director Craig Tiley said: "We've upped prize money for every round from qualifying through to the finals, with the major increases in the early rounds, where these substantial rewards help players invest in their own careers and in many cases, set themselves up for success throughout the year."
Four-time Australian Open finalist Andy Murray was triumphant in a five set thriller against number 13 seed Matteo Berrenttini in the first round.
His second round match will be against either Australia's Thanasi Kokkinakis or Italian Fabio Fognini.
They will play at a time yet to be confirmed on Friday, January 19.
Speaking late last year about entering the Grand Slam tournament the Scot said: "I've been working hard in the off season and the Adelaide International will be great preparation for the Australian Open. I'm looking forward to seeing what Adelaide and 2023 brings."
Murray added: "For now, I'm still focused on playing tennis and winning matches. I've been pleased with my progress this year, but there are definitely some areas to improve on."
After a straight sets first round win over Tamara Korpatsch, former US Open winner Emma Raducanu will take on seventh seed Coco Gauff in the second round.
The Britain v USA clash is schedules to take place on Wednesday, January 18, at around 8am.
Who are the defending champions?
Rafael Nadal won the 2022 Australian Open men's singles, while home favourite Ashleigh Barty lifted the trophy in the women's tournament.
Who are the favourites to win?
Novak Djokovic is the favourite to take the men's title with odds of 10/11, followed by Daniil Medvedev (11/2), Rafael Nadal (13/1), Nick Kyrgios (14/1) and Stefanos Tsitsipas (16/1).
In the women's tournament Iga Swiatek is the player to beat with odds of 9/4, followed by Aryna Sabalenka (10/1), Caroline Garcia (12/1) and Cori Gauff (14/1).
What big names are missing?
This is the first Australian Open since Roger Federer and Serena Williams retired and both will be missed by tennis fans in Melbourne and around the world.
Men's world number one Carlos Alcaraz will be absent from the draw after announcing he will miss the tournament due to injury, as will two-time quarter-finalist Gael Monfils.
In the women's tournament there will be no appearance from the defending champion Ashleigh Barty as she retired last year.
Other high-profile names missing from the draw are Naomi Osaka, Simona Halep and Venus Williams.
How do I watch the Australian Open in the UK?
The Australian Open will be available to watch live in the UK on Eurosport, the Eurosport App and discovery+.
The discovery+ channel is available from £6.99 per month from their website.
Eurosport is available as an add-on to Sky, BT and Amazon Prime subscribers.
Comments
 0 comments
Want to join the conversation? Please or to comment on this article.