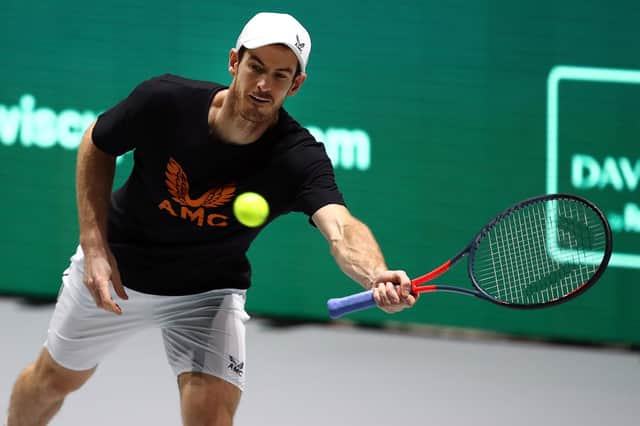 Andy Murray doesn't expect professional tennis to resume any time soon.
Andy Murray has revealed he displayed some of the symptoms of coronavirus, though he was never tested for the Covid-19 virus.
The two-time Wimbledon champion said he was sick for "two to three days" at the start of the pandemic last month and chose to self-isolate.
The Scot has recovered but doesn't expect to be playing professional tennis any time soon because he thinks his sport will be one of the last to return to action after the shutdown.
"I was a little bit sick for two or three days about four weeks ago," Murray said in an interview with the American news network CNN. "So actually, before the beginning of when the quarantine started, I was sort of isolating for probably four or five days before that.
"Most people I've spoken to have had some sort of symptoms and felt a little bit sick, but it's quite difficult to know whether you have actually had the virus or not.
"And obviously, the test should be saved for people that are in severe situations and the frontline NHS workers in this country."
Like all sports, tennis has been in abeyance during the lockdown. This year's Wimbledon has already been cancelled and the French Open has been postponed until later in the year.
No tournament tennis has been played since March and the professional tours are not expected to begin again until at least the summer, although even that seems optimistic.
Murray feels the international nature of the sport at the elite level will make it very difficult for tennis to resume any time soon.
"I would imagine tennis would be one of the last sports to get back to normality because you've obviously got players and coaches and teams coming from all over the world into one area," the Scot said.
"I would be surprised if they were back playing sport by September-time.
"You have to feel like the whole world [is] working normally again and travelling normally before tennis would go back to especially the major competitions," Murray said.
Murray, 32, said he would love to play in the French Open in the proposed autumn slot but is sceptical about it going ahead.
"I would definitely play on the clay if it goes ahead. I'm a bit sceptical whether it will," he said.
The French Open has been rescheduled for 20 September to 4 October. It traditionally takes place in May.