The most comfortable women's walking sandals in the UK for summer 2021
Keep cool and comfortable while hiking with one of these pairs of women's walking sandals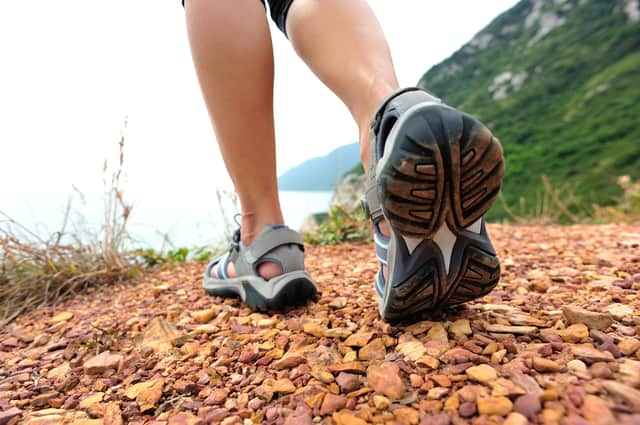 This article contains affiliate links. We may earn a small commission on items purchased through this article, but that does not affect our editorial judgement.
As the weather warms up it's time to swap your boots and shoes for lightweight, breathable walking sandals that will keep your feet cool and comfy while you hike.
Our top nine picks of the best walking sandals for women offer great comfort and grip, and are stylish enough to wear on city streets and country trails alike.
What to look for in a walking sandal
A good pair of walking sandals should have rugged rubber soles and supportive straps, including a wide heel strap.
Look for lightweight soles with deep lugs (these are the indentations in the sole) to ensure you have good grip when walking on uneven or slippery surfaces, and pick a pair of sandals with thick, padded straps across and behind your foot that can be adjusted for the perfect fit.
Check the inner soles of your new sandals are springy, cushiony and breathable, to keep your feet cool and comfortable mile after mile.
Consider how and where you want to wear your new sandals. Walking and sport sandals range from slim and simple designs to big chunky designs, and some can be rather smart.
If you want a pair of sandals you can also wear out and about or even to work in the summer months, consider a pair designed with a leather or suede upper material.
If you're planning on exploring the coast or want a pair of walking sandals you can also swim and paddle in, pick a quick-drying fabric pair made with mesh or neoprene. And if you're going hiking on challenging trails, choose a sandal with wider straps and thicker soles for more protection.
Our round-up of the best men's walking sandals is here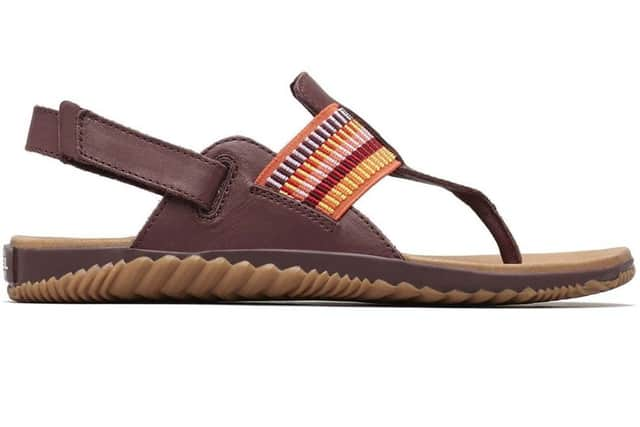 Key specs – Weight: 240g; Colour options: 4; Sizes: 3-10
Hey, good-looking – if you want a sandal that will go with anything (and will go to work) but that is still comfortable and supportive to walk in, pick Sorel's well-named Out N About.
We love the smart design of these full-grain leather sandals, which feature a flipflop-style strap at the front and a comfortable, adjustable strap around the heel.
The rubber sole has herringbone-style lugs that offer decent traction on more established surfaces, making this sandal a great summer all-rounder if you aren't venturing too far into the mountains.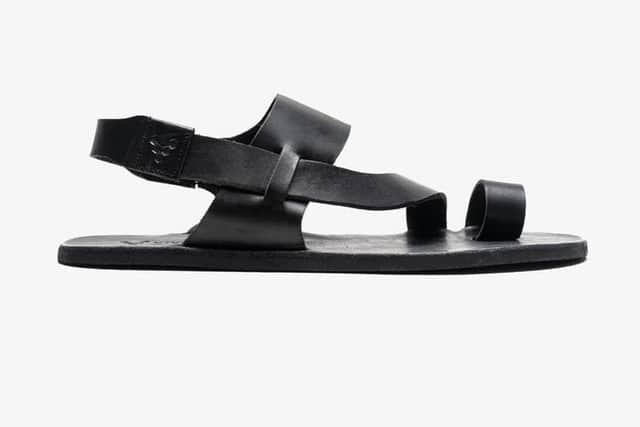 Key specs – Weight: 151g; Colour options: 2; Sizes: 3-9.
The minimalist's sandal of choice. Vivobarefoot shoes are made with super slim soles designed to connect your feet with the floor as if you were walking, you guessed it, barefoot.
These Kuru sandals, handmade from sustainable leather, are extremely light and comfy but still sit snugly on your feet thanks to well-placed straps.
Despite their slimness, these sandals still sport very good grippy soles, and those soles are impressively flexible and pliable, too, which makes the Kurus easy to pack if you're travelling light - they roll up into slim sausages and can be popped in your backpack.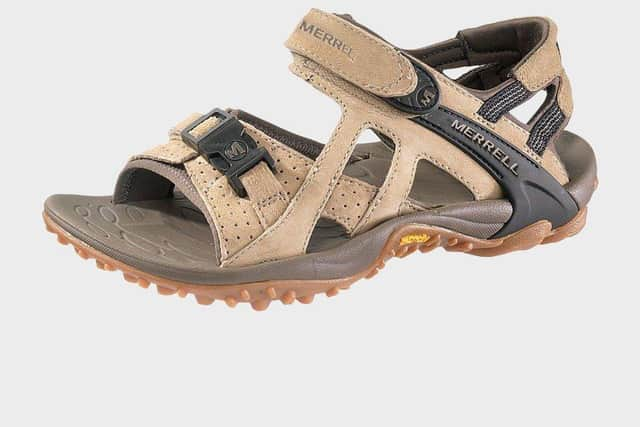 Key specs – Weight: 340g; Colour options: 1; Sizes: 3-9
The third incarnation of Merrell's popular Kahunas are sensible, no-nonsense walking sandals with plenty of support from a wide front strap and cut-out sides – if you're looking for something that can tackle rocky trails and uneven ground, these are the sandals for you.
The Kahuna IIIs also feature the best soles we tested, using trusted Vibram rubber technology and offering fantastic grip even when you're on wet, slippery surfaces.
We also like the easy to adjust and comfortable straps and the smart suede outer material of these good-looking sandals. Our pick of the pack for serious walkers.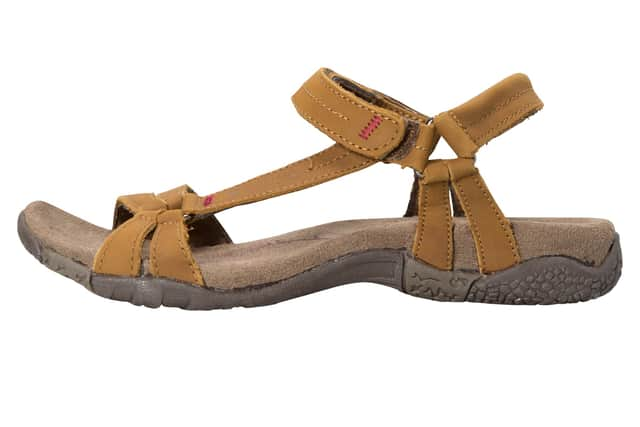 Key specs – Weight: N/A; Colour options: 2; Sizes: 4-8.
A beautifully made sandal for a surprisingly decent price, Mountain Warehouse's Kokomo is designed with buttery-soft nubuck leather straps, a soft suede-like insole and tough, flexible soles.
A great choice if you want just one pair of summer sandals to take anywhere from work to a walking holiday abroad, the Kokomos are sturdy yet stylish, and both the black and the tan colourways are very versatile.
We'd have liked deeper lugs for a better grip, but these sandals are still suitable for well-groomed trails in dry weather.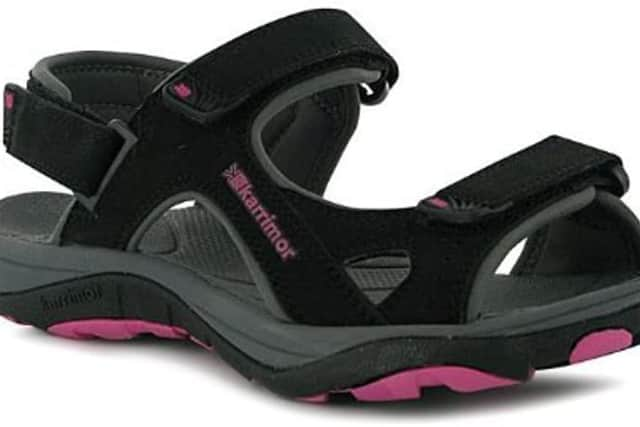 Key specs – Weight: N/A; Colour options: 2; Sizes: 4-8
A bit big and clunky to look at, yes, but for under £20 these straightforward walking sandals are a massive bargain.
The thick webbing straps of the Antibes are very supportive and breathable and the soles are cushiony, with deep lugs and rubber studs offering grip that's as good as that of sandals five times the price.
These sandals will stand up to proper hill walking as well as casual country strolls, and there's plenty of room in the generously designed Antibes for wider feet, or if you suffer from bunions.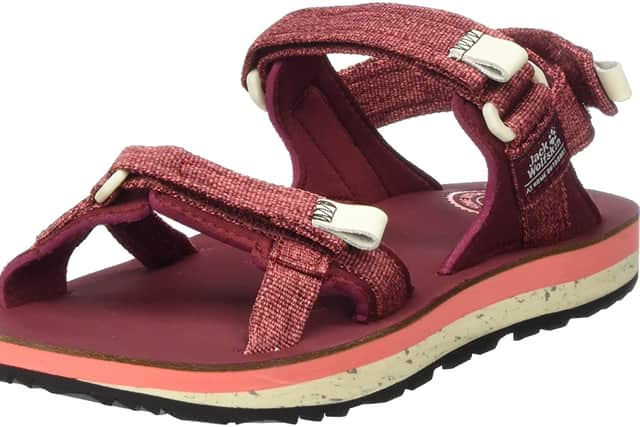 Key specs – Weight: 192g; Colour options: 4; Sizes: 3-9.
If comfort is top of your walking sandal shopping list, you may get on very well with Jack Wolfskin's Outfresh Deluxe – the light, bouncy soles of these sandals will make your feet feel unencumbered all day long.
The soft straps of the Outfresh sandals are just as comfortable as the soles, and can be adjusted easily on the go.
The leather footbed also keeps feet cool and sweat-free, even on sweltering days.
These light sandals aren't robust enough to tackle tough trails but are great for relaxed rambles and tropical travelling.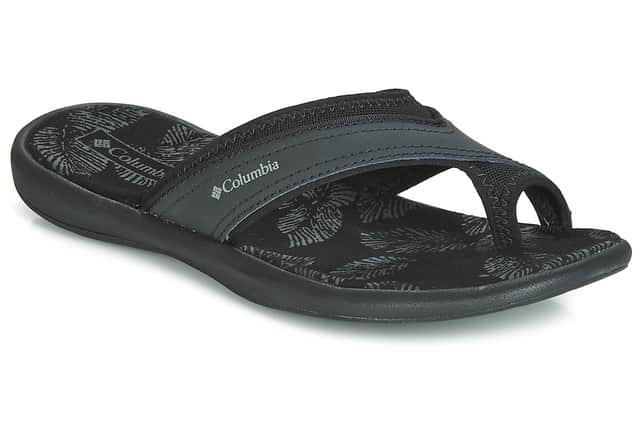 Key specs – Weight: 154g; Colour options: 2; Sizes: 3-10.
When is a walking sandal not a sandal? When it's a walking flipflop! Flipflops doesn't usually offer much (or any) grip or support for walking, but Columbia's Kea II is cut from a different cloth.
A wide leather strap hugs your foot, and the surprisingly comfortable toe post keeps your foot in place as you walk.
A cushioning inner sole and a thick, springy but lightweight rubber outsole offer great comfort and great grip, even if you head off the beaten track.
The Kea II looks smart, too, in black or tan leather – perfect for relaxed walks on hot days.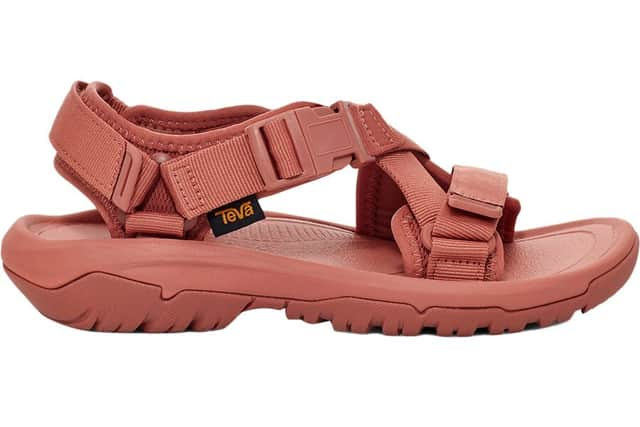 Key specs – Weight: 284g; Colour options: 2; Sizes: 4-8.
Classics since they first arrived on the scene back in 1984, Teva's strappy walking sandals are comfortable, rugged and last forever.
Our top pick from the many designs the brand offers is the Terra Hurricane Verge.
Strap these sandals on and they instantly feel comfortable and supportive underfoot – wide straps are easy to adjust and the sandals stay put even as you scramble over rocks thanks to cross-foot straps and the thick soles, which are curved to offer the best arch support we found on test.
If you're off travelling and are planning active adventures, these are the only sandals you need to pack.