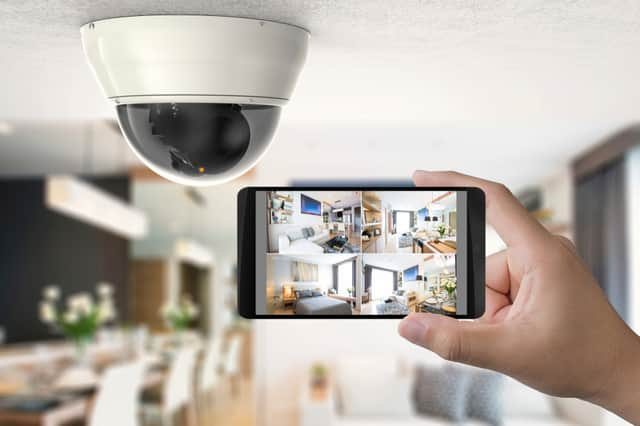 This article contains affiliate links. We may earn a small commission on items purchased through this article, but that does not affect our editorial judgement.
We all want to live somewhere that's secure. Technology is here to help, with smart locks, video doorbells, smart alarms and connected smoke alarms.
A home camera can give a real sense of security, often providing video that's high-enough quality to interest the police, or at least letting you check what the dog's up to.
Smart gadgets can talk to each other – like a smoke alarm that when it spots a fire turns off the heating system automatically.
And all the devices here can get in touch with your smartphone instantly, so you can check the camera feed whether you're in another room or another country.
Nest, which is now part of Google, makes a range of smart home gadgets including home hubs, speakers, cameras, and a thermostat.
The cameras are well-designed and highly efficient, with a simple user interface.
As with many home security cameras, a speaker and microphone mean you can engage with whoever's in the room, whether that's to say "Who are you?" or "Get off the sofa, Rex."
The stand has a magnetic base which makes it extra-versatile. Image quality is good and it's easy to set up extra features such as home and away assist.
This is where the system can spot whether you are at home or not by your smartphone and automatically start recording only when you leave, so you never have to remember to set it.
Key specs: Dimensions 11.4 x 7.3 x 7.3cm Sensors 3-megapixel camera sensor, 130 degrees field of view, 8 infra-red LEDs for night vision, Smartphone compatibility iPhone, Android
The video doorbell is completely wire-free, just mount it on the door frame and that's it, you're done.
It's not only easy to set up but intuitive to use, too.
It connects directly to your broadband router wirelessly, unlike some systems which require a connecting hub.
When someone rings the doorbell, it immediately rings your mobile so you can connect as an audio or video call. A separate chime unit plugs into a regular socket and connects wirelessly to the doorbell, also serving as a siren deterrent if needed.
The battery is rechargeable and lasts anything from three to six weeks between charges.
Night vision is good, though in black-and-white, not colour.
Key specs: Dimensions 14.3 x 4.7 x 3.7cm Weight 249g Sensors camera, 180 degree field of view, light ring and status light, ambient light sensor, infra-red LEDs for night vision, microphone, speaker, wi-fi Smartphone compatibility iPhone, Android
This smoke and carbon monoxide alarm is about the best-looking alarm you'll find. It sits on the wall or ceiling and comes in mains or battery-powered versions.
Where most alarms like this simply sound a piercing alarm, which is annoying when you've just burnt the toast, this has a clear, firm voice which says, "In the kitchen, the alarm will sound. The alarm is loud."
You can then quell the alarm before it happens, on your smartphone or by tapping the button on the device.
If your heating is controlled by the Google Nest thermostat, the Nest Protect can turn that off, so it doesn't add to the temperature to spread a fire, for instance.
It also has neat extras: a motion sensor will turn on a gentle halo of light if the room is dark: handy as you stumble to the bathroom at night.
Key specs: Dimensions 13.5 x 13.5 x 3.9cm Weight 375g wired, 379g battery Sensors Split-spectrum smoke sensor, carbon monoxide sensor, temperature, humidity, accelerometer, microphone Smartphone compatibility iPhone, Android
This camera is battery-powered so it's especially easy to install. The rechargeable battery lasts for a couple of months (a solar-powered charger is available separately).
It's designed to work indoors or out thanks to weatherproofing that can withstand rain and snow.
Decent build quality and a strong magnetic mount work well, as does the camera lens thanks to a wide-angle view.
But it stands out for storage service: clips are stored online free for seven days, along with face detection for up to 10 faces.
Most other systems charge for these extras.
Key specs: 5.1 x 5.5 x 8.4cm Weight 228g, Sensors camera, 180 degree field of view, thermal sensor, night vision, microphone, speaker, wi-fi Smartphone compatibility iPhone, Android
Home security cameras are brilliant, but they can leave visitors wondering if they're under surveillance. Is that camera quietly recording or not?
That's not an issue with this set-up: an unmissable white privacy shield swings into place to completely cover the lens so everyone knows it can't see anything.
Picture quality is good and a built-in siren can give unwelcome visitors a start.
As with most security cameras, alerts to your phone are automatic, but a subscription which saves content remotely for 30 days is also available. This also offers extras, such as when a package is detected, for instance.
Key specs: Dimensions 11.3 x 5.2 x 4.9cm Weight 122g Sensors camera with 12x digital zoom, 130 degree field of view with 8x digital zoom, microphone, speaker, infra-red LEDs for night vision, wi-fi Smartphone compatibility iPhone, Android
This is a great video doorbell because of its video quality, simple interface and great app. The Nest Hello connects to your existing doorbell – so it's worth checking compatibility before you buy.
You can also pay extra for professional installation. It records all the time, though to make the most of this you need a Nest Aware subscription.
Like other video doorbells, it doesn't sit flush to the door frame or wall so you'll notice the difference. An angled backplate means you can attach it to the corner of the doorframe and see everything, though realistically the wide viewpoint is enough in most situations.
Set-up is quick and simple and it's easy to integrate with other Nest products. If you have a Google Nest Home Hub, the video pops up there as soon as the doorbell is rung.
There are also pre-recorded messages so you can tell the visitor to leave the parcel, for instance.
Key specs: Dimensions 11.7 x 4.3 x 2.6cm Weight 122g Sensors 3-megapixel camera, 160 degree field of view with 8x digital zoom, RGB ring and status light, ambient light sensor, infra-red LEDs, wi-fi Smartphone compatibility iPhone, Android
When it comes to smart lighting, Philips Hue is hard to beat, and this starter kit comes in different versions according to the kind of bulb you want: soft warm white, warm-to-cool white, or white and colour. Each set comes with a smart hub called a bridge.
Smart bulbs can be controlled from your smartphone, so you can adjust the lighting you leave on when you're away – and it doesn't matter if you don't remember to set it up before you go.
Beyond security, you can also programme customised settings, so you can ensure a discreet lighting set-up for home movie night, say.
There's also a battery-powered dimmer switch, which is a handy addition so any family member who doesn't have a smartphone or doesn't like new-fangled gadgetry can still turn the lights off.
Key specs: LED 9W bulbs x Smartphone compatibility iPhone, Android
This camera is really versatile: a battery means you can put it anywhere, thanks to the magnetically attached mount, though a cable means you can supply power to it, too.
The mount is also very flexible, allowing you to point the camera in almost any direction. It's straightforward to set up and image quality is good, though not a match for the best here.
Two-way talk is only possible with a premium subscription – which is the camera's biggest downside. The magnetic base lets you attach the camera in a variety of positions so it's easy to point the camera precisely.
It works outdoors and in and comes in black or white finishes.
Key specs: Dimensions 11 x 4.8 x 4.8cm Weight 240g Sensors camera with 116 degree field of view, ambient light sensor, night vision, microphone, speaker, wi-fi Smartphone compatibility iPhone, Android